This article is more than 1 year old
Hedvig all set to Google-ise that enterprise storage
You want configurable virtual pools of distributed silos. Who doesn't?
Start-up Hedvig aims to bring Google/Amazon cloud-style storage to enterprises, with a virtualised pool of storage aggregated from distributed silos.
It's just won seed and A-round funding to the tune of $12.5m and has a Distributed Storage Platform technology that early customers – like Intuit, Dovilo, Van Dijk and Paul Hastings LLP – are trying out.
They are told that with it "cloud and data centre professionals can consolidate storage of any type or location into a virtualised pool, which drops the provisioning time and costs to small fractions of what it would take with traditional storage technologies today".
It "enables complete protocol consolidation by collapsing several layers of the storage stack into a single software platform".
The software runs on commodity servers and provides elastic storage.
It has the "ability to scale from several terabytes to petabytes and seamlessly spans on-premise, private and public clouds. Customers benefit from an elastic, hybrid cluster that can grow incrementally to thousands of nodes by simply adding additional commodity servers," the company added.
"Policy and provisioning processes that normally take hours, days, or weeks now take just a few clicks and can even be performed from mobile devices," said Hedvig.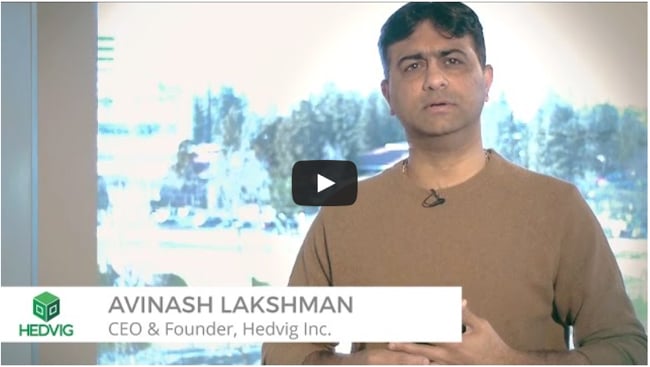 Hedvig founder Avinash Lakshman. Click image to roll vid.
Founder and CEO Avinash Lakshman says it "looks like the infrastructure that Google, Amazon and Facebook run internally, but packaged to bring that capability to any enterprise data centre".
He built distributed systems at Facebook and Amazon and helped create Cassandra and Dynamo, the genesis of NoSQL.
There seem to be similarities with Primary Data and Springpath, so it will be interesting to see how this latest software-defined storage start-up pans out. ®