This article is more than 1 year old
Wannabe a nano-bot-manufacturing giant? Better cozy up to Apple
Cupertino goliath plays kingmaker in the MEMS market
Apple's demand for minute mechanical gizmos in its iThings is more or less dictating who wins and who loses among MEMS manufacturers, analysts reckon.
Supply-chain researchers at IHS said the Cupertino idiot-tax operation's use of Micro-Electromechanical Systems (MEMS) and sensors in iPhones and iPods draws so much business that the factories landing Apple contracts will immediately top the market.
MEMS devices are moving mechanical systems and sensors shrunk down to the micrometre level. Because Apple requires MEMS hardware in its iOS devices, the California biz puts in orders for millions of units each quarter.
According to IHS, the current king of MEMS is Bosch Sensortec. The German giant holds the exclusive rights to provide pressure sensors for the iPhone 6 and 6 Plus handsets. This, combined with deals for the Sony PlayStation 4 and various automakers, gave Bosch a 12 per cent share of the MEMS market.
The strength of the Apple deal made Bosch the only billion-dollar MEMS supplier, and put Bosch ahead of traditional electronics giants such as Texas instruments, and STMicroelectronics.
The full top 10 ranking according to IHS is as follows:
Bosch: Along with the Apple deal, Bosch has deals with Sony and recently acquired microphone manufacturer Akustica. IHS estimates Bosch pulls one third of its revenues from consumer electronics.
Texas Instruments: The electronics industry stalwart is the second-largest supplier of MEMS, largely due to its dominance of the projector market: it uses digital micro-mirror semiconductors [PDF] in its projectors. IHS warns that TI could soon be in for hard times, as many business offices have replaced their projectors with low-cost LCD displays.
STMicroelectronics: The Geneva-based company saw revenues decline 19 per cent, year on year, in its MEMS division. Analysts note there is some hope for the biz in the form of a lucrative contract to supply microphones for the Apple iPhone 6.
HP: Printers have kept HP among the tops in the MEMS market. IHS believes that the Silicon Valley icon could be in trouble, however, as the market for Inkjet printers, and the MEMS inside them, has declined.
Knowles: The microphone specialist missed out on a spot in the iPhone supply chain, and as a result its MEMS mic revenues were down 8.9 per cent on the year. IHS expects revenues to pick up, however, as Knowles will soon be shipping its microphones to Apple once again.
Avago: San Jose's Avago produces networking and industrial equipment as well as MEMS bulk acoustic wave (BAW) filters for LTE wireless broadband devices. The use of BAW filters helped Avago log a 6.1 per cent gain in its MEMS biz on the quarter.
Canon: Like HP, Canon was hit by the drop in inkjet printer sales. The printing company saw its MEMS business take a 2.8 per cent hit in revenues as the company was 7th in the market.
InvenSense: Another Apple beneficiary, InvenSense builds the six-axis motion sensor for the iPhone 6 and 6 Plus. That deal, combined with a growing business building gyroscopes for optical image stabilizers, gave the company a 34 per cent jump in revenues and its first mention on the IHS top 10 rankings.
TriQuint: Like Avago, TriQuint has been on the receiving end of lucrative BAW filter devices for LTE hardware. IHS reported that the Oregon-based semiconductor specialist's BAW tech sales grew 15 per cent, year on year, as handset vendors used its filters to manage connections on various LTE bands.
Freescale: Analysts estimate that Freescale takes around 80 per cent of its revenues from building MEMS devices for cars, particularly sensors for measuring tire pressure. Freescale boosted its MEMS revenues by 6 per cent and is looking to further grow its numbers on the strength of acquiring fellow MEMS automotive maker NXP.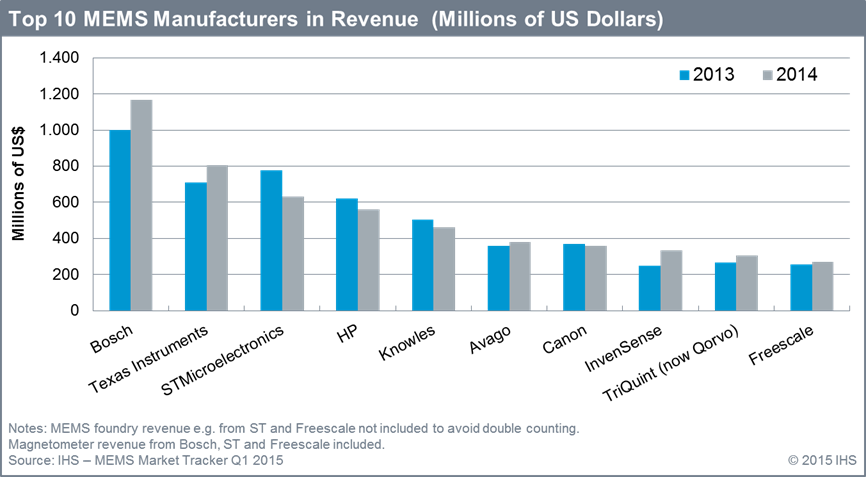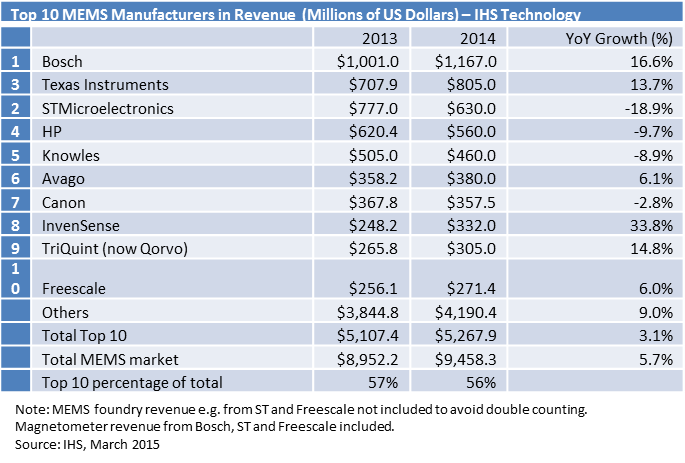 Growth (and decline) in the MEMS market (top) and a tablet of the figures (below) Source: IHS. Click to enlarge
According to IHS, Bosch logged $1.1bn of MEMS revenues last year, up 16.6 per cent over 2013's mark and well ahead of Texas Instruments' second-best $805m haul and STMicro's $630m. The analyst house valued the total MEMS market at $8.95bn in annual revenues.
Why is Apple so influential on the MEMS market? Sheer numbers. According to its last quarterly report, Apple shipped 74.5m iPhones between October and December. The Cupertino giant will ramp up demand for sensor hardware as it adds the Apple Watch to its iOS lineup next month. ®