Mind the gap
I had to turn off anti-aliasing and reduce the resolution to 1650x1050 before I could get a more playable 26fps. That's fine for some casual gaming, and it'll handle 2D graphics work in Photoshop well enough, but it seems that there's now a clear gap opening up between the mid-range performance of the 13-inch MacBook Pro and the workstation configurations available for the 15-inch model.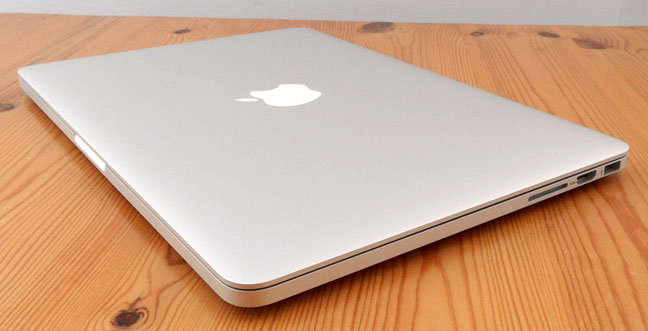 Externally, unchanged from previous models but still a nice looking piece of kit
Incidentally, running GeekBench 3 produced respectable results of 3358 (single-core) and 7071 (multi-core). So while the Broadwell chip may not break any speed records, where it does come up trumps is with power-efficiency and battery life. The MacBook Pro managed an impressive 6 hours 23 minutes when running the intensive PCMark 8 battery test, and delivered 9 hours of streaming video with the BBC iPlayer.
Overall, the battery life is excellent for a mid-range laptop such as this, and might actually raise questions about the future of the MacBook Air as it also has the new slimline MacBook breathing down its neck.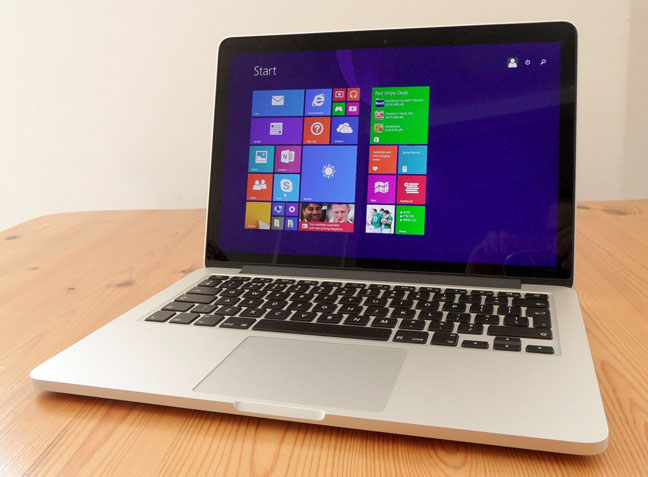 A fully-fledged Windows 8 machine when needed, but Windows 7 is no longer supported
The Reg Verdict
The MacBook Pro is meant to be Apple's most powerful laptop for professional users, so the fact that the new Broadwell processor only just matches the performance of its Haswell predecessors is disappointing. The improved battery life is always welcome, of course, but that alone may not be enough of a reason for existing MacBook Pro users to upgrade.
To be fair, this 13-inch model is still reasonably good value for money at £999, but professional users who need real power might be better off waiting for the next update of the 15-inch model. ®

Force your hand: Apple 13-inch MacBook Pro with Retina Display
Slimline business laptop with 2.7GHz dual-core Broadwell i5-5257U processor, 8GB memory, 128GB solid-state drive, and integrated Iris 6100 graphics.
Price:
From £999 (Core i5, 8GB RAM, 128GB SSD - tested) RRP