This article is more than 1 year old
Everyone's getting flashy: Intel and Micron want to feed you their wafers
And SanDisk's getting in on the action too
Four months after revealing their 3D NAND flash tech, Intel and Micron say they are now sampling product - the day after beleaguered SanDisk announced its 48-layer tech would enter pilot production in the second half of the year.
As our IMTF (Intel Micron Flash Technologies) pair, the boys from Boise, said last November their chip has 32 planar layers and 256Gbit – 32GB – of capacity in a die using MLC (2 bits/cell) NAND, and 348Gbit – 48GB – using TLC (3 bits/cell) flash.
They claim it is their highest-density flash device ever developed – [and at TLC level] three times higher capacity than other [3D TLC] NAND die in production.
We think that refers to the dies used in Sammy's 1TB 850 EVO, built with dies using a 49-40nm process. This has eight V-NAND packages, meaning 128MB ones, with each having eight128Gbit dies.
That means Intel/Micron's TLC dies are 384Gbit (48GB) which means our arithmetic doesn't suck, and these IMTF flash chips are three times denser than Sammy's.
SanDisk/Toshiba's 48-layer 3D NAND uses 128Gbit MLC dice.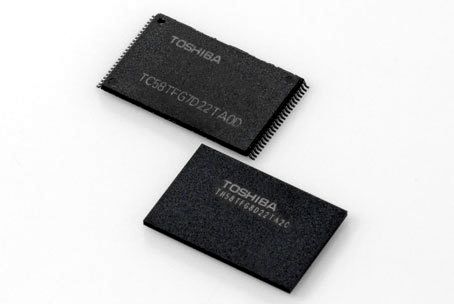 Toshiba/SanDisk 48-layer 3D NAND chips
What's the process geometry? We're guessing it's 3X - 39nm-30nm - class. Intel/Micron isn't saying. AnandTech thinks it's between 35nm and 50nm. IMTF is using a traditional floating gate cell, saying it's the first use of a floating gate cell in 3D NAND, and provides them with greater performance, increased quality and reliability.
Sammy and SandDisk/Toshiba use, we understand, newer charge trap technology which could be intrinsically better – depending on manufacturing smarts and their understanding of the physics involved.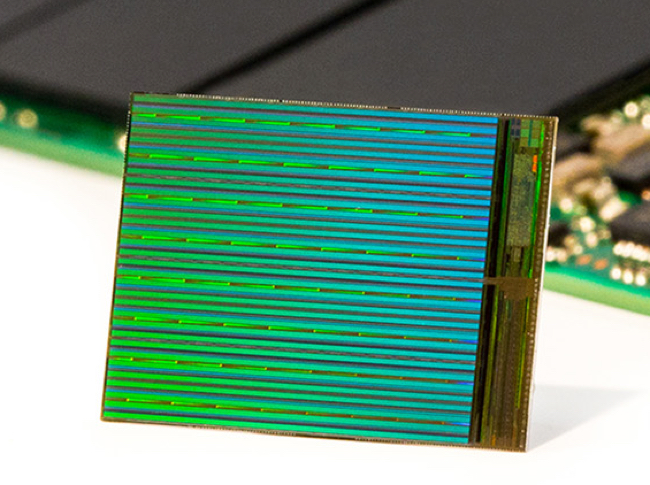 IMTF 3D NAND die
A gumstick-size (USB stick) SSD can store up to 3.5TB with these chips and a 2.5-inch SSD more than 10TB.
IMTF says its 3D chips have a sleep mode for inactive dice while other dice in the chip are active; that will save power.
We understand that the MLC product has a 3,000 write cycle endurance, good enough for consumer-class products. AnandTech suggests 10,000+ is achievable for enterprise-class product.
Stepping back, we have Intel/Micron enjoying a claimed threefold capacity advantage over SamSung, which is shipping, and SanDisk/Toshiba, which is sampling like IMTF. Sammy is bound to lift its V-NAND density higher but 3X might be a big ask. Pricing will be key and we know Sammy has landed a deal to supply its flash to Apple, not known to pay over the odds for component hardware.
When product from IMTF and SanDisk/Toshiba hits the street in the first half of 2016 there's going to be a 3D flash fist fight with capacity, price, performance and endurance being the weapons used to duke it out in the chosen market sectors. IMTF should win out where capacity is key, putting the others under pricing pressure. Bring this fist fight on.
The IMTF 256Gbit MLC product is already sampling and the 384Gb TLC design will be sampling later this spring. Initial production is obviously underway. Intel and Micron are separately developing their own 3D NAND products which should be announced and available within 12 months. ®