This article is more than 1 year old
John Lewis stakes £100,000 on building a working tech creche
Come hither, Shoreditch upstarts
John Lewis has launched a £100,000 technology incubator competition to encourage tech start-ups to get involved with its business.
The 150-year-old retailer unveiled JLAB 2 earlier this week, a 12-week program of pitching and mentoring for up to 10 technology firms.
The prize for one winner is £100,000 funding, plus the chance to secure a contract with the retailer as their first, big-name customer. Entrants stand to get an initial £20,000 investment.
JLab 2 is the son of JLab, which ran in 2014; the winner of that inaugural effort was location-awareness specialist Localz. Localz alerts the click-and-collect staff in a store to a customer's proximity, helping speed retrieval of packages and the customer's exit from the store.
This time, John Lewis is adding more focus to JLab. Entrants are sought in categories for "physical and digital", "effortless payments", "smart partners" and "connected home".
John Vary, John Lewis innovation manager, told The Register: "This year is more structured to business objectives – looking at key challenges."
John Lewis doesn't want to deter entrants or filter out ideas and candidates, so JLab 2 therefore includes a "Surprise us" category that's wide open. Vary, though, said; "What's important is we give them some boundaries, to say: 'OK we want you to look in this area so there's a bit more structure there.'"
Focus is important, as individuals across John Lewis will be helping mentor the 10 selected entrants – people from John Lewis IT and lines of business. Also, companies will come in from outside – PayPal talked to last year's entrants.
Neither is John Lewis purely targeting the suit-jacket-and-jeans-wearing types or the beardy-plus-naked-ankles start-up sorts of Silicon Roundabout.
Start-ups are a target but Vary reckoned: "JLab 2 is open to individuals, companies, start-ups to established companies. It's more about the solution and the experience they are offering and their ability to mold their solution for us."
The idea of any retailer – and probably one like John Lewis that's a century and a half old – mentoring tech start-ups might seem odd, even incongruous, but John Lewis wants to tap new technology in ways that can support the business. It cuts to the very heart of problems and challenges of high-street retails challenging online, while maintaining the same "experience" of shopping for customers across physical and different digital channels.
To that end, Vary set up a Skunkworks project called Room Y at John Lewis in September 2014. Room Y was Vary's idea – a way to bring new ideas to life quickly using tech; its members are a software developer, interaction designer and an engineer and designer.
One Room Y project is Sofa Studio, which has been tested at John Lewis Oxford Street and is due to go live at a nearby Peter Jones on March 30.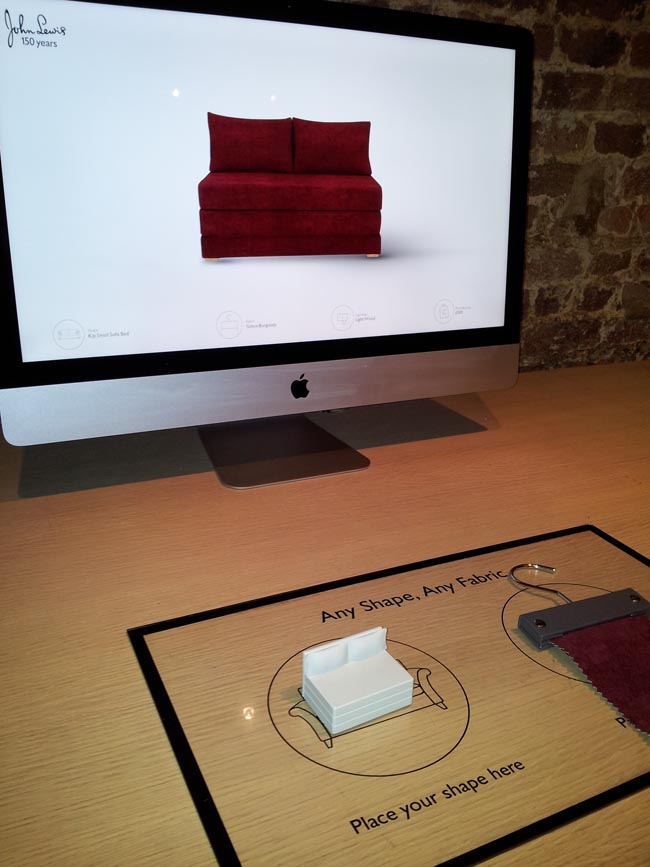 Sofa surfing with swatches and models thanks to John Lewis' Room Y skunkworks
Sofa Studio lets customers design a sofa, combining model sofas printed using 3D printing and swatches. Both sofa and swatch contain an RFID tag and are placed on a tabletop reader to produce a combined image on an iMac. Sofa Studio was built in 12 weeks, from a mock up using a Sylvanian Families sofa and saw lots of soldering, 3D printing and laser cutting eating a £1,100 budget.
According to Vary, Sofa Studio had 65,000 customer interactions in 12 weeks at Oxford Street and the plan is now to integrate it online.
"Historically, shopping has looked at channels; it's important shopping is looked at as one experience, one journey and that you can flip between the two without doing much work," Vary said. ®