This article is more than 1 year old
Red Hat explains its choice of scale-out storage hats
Ceph and Gluster – not a cabaret double act after all
Which Red Hat scale-out storage product should you choose: Ceph or Gluster?
Red Hat has brought Ceph – acquired with InkTank in May last year – up to its engineering standards and branded it Red Hat Ceph Storage, and is now touting it alongside its Red Hat Gluster Storage.
Both Ceph and Gluster are open source, scale-out, software-defined storage products running on commodity hardware. Red Hat suggests Ceph is better for OpenStack and Gluster for Big Data analytics, but both could do either job.
We asked Ross Turk, Director of Product Marketing for Red Hat Storage, a couple of questions about this.
El Reg: Gluster is supported as a storage resource for OpenStack. Why is Red Hat preferring Ceph to be its OpenStack storage product?
Ross Turk: The Ceph Block Device (RBD) has extensive integration with Nova, Cinder and KVM, many mature "enterprise" block features (clone, snapshot, etc.) and an architecture that gives it a flexible level of performance for different types of block workload. Gluster is a file-based architecture which, while capable of running block services, makes it less optimised for backing Nova and Cinder.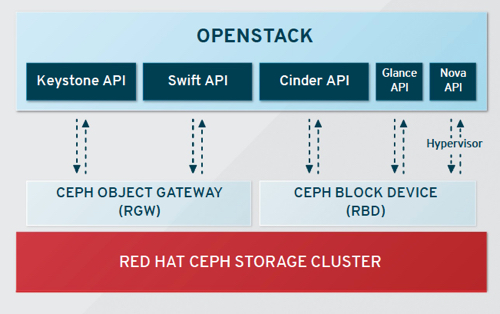 Ceph storage architecture
When it comes to OpenStack storage, interest within our customer and prospect communities follows suit – we see greater demand for Red Hat Ceph Storage.
El Reg: Ceph is used in Big Data analytics use cases. Why is Red Hat preferring Gluster for analytics?
Ross Turk: While Ceph is being explored for use with Big Data analytics, it is not typically used in this way in a production environment. There is a Hadoop integration on top of CephFS, but it is not considered ready for enterprise use, even in the upstream community.
On the other hand, Red Hat Gluster Storage has a fully supported integration with Hadoop Data Platform 2.1 and the Ambari management suite from Hortonworks. This integration, accomplished with a file system plug-in, provides a reliable enterprise grade storage back-end for running various Hadoop jobs with standard protocol-based ingest options and no single point of failure. Red Hat Gluster Storage is also a verified, highly performant back-end for Splunk's cold storage tier, where it is used for analysing vast amounts of machine data.
In short, we have chosen these current workload/product matches based on the current strengths of these two products and the maturity of our solutions with ISV partners. With Red Hat Gluster Storage, we have mature solutions around Hadoop and Splunk. With Red Hat Ceph Storage, we have mature solutions around OpenStack and web-scale object storage for archival and rich media. I expect that these will evolve over time as the technologies themselves do. ®