This article is more than 1 year old
HTC One M9 Android smartphone: Like a M8 with a squinty eye
Design of the times
Review In a world of generic smartphones where even Apple and Samsung seem to be converging on the same design, HTC has designed phones that are pretty distinctive – the HTC One is one of the very few brands you can recognise from across a room.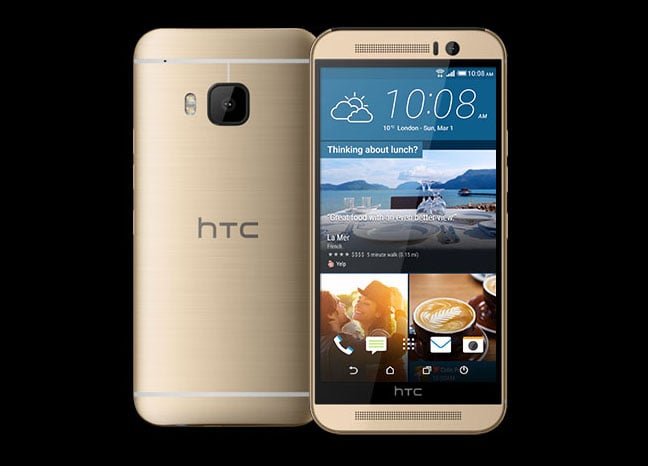 Standing out from the crowd, HTC's One M9
HTC has also tamed the wilds of Android by giving the user a refined experience – free of the pushy clutter and duplication that litters Samsung and Sony devices.
This year's HTC One M9 retains the design of last year's One (M8), and gives it a speed bump, but takes a few sideways and backwards steps too. Perhaps this is a consequence of 2013's shake out.
Or perhaps HTC is saving something up its sleeve for the M9's phablet-sized Mediatek-powered sibling – a device so far rumoured, but not yet announced. Whatever the reason, some of the choices HTC has made here tarnish its reputation for care and quality a little.
The key difference between the HTC One M9 and the current Apple and the new Samsung offerings is the absence of a touch sensor, and any wireless charging. Apple has yet to introduce inductive charging, but Samsung lost its inhibitions this year, and its new flagships support both Qi and PMA standards.

Hand over your phone to a friend to view something and the chances are they'll turn it off by mistake when holding it. Side button positioning could be better but HTC isn't alone here
Also, there's no attempt at waterproofing. On the other hand, neither the iPhone 6 and 6 Plus nor the Galaxy S6 and S6 Edge permit expandable storage. yet the HTC One M9 retains this. It also retains the very useful infrared blaster, so the One doubles up as a telly or set-top box remote.
The much-praised One M8 design remains largely unchanged – you'd need to be an expert to tell them apart from the front. Even last year's M8 cases fit quite snugly – although we can't recommend using one, since the cutouts are in different places, and M8 cases will partially obscure the M9's main camera.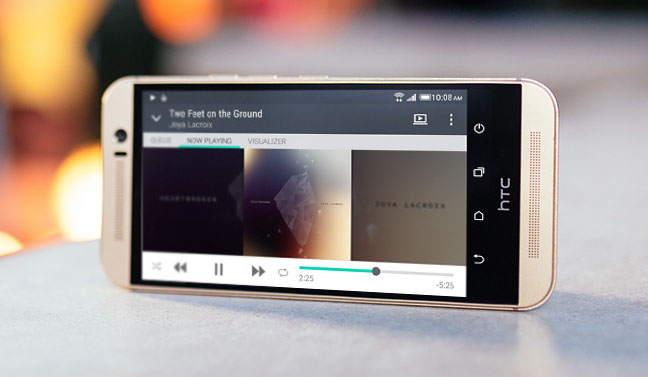 Stereo speakers get BoomSound amp and Dolby Audio enhancments
The One is still distinguished by the hallmark top-and-tail stereo front speakers which deliver excellent sound quality for a phone. Physics is the constraint here, as the size of a modern phone gives very little depth for an adequate enclosure needed for bass. But at least HTC is trying with its BoomSound and Dolby Audio is now supported too.
The Snapdragon 810 octa-core processor produces a noticeable speed increase, and battery life proves to be rather where it was last year, although it does drain quicker when browsing the web. So in the M9 you're getting great sound, striking design, and expandability not found on the flagship Apple and Samsung. The Dot View case is pretty nice too. What's not to like?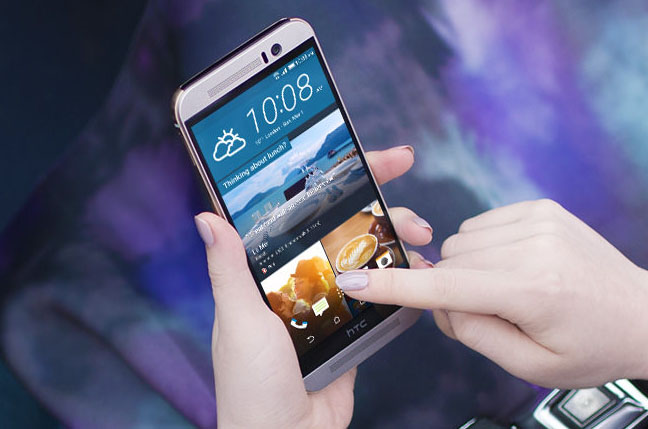 Android Lollipop on board together with HTC's Sense
I found the camera, an industry standard 20MP jobbie, to be disappointing in a variety of situations, falling short of the output of rivals. In addition, some of the included software is highly questionable. And there's one factor not unique to HTC and beyond its practical control: Android Lollipop.