This article is more than 1 year old
SanDisk slashes sales outlook as growth shudders to a stop
Firm expects revenues down by 14 per cent from last year
SanDisk expects the current quarter's revenues to be about $1.3bn, 14 per cent less than a year ago, with the flash business supposed to be a growth area. The execs must have been horrified when they heard.
At the end of the poorly performing previous quarter it expected $1.40bn to $1.45bn, still down on the $1.51bn earned a year ago.
Last quarter we wrote: "[SanDisk] lost a major customer, experienced troubles in its supply chain and the ULLtraDIMM injunction took hold."
The problem in the current quarter is, the company's management says, "primarily due to certain product qualification delays, lower than expected sales of enterprise products and lower pricing in some areas of the business".
And the problems, with supply challenges picked out, will continue throughout the year with overall 2015 revenues being lower than expected. At this point we don't know whether there will be revenue growth at all during SanDisk's financial year 2015 compared with 2014.
CEO and El Presidente Sanjay Mehrotra said: "We are disappointed with our financial outlook. We will work through these headwinds, leveraging our compelling product roadmap and broadening customer base. We believe our growth prospects remain strong and we are encouraged by the progress we are making in our 3D NAND technology."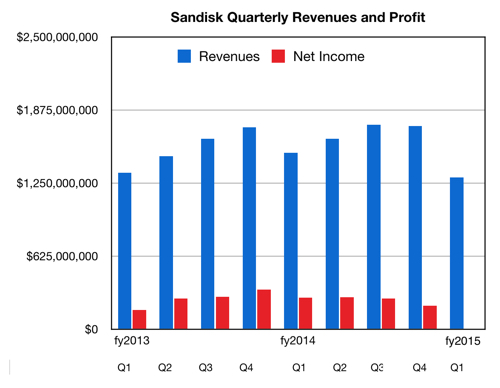 SanDisk quarterly revenues and profits with estimated Q1 cy2015 revenue added
That "progress" is news of a 48-layer 3D NAND die, its second generation (BICS2) technology, developed with Toshiba. Pilot production starts in the second half of the year.
It didn't reveal the die's capacity or process node size but did say it saw broad use across its flash product portfolio.
Samsung's 3D efforts are currently at 32-layers with a 49-40nm process and 3-bit (TLC) flash. This is used in the 1TB 850 EVO SSD. Micron has a 32-layer MLC and TLC technology with production starting in the second half of the year. It talks about 256Gbit MLC and 348Gbit TLC chips.
SanDisk's romp into the enterprise flash market has come to a halt. Forthcoming 3D NAND won't get it out of the hole; that's down to existing 2D (planar) NAND.
Fixing the supply problems would seem to be absolutely necessary, as well as getting a stronger grip on enterprise qualifications and sales. ®