This article is more than 1 year old
Turnbull's Digital Transformation Office to 'leave you quivering with excitement'
Acting head appointed, but 2017 delivery date softened to 'goal'
Australia's communications minister Malcolm Turnbull has revealed a little more about his Digital Transformation Office (DTO), the agency he's tasked with making it possible to perform all interactions with the federal government online.
Turnbull's previously said the DTO has a goal of taking transactions online by 2017, but speaking at the Digital Innovation Forum today the minister revised that language, saying "I am not promising we we will achieve that, but that is our goal." He added that "if we can do it sooner, we will."
The minister also revealed that DTO has at least one staffer: acting director David Hazlehurst who Turnbull said "has been doing an incredible job".
He looks to have made an impression in a short time: when we asked Turnbull's department whether appointments had been made on March 2nd we were told to watch this space. Hazlehurst looks to have held senior positions in the Department of Prime Minister and Cabinet,
Turnbull's remarks covered familiar territory for e-government advocates. He emphasised customer-centricity as something government does not always understand, but which the DTO aims to achieve. By doing so, he hopes the DTO brings business sensibilities to government service delivery. "We want to break down silos and all the inertia that comes from empire-building," he said, by way of outlining how he imagines Australia's public service will change as the DTO digitises it.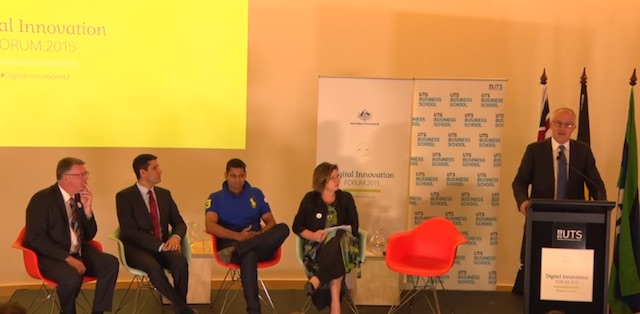 Comms minister Malcolm Turnbull, and panelists, at the Digital Innovation Forum
The minister also pledged to share code with State and foreign governments and to spread the digital love, and said he's contacted his UK opposite number to apologise for aping Britain's Government Digital Service (GDS), while pointing out that imitation is the highest form of flattery.
Turnbull didn't mention the GDS has itself become an empire that has imposed silo-ed thinking on other government agencies.
He did, however, suggest that Australia's public will enjoy the ride on which the DTO leads it. "We are going to talk about how exciting government is going to be in the digital age," he said. "You are going to find," he said, before pausing to address a tittering crowd, " … you will be so excited with the DTO you won't have time to laugh. You will be quivering with excitement." ®