This article is more than 1 year old
Blood Relatives, The Tears of the Rajas and The Fifth Gospel
Ian Caldwell finds religion (again) and more
Page File El Reg bookworm Mark Diston looks at literature's latest with a compelling debut novel from Stevan Alcock. The days of empire in India get up close and personal due in no small part to Ferdinand Mount's well-documented family history. And for those with a taste for antiquity, Ian Caldwell's latest gives Dan Brown a run for his money.
Blood Relatives
Stevan Alcock is a writer who was raised in Yorkshire. Blood Relatives is his debut novel and is set on his home turf during the late 1970s. It is the story of Rick Thorpe, a young gay man coming of age in Leeds during the time of the Yorkshire Ripper murders.
Our protagonist is a teenager working as a delivery boy on a Corona fizzy pop van. One morning in 1975 the delivery route is blocked off by a police barricade. A young woman has been murdered; she turns out to be Wilma McCann, the first of the Ripper's victims.
The story follows Rick as he struggles to find other like-minded individuals in the city. The text is punctuated by the murders as they take hold of the community around Rick. It is a sensitive and wonderfully told story of a young man coming to terms with himself and the world around him.
Alcock captures late Seventies Britain perfectly, however there are a few chronological errors which interrupt the flow and have you nitpicking for more. For example, the final Test match between England and the West Indies in 1976 was at the Oval, not Lords (Richards 292, Amiss 203, Holding 14 wickets).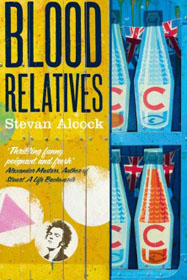 Rick also mourns the Sex Pistols' split in New Year 1977, when they were yet to finish their final US tour and were in fact, live just down the road in Huddersfield the week before. There are a few more minor musical and cultural inconsistencies and a little revisionism. The protagonist describes Magazine in 1978 as post-punk, a phrase not invented until long after the event.
Yet these are minor flaws in a very impressive work, Stevan Alcock's prose fairly zips along and Rick is an excellently drawn character. There are a few memorable descriptions, such as this of a black prostitute teaching Rick to dance: "Lourdes... danced around t'room to her ska music, her buttocks shimmying like maggot-filled medicine balls". And "Kev... lost his little finger in a die press, so his tattoos read love and hat". And here's one phrase which I recall hearing myself more than once, back in the day, Rick's mother's malapropism: "Desecrated coconuts".
Working class life in the 1970s is affectionately and very accurately recreated. Alcock's Yorkshire dialect reads rather like Alan Sillitoe's Nottinghamshire kitchen sink dramas, but in the intervening decade or two, the times have moved on and British culture has become more colourful, varied and interesting – less white, less hetero, less gender specific.
Rick's family goes through some life crises, during the novel with his grandmother and stepfather, in particular and inevitably skeletons appear from the closet. "Pity you can't build your family out of LEGO bricks and if you don't like it, tear it down and build another one".
The murders seem to galvanise individuals in the community towards change. Peter Sutcliffe, the man who in real life was eventually convicted of the Yorkshire ripper murders, exists in the book as a very distant character, but does make his presence felt nonetheless.
The novel ends on the day of his capture amongst the baying crowds outside Dewsbury Police Station where Sutcliffe is held and Rick renews some old acquaintances. Last week I proclaimed Claire Fuller's book as the best first novel by a British writer that I'd read this year. It is fanciful to compare Blood Relatives to Our Endless Numbered Days – they are very different works – but both are debuts of the highest quality.

Author
Stevan Alcock
Title
Blood Relatives
Publisher
4th Estate
Price
£14.99 (Hardback), £9.99 (eBook)
More info
Publication web site