Feds cuffed for allegedly PILFERING Silk Road drug souk's Bitcoins
Dealers' funbux ended up in wallets of g-men, says US DoJ
The US Department of Justice has accused two federal agents of stealing more than a million dollars in Bitcoins during the Silk Road investigation.
Former Drug Enforcement Administration (DEA) agent Carl Force and former Secret Service agent Shaun Bridges have been charged with theft of government property; wire fraud; money laundering; and a conflict of interest, according to legal papers filed in the San Francisco US district court.
Both Force and Bridges worked on the Silk Road bust that culminated in the conviction of Ross Ulbricht, who was found guilty of running the Tor-hidden marketplace under the moniker Dread Pirate Roberts (DPR).
The agents allegedly fell foul of the law in mid-2013 during which time they were trying to snare DPR. Bridges allegedly stole $820,000 in BTC, while Force is accused of pocketing at least $235,000.
Force, while working undercover, created an account on Silk Road that his superiors were aware of. However, according to the DoJ complaint [PDF], he secretly created other identities not authorized by the DEA, and used them to trouser BTC from Ulbricht.
Officially, Force worked undercover as "Nob," a pretend drug smuggler and organized crime figure. According to prosecutors, in mid-2013 Nob told DPR he could get the Silk Road boss fake ID for 400 BTC (then worth $40k) and insider information for 525 BTC (then worth $50k) from a fictitious corrupt agent who worked at the DEA.
It's claimed Ulbricht gave Force the 925 Bitcoins, which the agent transferred to a personal wallet. However, Force wrote in his official report that the money for the inside information was not received, it's claimed. The DoJ claims the seized Bitcoins are US government property.
Force swapped emails with Ulbricht using PGP encryption, but did not hand over his private key, leading investigators to believe the agent was deliberately hiding the 525 BTC transaction from his bosses. Analysis of the Bitcoin block chain by an IRS special agent, after the Silk Road server was seized, revealed a link between DPR's wallet and Force's pocket, we're told.
As well as the Nob account, Force is also said to have set up two more profiles on the marketplace: "French Maid" and "Death from Above."
Ooh-la-la
According to the DoJ, French Maid took a $100,000 payment in BTC from DPR in exchange for the name of an alleged Silk Road administrator given by Mt Gox CEO Mark Karpeles to the authorities. DPR wanted to know if investigators were closing in on him and his associates, and was willing to pay for French Maid's information.
It is not clear whether French Maid actually passed on any details, but it's claimed Force received a 770 BTC payment from Ulbricht. At one point, French Maid signed off an email to DPR with the name "Carl," we're told.
"Death from Above" made an unsuccessful attempt to extort $250,000 from DPR with threats of violence, it's alleged. Death from Above threatened to kill the drug souk boss unless the money was paid, and claimed to know who DPR really was, prosecutors say.
However, Force was way off base: he thought another suspect – someone who wasn't Ross Ulbricht – was Dread Pirate Roberts, and when Death from Above revealed this wrong identity to Ulbricht, the marketplace boss knew he himself was safe, it's claimed.
DPR never paid the money as a result, and Force leaked sensitive information on a suspect to an outside source, the DoJ alleges.
The alleged shenanigans don't end there: Force is said to have used his role at the DEA to become chief compliance officer of the CoinMKT exchange – and then used that position to freeze and take control of a wallet containing $297,000 in BTC, which he then emptied into his own wallet. Force is also said to have forged a DoJ subpoena to convince payment company Venmo to unfreeze his personal wallet, and solicited another agent to help cover up the incident.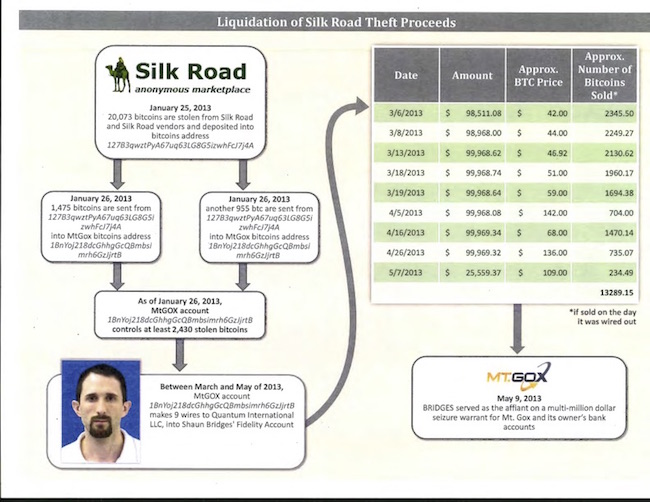 The trail ... How Bridges liquidated $820,000 in Bitcoins, according to the US DoJ (click to enlarge)
Bridges, meanwhile, is accused of taking $820,000 in Bitcoins from wallets belonging to Silk Road sellers, converting the sum into dollars via Mt Gox, and transferring the cash to his own shell company. The funds were gathered when an accomplice of DPR was apprehended in a drugs sting, and turned over the login details to his Silk Road administrator account – granting Bridges access to the sellers' profiles and wallets.
That seized administrator account was referred to as "CG", and was used to move funds from a number of Silk Road vendors to another wallet, believed to have been controlled by Bridges. After learning of the massive theft, DPR allegedly asked Nob to have CG killed.
Bridges came under suspicion after anti-corruption investigators began looking into Force's activities amid a probe into the handling of the Silk Road case. For one thing, Bridges served as an affiant for a seizure warrant for $2.1m held in Mt Gox accounts in May 2013 – two days after he wired money from the Bitcoin exchange to himself, triggering accusations of a conflict in interest, it's claimed.
The full ins and outs of the charges are described in the 95-page court filing, made public on Monday.
Force was arrested on Friday, while Bridges turned himself in to authorities on Monday. Both appeared before a judge earlier today. Bridges resigned from the Secret Service earlier this month after being told he would be suspended, and Force quit in May last year. ®