Apple's 13-incher will STILL cost you a bomb: MacBook Air 2015
It may pine for the fjörds, but it's not snuffed it yet
Review Well, it looks as though the writing is on the wall for the MacBook Air. It's still one of the slimmest and lightest laptops around, with impressive 10-12 hour battery life. But that 1440x900 resolution is dead in the water these days – especially at Apple price levels – while the chunky metal bezel around the screen is the tech equivalent of those huge shoulderpads that Dame Joan Collins used to wear on Dynasty back in the 1980s.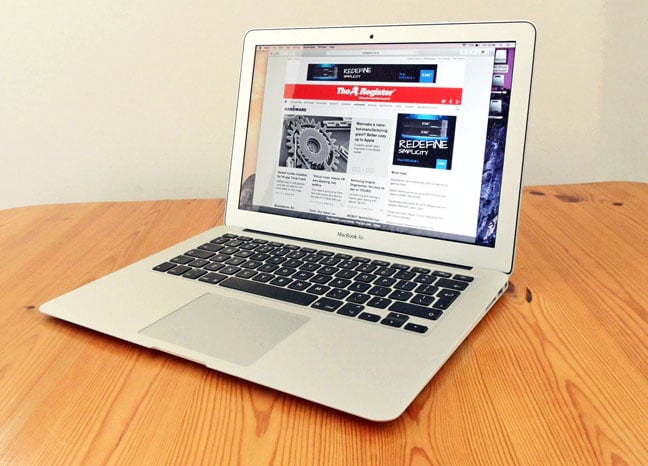 Showing its age but now with a Broadwell makeover
Of course, there have long been rumours flying around about an updated MacBook Air with a high-res Retina display, but for some reason that honour has been bestowed upon the stripped-down, blinged-up MacBook revamp that is due to arrive next month. All that's left for the 2015 MacBook Air is a modest Broadwell speedbump, leaving Apple's former flagship ultraportable to face the indignity of a lingering death as Apple's token "low cost" laptop for the unwashed masses.
Of course, "low cost" is a relative term where Apple is concerned, and even the 11-inch model starts off with a mid-range price tag of £749.00, while the 13-inch version starts at £849.00. Apart from the screen size, both models have the same specification, replacing last year's 1.4GHz Haswell processor with a dual-core Broadwell i5-5250U running at 1.6GHz (up to 2.7GHz with Turboboost).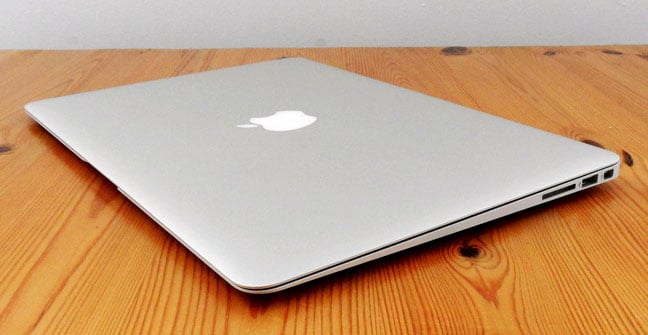 Only 4GB of RAM on the base model and there's no user upgrade
The measly 4GB of memory and 128GB solid-state storage remain the same, so it'll cost you £150 to increase the storage to 256GB, and £80.00 to get 8GB of memory. There's also an option to step up to a Core i7 processor running at 2.2GHz for another £130.00.
When I got my hands on the entry-level 13-inch model I found the raw performance of the Broadwell chip is very similar to that of its Haswell predecessor, with Geekbench reporting a single-core score of 2594, and 5574 for multi-core performance.
However, overall system performance measured with the PCMark 8 benchmarks – running on Windows 8 via BootCamp – produced quite respectable scores of 2530 and 2937 in its Home and Work suites.

Futuremark PCMark 8 benchmark results
In fact, the MacBook Air actually outscores the new MacBook Pro in those tests by a few points – although, of course, the Air is unburdened by all the extra pixels on the Pro's Retina display.
It'll handle routine web browsing and apps such as Microsoft Office perfectly well, and the 1440x900 resolution is still fine for most streaming video. The problem for the MacBook Air is that the same is true of dozens of less expensive Windows laptops too.
What the Windows hordes won't offer is the MacBook Air's impressive battery life. Last year's MacBook Air lasted for 4.5 hours when running the intensive PCMark 8 tests non-stop, but the improved power-efficiency of the Broadwell chip increases that to 7 hours 15 minutes. It also delivered a stonking 11 hours 20 minutes of streaming video on the BBC iPlayer, which suggests that there's still some mileage left in this ageing design – as long as you don't mind that low-res screen.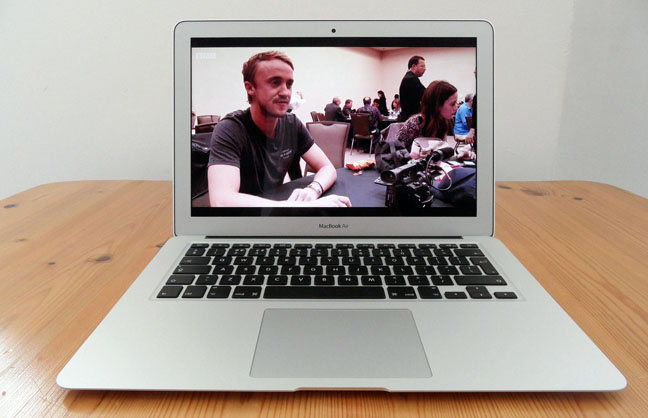 Perfectly functional but those display margins are looking tired now
The Reg Verdict
To be fair, the battery life of the MacBook Air is still hard to beat, and a more mass-market price tag would probably see the darn thing flying off the shelves again. But the bottom line is that it's now an entry-level laptop with a mid-range price tag.
Apple justifies its premium prices by delivering premium design, and on that score the MacBook Air, sadly, just doesn't cut it anymore, but at least it has a choice of USB and Thunderbolt interfacing as standard. ®

Apple's 13-incher will STILL cost you a bomb: MacBook Air 2015
Ultraportable laptop with 1.6GHz dual-core Broadwell i5-5250U with integrated HD 6000 graphics, 4GB memory, and 128GB solid-state drive