This article is more than 1 year old
Dell's all-flash array receives benchmark boost
SC4020 sparkles significantly on the price/performance stat scale
An all-flash Dell Storage Center array with six 480GB SSDs has the second-best price/performance score ever recorded in the SPC-1 benchmark.
This benchmark measures random IO performance from a storage array, with an SPC-1 IOPS score. Dividing that by the list price provides the price/performance measure. Dell's SC4020 was rated at 112,479.81 IOPS at a cost of $0.37/IOPS. The lowest $/IOPS rating is for a X-IO ISE 820 G3 all-flash system with $0.32/IOPS.
Considering these are list price calculations and that street price can be significantly lower than list, such differences don't really matter.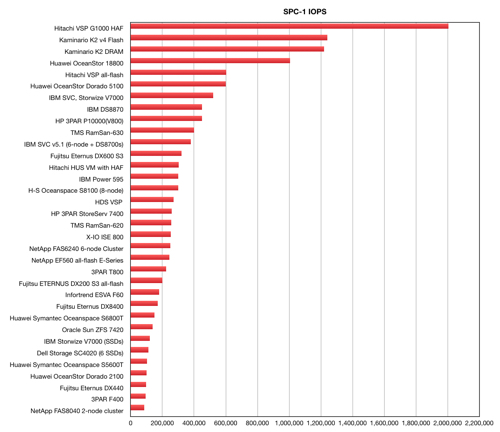 Dell's SC4020 is near the bottom of this chart...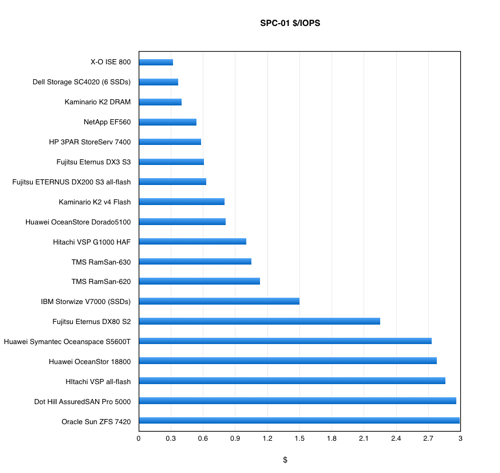 ... but is almost at the top of this one
X-IO's ISE 820 G3, with 8TB of flash, was rated at 252,981.83 IOPS, far higher than Dell's 2.9TB array. An all-flash IBM Storwize V7000, with 18 x 200GB SSDs, recorded 120,492.34 IOPS at $1.50/IOPS back in 2012, giving Dell a more than 4X SPC-1 price/performance advantage, at a similar performance level, over that older box.
Dell's response time curve shows a slow increase up to the 80 per cent workload level (1.71 msecs) and then rises steeply in a hockey-stick curve to the 100 per cent level of 0.37msecs. In the 80,000–130,000 SPC-1 IOPS area Dell's SC4020 is the best price/performer in our SPC-1 records. ®