Oracle gets ZFS filer array spun up to near-AFA speeds
Thor-like ZS4-4 soars, knocks SPC-2 score for four
---
Oracle's ZFS filer array has virtually matched an all-flash array in the SPC-2 streaming storage benchmark and set a new SPC-2 streaming/price/performance record [PDF].
It introduced its ZS4-4 array in December last year, as a refresh of the prior ZS3. That was rated at 17,244.22MB/sec on its SPC-2 run with a $22.53 price/performance score.
The ZS4-4 array was rated at 31,486.23 MB/sec with a price/performance rating of $17.09, heading towards being twice as fast with a better price/performance number.
There were two ZS4-4 controllers in the benchmarked configuration, linked by quad data rate InfiniBand, addressing a total of 576 x 300GB 10K 2.5-inch disk drives, with a mirrored set-up.
Back in November 2013 a Kaminario v4 K2 all-flash array scored 33,477.03MB/sec with a $29.79 price/performance rating, faster and more expensive than the ZS4. That K2 result was in a different ballpark compared to previous SPC-2 results, and implied that, from here-on in, only all-flash arrays (AFAs) could play at the highest SPC-2 levels.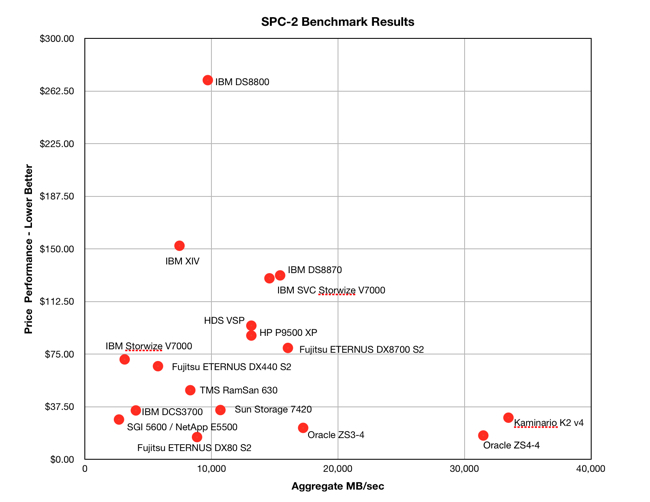 The lower down and the farther right the better
For Oracle to be in the same ballpark, with a disk-based system using read and write caching to flash, is a reminder of just how good disks are at streaming IO compared to random IO, where their performance sucks when compared with AFAs.
So, come on disk drive array guys; all is not lost. Get flash caching, load up with 2.5-inch 10K spindles and strut your SPC-2 stuff. ®