Bristol's 'Smart City' reserved for boffins. Sorry bumpkins
High-speed fibre? All right, my lover
---
The City of Bristol claims it will be the world's first programmable city, after launching a software-defined network that will deliver ultra-fast fibre and a wireless canopy across the city.
However, locals hoping to hop on to the network being rolled out along the watery town's Brunel Mile will be disappointed, as it will be open to developers and researchers — not to the general public.
The city is looking to position itself as a test-bed for the issues facing (wannabe) smart cities worldwide, as well as boost its broader tech industry.
Among other claims, it says it has one of the highest concentrations of microprocessor design teams on the planet. It also hosts the R&D team for online takeaway hub, Just Eat.
A tie-up between Bristol University and the city's council has established network nodes at the university, and three other venues in the centre of the city linked by 144-core fibre. There will also be a wireless mesh network across 1,500 lamp posts in the city.
The network will run from a "Software Defined Network City Operating System" run by the University's High Performance Networks Team. Processing and data storage oomph will come from the Uni's Blue Crystal II Supercomputer.
Demetria Simeonidou, who heads the university's High Performance Networks Group, as well as being chief technology officer for the Bristol Is Open project, said the network could theoretically support the equivalent of two times that of BT Infinity to the whole the UK population.
In reality, the university will deliver slices of the network's capacity of 30Gbps for particular projects. The minimum unit will be one Gigabit, though this could be further reduced by time slicing to 100Mbps.
That's an awful lot of grunt to throw open to the city. However, it won't be open to the public, as that would tip the council and the university straight into a legal bunfight with BT, Virgin and other broadband providers.
Rather, it will be open to researchers looking to develop and model heavyweight networking apps and the latest theories about what you might loosely call smart cities.
The City Network Operating System consists, crudely, of: a device unification layer; a kernel layer hooking up (smartish) city infrastructure elements from computers to smart homes and parting systems; and a presentation layer which exposes the other elements and providers a platform for developing applications.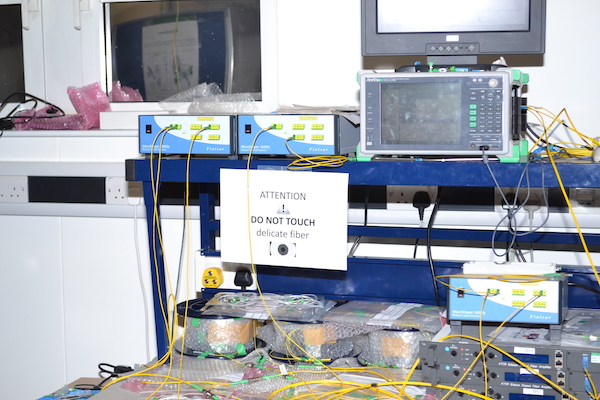 Don't touch the fibre
The platform features a network emulator. So while Bristol can happily hum along on four nodes, it can model the effect of scaling up to the 1000s of nodes needed to model the likes of Shanghai or New York.
Simeonidou said while the network integrated with current networking standards, it was technology agnostic and could be upgraded in lockstep with new technology generations. It was already working with elements of 5G and "when 10G comes, we can put it in".
The university will also link with the planetarium at the city's At-Bristol science centre over a 100Gpbs link, enabling it to double up as a Data Analysis Dome for 3D 4K modelling of data harvested from the network and other sources. ®