Say hello to E8 Storage, a stealthy Israeli start-up founded by two XIV veterans.
CEO and co-founder Zivan Ori was an R&D manager at IBM-XIV for five years up until 2013. He spent 16 months as chief architect at Stratoscale – another stealthy storage start-up – then left to set up E8 in November 2014. Co-founder Alex Friedman was a core R&D Manager at IBM-owned XIV until October last year. He's now the R&D VP at E8.
The company is backed by Magma Venture Partners, whose Ran Achituv has a seat on the board. Vertex is another investor. We understand there has been one funding round, in December 2014, and that was led by Magma Ventures. We'd guess it was in the region of $5m.
Achituv describes E8 Storage thus:
"E8 Storage develops the next-generation storage architecture for the enterprise and software-defined cloud. Built upon modern data centre hardware, E8 Storage is able to deliver considerably higher storage performance for half the cost of state-of-the-art storage products, without compromising on reliability. E8 Storage leverages the unique storage-related talent in Israel coupled with a breakthrough architecture to deliver the next wave of innovation in the storage market."
Trying to unpack this is fun, but doesn't get us much further. Built on "modern data centre hardware" suggests it's a hardware and software project. We could define "state-of-the-art storage products" as all-flash arrays. E8 delivers higher performance "without compromising on reliability", suggesting that its base technology is unreliable... maybe.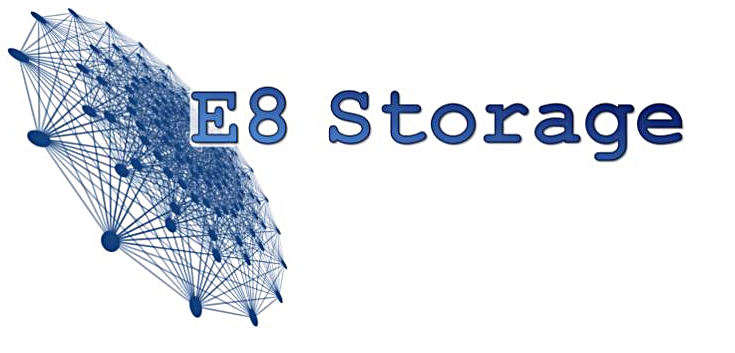 The graphic suggests large numbers of interconnected nodes – or an umbrella.
In a LinkedIn post, Friedman said cryptically: "Since the 1990s there have been just 2 dominant storage architectures. E8 Storage is developing the 3rd." Was he referring to SAN and NAS, meaning block and file? Is he forgetting about objects?
It's possible Accelio technology, "designed to maximise message and CPU parallelism", might be involved as Friedman seems interested in that. It's meant to "maximise the benefits of RDMA, hardware offloads, and multi-core CPUs and multi-threaded applications."
XIV was bought by IBM in 2008 for $300 million. Acquisition is the general Israeli storage start-up exit strategy – think Diligent, Anobit, XtremIO and others.
For now we just have to wait to learn more, as E8 Storage is operating in quiet mode. ®
Similar topics