This article is more than 1 year old
Digital pathology and the big Cs (that's 'cancer' and 'cloud')
Analysing slides through a microscope is 'archaic'
Comment Have I got cancer? "Maybe," says my oncologist, "so I'm going to take a biopsy and we'll have a look."
A small piece of my body, tissue from the potentially cancerous organ, is obtained through an incision, and sent to a pathology lab. A thin, thin slice is cut off, stained with revealing chemicals, and then checked by a pathologist.
This scenario is repeated tens of million times a year around the globe, and digital health company Proscia CEO and co-founder, David West Jr, says: "This is archaic."
What's he on about. An expert is gonna tell me if I have cancer or not, and it's archaic?
Yes, he says, because it's performed using a human eye, which is inconsistent and unreliable, and the get-tissue-cut-a-slice-and-stain methods haven't really changed for 150 years.
David West, West Jr's father, told us: "Alexandra Sifferlin reported last week for TIME that pathologists concur only 75 per cent of the time. This is a real problem Proscia can help solve."
Proscia was founded in 2014 by five technologists, scientists, and entrepreneurs from Johns Hopkins, the Moffitt Cancer Center, The Ohio State University College of Medicine, and the University of Pittsburgh.
West's father acts as a consultant and explained why it was started:
Like most of us, our lives have been touched by a close family member who had a serious bout with cancer. While studying biomedical engineering at Johns Hopkins, David Jr connected with some researchers who 'set the table' on where improvements can be made to the current approach to reading a biopsy.

Today (and for last 150 years) a human visually looks at a tissue sample slide under a microscope or on a monitor [but] the human eye can only process so much information. It's shocking how little computer technology is used to evaluate biopsies.

Proscia has created a cloud-based software platform using computer visualization, machine learning and analytics to uncover millions of data points that can be analysed to better diagnose and find trends and correlations for researchers.

Pathologists and researchers can use Proscia to store, annotate, quantify, analyse, and collaborate on biopsies. It's a giant leap from today's outdated approach and fulfills a personal commitment to help fight cancer.
The founding staff believe that the digital slide is the right alternative to the glass slide and microscope, and provides the basis for bringing IT to bear on biopsy analysis and cancer diagnosis, making it, they say, faster, smarter and more efficient.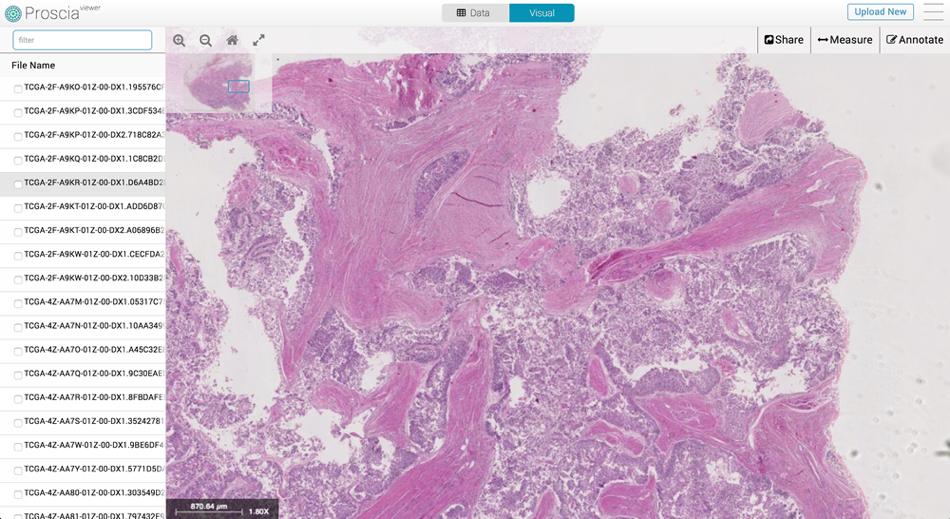 Digital cancer biopsy slide: Bladder Urethral Carcinoma at 1.8 zoom. It can be zoomed 40X for fine detail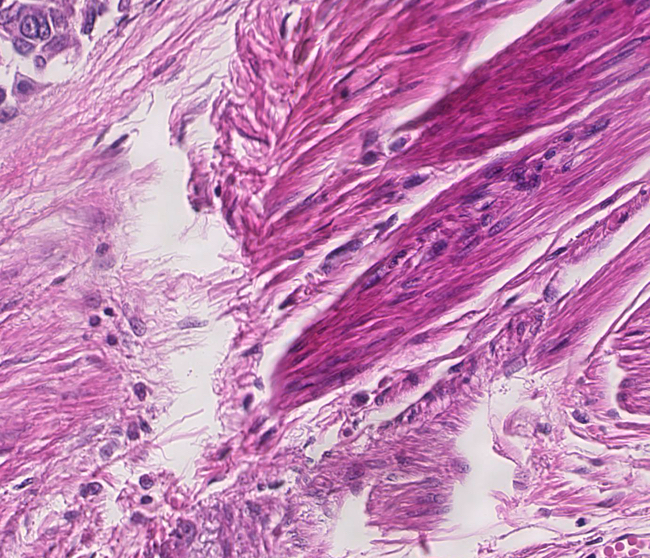 30X zoom of central area of the slide seen above. Zooming can go to 80X.
West Jr adds that we "built a modern computing platform that will revolutionise the 150-year-old pathology workflow." The generation 1 version has just been announced and provides an "easily managed, highly scalable digital slide repository, with secure data access. The technology combines multi-tenant cloud computing, image analysis and machine learning with proprietary algorithms to bring unprecedented computer intelligence to the pathology field."
The Proscia Core SW features:
Secure storage, annotation and collaboration on multi-gigabyte digital biopsies
High resolution, deep zoom viewing; whole slide images are massive by the way
Support for all leading whole slide scan formats, as well as static images including Leica Biosystems (Aperio) .svs, .scn, and .tif, Phillips Digital Pathology .tiff, and Roche's Ventana .bif
HPIPAA-compliant storage structure
Seamless integration with third-party storage services, including Dropbox, AWS, and in-house storage systems
Enhanced Dropbox integration that enables multi-terabyte image migration to the Proscia platform in seconds
Tissue Microarray (TMA) functionality
No cost sign up and use of the Proscia platform free up to 20GB of storage
Up to 5PB of high redundancy image storage above free tier which has 99.99 per cent availability
The Core information is accessed through Proscia Console software.