This article is more than 1 year old
Playing by stealth: Twelve gaming headsets to plonk on your noggin
Keep the kids - and neighbours - happy this Easter
Plantronics Rig Surround

Sitting slightly loose on my head, this wasn't the most comfortable of the headsets I tried, but that was maybe down to the lack of headband padding. Considering the Plantronics Rig is the same price as the Razer Kraken, there's a comparable lack of build quality.
Equipped with 40mm drivers, the ability to mix audio from two sources – such as phone calls and gaming audio – was useful, and happens through a small USB soundcard amplifier the size of a Hobnob. This biscuit-sized controller also switches between 7.1 and stereo, and some useful and impressive sounding EQ profiles.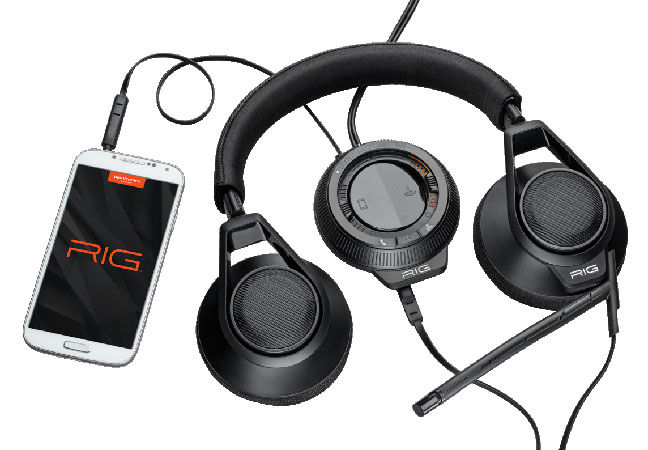 I was impressed by the quality of the audio: it's no shock that there's a lot of bass, but it's under tighter control than in the Kraken and the high end has real sparkle. Overall, the sound quality was above average with immersive surround. It's therefore a shame that I reckon it would be slightly uncomfortable to wear for even the shortest raids, let alone 600 wipes in Blackrock Foundry.
Price
£90
Compatibility
PC, Wired
More info
Plantronics
Razer Kraken Chroma 7.1

My first Impression is that the Razer Kraken Chroma 7.1 looks a lot like the Steelseries Siberia until the lights go down. Then these 40mm cans start blazing. Controlled by the Synapse software, there's an avalanche of options for speakers, mic and lighting and I was kept busy tweaking for hours. Strangely, this never got boring.
There's a lot of rumbling bass with this headset, which is excellent for immersive gaming, but I needed another fiddle with the equaliser while watching Fury to avoid any brown notes. Too much plastic is made up for by the gold-plated USB connector and the convenient retractable mic that doesn't pick up any background weasels.
Delivering a balanced sound all round, the Kraken Chroma is definitely not a case of style over substance, though it's lucky I'm a sucker for colour cycling.
Price
£90
Compatibility
PC, PS4, Wired
More info
Razer