Sony nabs cloud gamers OnLive, administers swift headshot
Yet more defunct hardware to clutter up the cupboard
---
Subscribers to the OnLive cloud gaming service have just 27 days of playing time left before the corporate servers that host their fragging sessions are to be shut down by Sony, which announced that it had acquired the service on Thursday.
"It is with great sadness that we must bring the OnLive Game Service to a close," the company said in a forum post.
"Sony is acquiring important parts of OnLive, and their plans don't include a continuation of the game service in its current form. Your service should continue uninterrupted until April 30, 2015. No further subscription fees will be charged, and you can continue to play all of your games until that date."
The OnLive service is now free for all users and those who paid $10 a month to play on the firm's servers will get a refund backdated to March 28. An OnLive spokesperson told The Reg that it would be a good time to get some last-minute gaming in.
Those who bought OnLive's games control pad and MicroConsole streaming device for TV use are also out of luck – unless you bought them before February 1, in which case you can ask for a refund. After the shutdown date, the devices will become just more stuff to shove in a corner somewhere until the next tech spring-cleaning.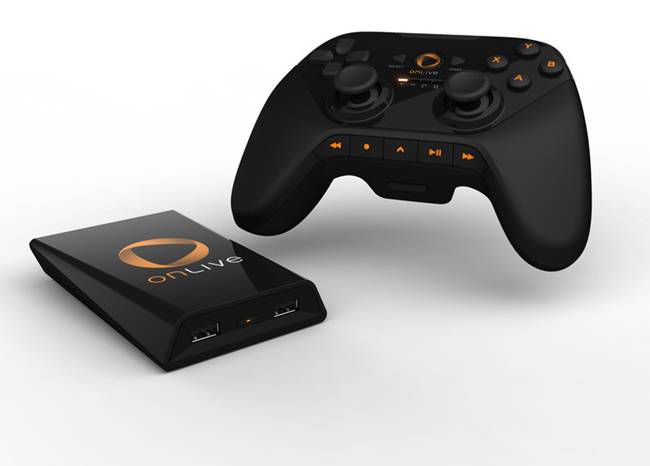 About to become as useful as a lace condom
OnLive's service for enterprise customers, who used the firm's servers to run graphics manipulation packages, will also end at the same time. Enterprise customers' contracts will be dealt with in the same way as gamers' contracts, including backdated refunds.
Philip Rosenberg, VP of global business development at Sony Computer Entertainment, issued a canned statement on the purchase, saying:
These strategic purchases open up great opportunities for our gamers, and gives Sony a formidable patent portfolio in cloud gaming. It is yet another proof point that demonstrates our commitment to changing the way gamers experience the world of PlayStation.
OnLive has over 1,000 patents related to cloud gaming and Sony reckons they could be useful for its own PlayStation Now online gaming system, which launched in January. Sony charges $20 a month or $45 for three months for access to around 200 PlayStation 3 titles. Customers can also rent individual games for between four hours to 90 days.
Rather bizarrely, there's no plan to offer OnLive customers any kind of incentive to join PlayStation Now. OnLive customers facing a doubling of their monthly costs – and a little butthurt from the abrupt closure of OnLive, which will wipe all their stored gaming personas and achievements – might seek other services instead. ®