This article is more than 1 year old
Torvalds' temptress comes of age: Xfce 4.12 hits the streets
Is it enough to turn into a fully-fledged lover?
Screens and monitors
If you're short of vertical screen real estate there's a new option to hide the window title when you maximize the windows. It's not much, but on cramped screens such as my old EeePC I'm always looking to save every bit of screen real estate I can, and hiding the title bar definitely helps.
Those with the opposite problem – multiple monitors – will also love this update. Display settings have been revamped, with quick, easy-to-set-up multi-monitor support.
The Alt-Tab window switcher dialogue looks a bit different as well, with a couple of new switching modes, a list view and a windows thumbnail view. The window switcher is fully themable, so third-party themes can customise things as well.
The new built-in Alt-Tab themes are nice, and there's mouse support as well. That means you can click on items to switch to them if you want to mix some mouse movements into your keyboard short-cuts.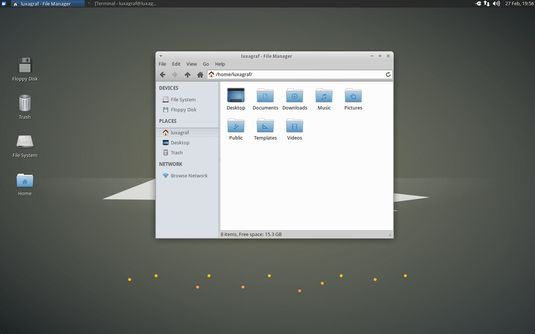 Thunar packs some long-awaited improvements
Perhaps the best news for anyone with an HiDPI screen is there are two new themes with HiDPI support. That's a welcome change given how bad Xfce looked on HiDPI screens. Gone are the jagged corners on icons and, worse, the janky, pixelated text.
Among the smaller, but welcome changes is a long-awaited improvement to the default Xfce file manager, Thunar, which finally supports tabs for opening multiple folders within a single window. There's even a handy menu item "File >> Detach Tab" that will open the currently selected tab in its own window, should you want to separate something out.
Thunar's folder properties display gets a new blue bar that shows the remaining free space available. In fact, speaking of the properties pane, you can now open the properties pane for multiple files at once, making it easy to get the total file size of a group of files.
There's also quite a few new options in the Xfce Power Manager. The Power Manager can track any devices that are plugged in and offers such fine-grained controls as separate settings for what happens when the lid of your laptop closes, depending on whether or not you're plugged into a power source. For example, you can set it so it just locks the screen when you're plugged in, but does a full hibernate when you're on battery.
The popular Whiskermenu alternative panel menu plug-in, which has long been the default menu panel in Xubuntu, is now an official member of the Xfce family. Another alternative interface, the XfDashboard – a GNOME Shell-inspired launcher – is also available as a standard part of Xfce.
Other updates in this release include an update for Xfce's task manager, which added a search bar for quickly filtering processes, and the default terminal app which can now be used as a drop-down terminal and includes some new default colour schemes, like the developer favorite, Solarised.
Xfce 4.12 arrives too late to make the upcoming Debian Jessie, but look for other distros to begin incorporating Xfce 4.12 into their releases later this year.
All in all, Xfce 4.12 is a big step forward. It might even persuade passers through – as epitomised by Torvalds – to stick around. ®