Irvine Welsh offers A Decent Ride, while the The Discreet Hero is yet to be revealed
Plus, scatological self help in 10% Human
The Discreet Hero
Mario Vargas Llosa is a Peruvian novelist and the winner of the 2010 Nobel Prize for Literature. The Discreet Hero is the story of two family upheavals which overlap.
Felicito Yanaque is a self made man in the provincial town of Piura. One day he receives a note demanding protection money. Felicito goes to the police, refusing to be trampled underfoot as his father had taught him.
After a warning from a woman with second sight, there is a fire at the transport company he owns, the blackmailers are uncovered, and events come home to haunt him.
Meanwhile in Lima, Don Ismael Carrera asks his friend and colleague Don Rigaberto to be a witness to the wedding he plans to make with his domestic help, to thwart his useless sons, whom he has heard wishing his death and coveting their inheritance while he was unconscious following a small heart attack.
Don Rigaberto is not without his problems: his son Fuchito appears to be going through a religious crisis, hallucinating a character called Edilberto Torres, who may or may not be the Devil, who makes mysterious utterances and weeps copiously: "Sometime I tell myself he's crying for all those people who suffer. For the sick, the blind, for those who beg in the street".
And Don Ismael's sons are not going quietly, as while he is away on honeymoon they try and get the marriage annulled.
His untimely death upon his return is the catalyst for his widow's flight to provincial Piura where the two threads of the story overlap, and a denouement of sorts is reached.
Vargas Llosa includes his own critique in the words of Don Rigaberto when he compares the melodramatic events to Benito Perez Galdos.
The Discreet Hero reminds me mostly of Luis Bunuel's Mexican films of the 1950's and Galdos was one of Bunuel's main sources for screenplays.
It is interesting, if a little unfair to compare this melodrama with Irvine Welsh's farce ... both deal with similar subjects; family ghosts in the closet, illegitimacy and identity.
The Peruvian is minimal with the scatology; one cop named Cuntscratcher: "According to my classification system, hers is a timid ass, if you know what I mean", and a dirty student drinking song.
You can't imagine any of Welsh's characters coming out with: "I went to brothels and paid prostitutes, horrible things that made me feel disgusted with myself ... God willing you never succumb to those repugnant temptations, the way I did", at least not without a punchline a mile wide behind it.
Mario Vargas Llosa is a class act who weaves an everyday storyline into something more than the sum of its contents.
He leaves an unsolved mystery: who exactly is the Discreet Hero? there are half a dozen candidates, but none too obvious and that is the great strength of this gentleman's writing, it is universal but never ordinary.
The characters are beautifully drawn, flawed, multifaceted and are much less stereotyped and predictable than Welsh's, leaving the reader more curious about their actions and consequences. ®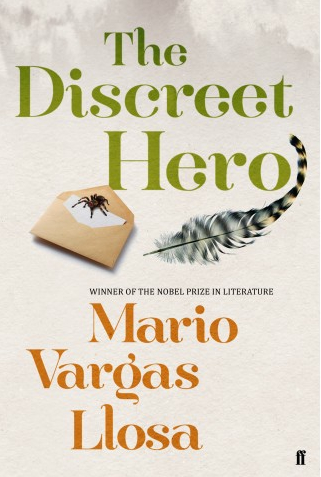 Author
Mario Vargas Llosa
Title
The Discreet Hero
Publisher
Faber
Release date
2 April
Price
Not availabe (Ebook) / £20.00 (Hardback)