CoreOS bags $12m, touts Tectonic – a DIY Google cloud for big biz
Kubernetes container control freak is in ... but Docker is out
---
Container-happy Linux upstart CoreOS has launched a beta program for a new distribution of software designed to let enterprises run their own infrastructures the way large-scale software companies like Google run theirs.
Dubbed Tectonic, the new offering combines the lightweight, container-centric CoreOS Linux distribution and its related clustering tools with Kubernetes, the container orchestration software originally developed by Google.
"When we started CoreOS, we set out to build and deliver Google's infrastructure to everyone else," CoreOS CEO Alex Polvi said in a canned statement.
"Today, this goal is becoming a reality with Tectonic, which allows enterprises across the world to securely run containers in a distributed environment, similar to how Google runs their infrastructure internally."
Tectonic can be deployed to on-premises infrastructure or to private, managed, or public clouds. In addition to CoreOS and Kubernetes, Tectonic also includes a web-based dashboard for managing cluster components.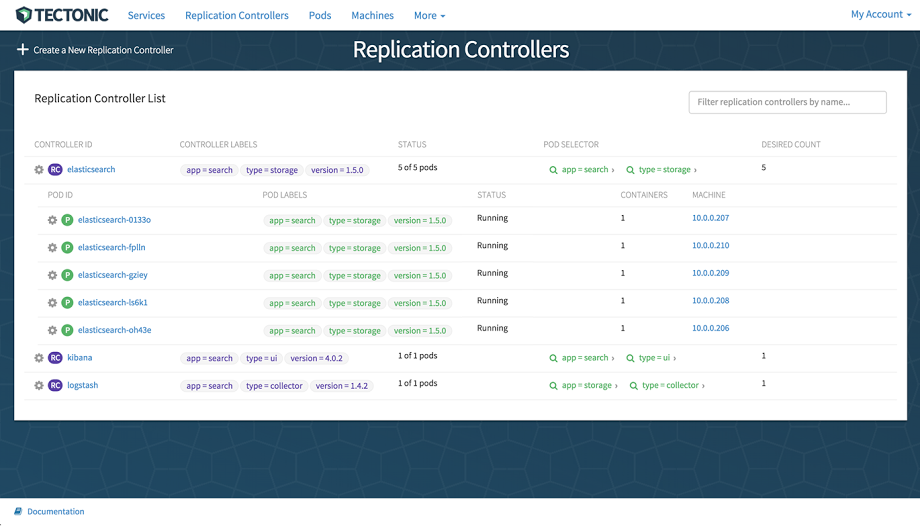 Tectonic includes a dashboard designed to make it easy to manage "Google-scale" clusters (click to enlarge)
Ready to launch with rkt
One of the more interesting aspects of Tectonic, however, is that unlike early releases of CoreOS, Tectonic doesn't rely on Docker's runtime engine to create and manage its Linux containers. Instead it will be based on rkt – pronounced "rocket"* – CoreOS's homegrown container runtime that's based on the emerging Application Container (appc) spec.
"The landscape of tools is currently scattered with infrastructure tools in varying stages of maturity," Polvi told The Reg via email. "Our intention with Tectonic is to help our customers by curating and refining the best tools for individual services from the broad ecosystem, and believe rkt is the best tool for the job."
That's the nice way of putting it. In December, Polvi announced both rkt and CoreOS's intention to move away from Docker as its container engine of choice, describing Docker's process model as "fundamentally flawed," criticizing its approach to security, and saying its development seemed to be "going down a different path than [CoreOS] originally signed up for."
Tectonic also marks the first time CoreOS is distributing Kubernetes as a core component of its offering, although it certainly supported Kubernetes running on CoreOS in the past. One reason it's included in Tectonic, Polvi said, is because the new platform is specifically designed to help enterprises build "Google-like" infrastructure, and Kubernetes provides the closest open source model of that. But the fact that CoreOS's latest $12m funding round – also announced on Monday – was led by Google Ventures surely didn't hurt.
"It made perfect sense to partner with Google Ventures to do [Tectonic]," Polvi told El Reg. "While the venture arm is a separate entity from Google, it has close ties with Google teams, including the folks behind Kubernetes."
Tectonic is being offered now to a select set of beta customers, with general availability expected sometime in the second half of 2015. Pricing information will be disclosed when the product is ready to ship. ®
* CoreOS initially referred to its container software as Rocket, but the command-line tool was always named rkt. Last week, the firm announced that it was standardizing on the three-letter spelling beginning with version 0.5 of the software, although the pronunciation stays the same.