Don't be stiffed by spies, stand up to Uncle Sam with your proud d**k pics – says Snowden
TV funnyman John Oliver gives whistleblower a hard time
---
Vid One of the more unusual interviews with NSA whistleblower Edward Snowden left the fugitive reduced to describing freedom-chilling, globe-spanning spy programs in terms of sexy selfies.
The face-to-face chat was filmed in Moscow with British comedian John Oliver, host of Last Week Tonight, and focused on the forthcoming vote by Congress on whether to reauthorize the mass surveillance sections of the Patriot Act – and the American public's thoughts on blanket snooping by the US government.
In a vox pop on an ordinary looking street, Oliver's crew asked a handful of citizens for their thoughts on the NSA's widespread monitoring of phone calls, instant messages, emails and web traffic. The quizzed Americans said they weren't aware of the intelligence agencies' mass surveillance operations, and that they didn't know who Snowden is.
But when asked if the US government should have the right to view intimate photographs sent over the internet or mobile networks to a partner, all expressed outrage.
"Would a good takeaway from this be that until we're sorted all of this out, don't take pictures of your dick?" Oliver asked the ex-NSA techie.
"No. You shouldn't change your behavior because some government agency somewhere is doing the wrong things. If we sacrifice our values because we're afraid we don't care about those values very much," Snowden replied, with a grin.
Humor aside, Snowden outlined the various NSA-led operations that gather intelligence on US citizens, ranging from the bulk collection allowed by Section 215 of the Patriot Act to the Executive Order 12333, signed off by President Reagan, which Snowden said the NSA defaults to when domestic laws hold it back.
The runaway nerd said he had looked over ("evaluated") the thousands of top-secret documents he lifted from the NSA's servers prior to sharing them with journalists, but stopped short of saying he had read every single one – and admitted there had been mistakes. The New York Times had "fucked up" in failing to fully redact one slide before publishing it, he acknowledged.
That slide included the name of an NSA staffer and the identity of an Al Qaeda target in Mosul, Iraq.
Oliver joked that because so few Americans know about Snowden, apparently, it would probably be safe for him to return to the US from his bolthole in Russia. Snowden said he did want to come back, as he missed his family, friends, and also hot pockets – which is somewhat bizarre considering how foul they are.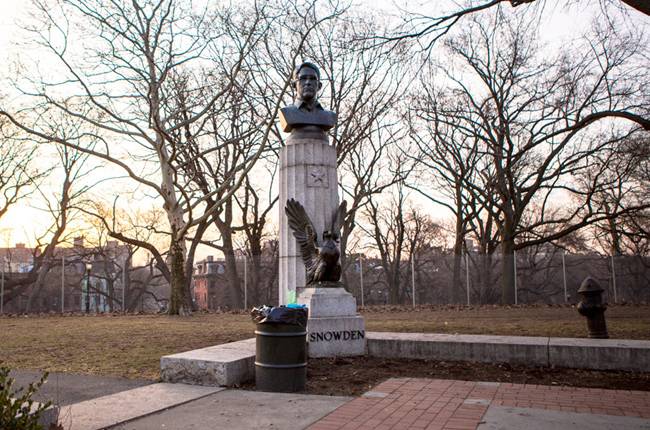 Snowden stands proud. Credit: Aymann Ismail/ANIMALNewYork
Meanwhile, some artists in New York City have erected a statue of Snowden in Brooklyn. The four-foot-tall bust was installed on top of a pillar that is part of the Prison Ship Martyrs' Monument in Fort Greene Park.
NYPD are investigating the unauthorized installation of the statue. ®