Comment The background to the peregrination of Paul Perez from Cisco to Dell throws up some interesting points related to the depressing setback of Cisco's Invicta flash array program.
Perez moved from being the VP and general manager of computing systems at Cisco, Mr UCS server in other words, to become the chief technology officer for the enterprise at Dell.
Having a CxO title is very nice, but is that — and a pay rise — enough to explain his move? After all, Dell can't offer him stock options, with it not being a publicly traded company any more.
Perez joined Cisco from HP in November 2011 to be the CTO for the Data Centre Group, then becoming the UCS VP and GM in January 2013.
NetworkWorld broke the news that Perez was leaving Cisco. When contacted Cisco confirmed he had left and then blathered on about what a great success the UCS server line was.
Eight to nine months after Perez became the VP and GM of the UCS servers business Cisco bought Whiptail and its shared Invicta and Accella all-flash arrays in September 2013 for $415m, declaring "Whiptail will strengthen Cisco's Unified Computing System (UCS) strategy and enhance application performance by integrating scalable solid state memory into the UCS's fabric computing architecture".
Since the arrays are Fibre Channel-connected (or FCoE or iSCSI), like every other SAN array this seemed a fatuous way to avoid perceived competition with its partners' networked Fibre Channel arrays, especially those of VCE partner EMC, top dog in the shared array storage industry.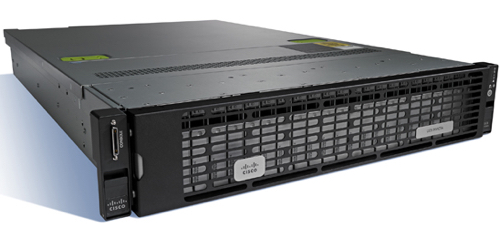 Cisco Invicta appliance
Anyway, the Accella brand was dropped and the Invicta arrays went into the hands of Cisco's sales channel and thence into customers' data centres, where scaling problems began to emerge. So much so that Cisco withdrew Invicta arrays from sale and shipment by September 2014.
Those problems are now behind it, with Invicta arrays re-engineered to use Cisco-quality components, and shipments have resumed. However, the arrays are still networked, block-access boxes and still marketed as application accelerators in the UCS computing fabric.
Well, so would any other networked, block access all-flash array be too.
Invicta arrays are networked all-flash arrays, like any other iSCSI/FC-connected AFA from Dell, EMC, Fujitsu, HDS, HP, IBM, Kaminario, NetApp, Pure Storage and Solidfire.
Yes Cisco's management software is integrated with Invicta products but that's irrelevant to them being FC-connected, networked AFAs. To pretend otherwise is to take us and everyone else in the storage business for fools.
Did Perez' departure from Cisco have anything to do with the Invicta debacle?
The new boss of Cisco's Computing Systems unit is Satinder Sethi. He was the VP of the Datacentre Group and has been since October 2006.
Whiptail founder and CTO James Candelaria is director of engineering in the Solid State Systems Group (S3G), formed around the Whiptail team, at Cisco. His LinkedIn profile claims "I currently head up R&D for S3G, responsible for current and future core technologies that will be deployed within INVICTA or across the Cisco product offering."
It's rumoured that an Invicta storage blade is being developed but Cisco won't comment on that idea. You need a storage blade for blade server systems, not for a storage array. Back-of-the-envelope logic says Cisco needs a flash storage resource integrated with its UCS servers at PCIe or InfiniBand or similar level.
It needs a hyper-converged server/storage/networking system because servers are just commodity items; look at EMC using FoxConn servers in its VSPEX BLUE EVO: RAIL products now.
It's blindingly obvious that if Cisco hadn't had UCS-selling relationships dependent upon EMC (VCE) and NetApp (FlexPod) it would have been far more aggressive selling the Invicta arrays, spending far less time pussy-footing around saying they were application accelerators.
What is it with Cisco? Does it simply not get storage arrays; storage even? Has its inability to see off Brocade and physical Fibre Channel with its Fibre Channel over Ethernet (FCoE) concept warped its corporate storage brains?
Why is it on the one hand selling Invicta networked all-flash arrays and on the other entering into FlexPod-like UCS server + array deals with Pure Storage? Can you imagine HP doing Proliant server + array deals with Pure and SolidFire and EMC? It's nuts.
This Cisco company is a behemoth in networking, has clawed its way to be a substantial server player from scratch but has been spectacularly unsuccessful in storage. Perez' peregrination to Dell could have taken place because, having lumbered Cisco with a $415m albatross that doesn't look like its ever going to fly at the billion dollar/year level, there was no future for him in John Chambers's Cisco.
Cisco joins NetApp (FlashRay) in that both have had setbacks with their all-flash array efforts. At least NetApp has all-flash FAS and the EF560. Cisco has nothing except Invicta and selling deals with partners.
There are even rumours that Cisco will look to replace Invicta with a different all-flash array supplier and its technology. As a brand Invicta is surely looking tarnished; similar to EMC's Invista, the in-SAN storage virtualisation product that failed to compete successfully with IBM's SVC and got withdrawn.
Cisco will surely get its in-house storage product strategy together and firing on all cylinders eventually, won't it?
Meanwhile Perez, now he's at Dell, could perhaps persuade Marius Haas and Michael Dell that they need to buy a flash array supplier as well, instead of reselling Solidfire arrays when all-flash Dell Storage arrays won't fit customer needs.
What fun that would be? Especially if Dell then outsold Invicta. ®