HGST's Active Archive System and the 'currency of the new economy'
Need for speed now entails a dash for cash
What better thing for a disk drive company to do than announce a drive array to archive data and increase demand for its spinning disks?
HGST has gone and done just that with its Active Archive System array, built using acquired Amplidata object storage tech.
Object storage technology views files as objects, with the content forming the address in a flat, folder-free address space, and erasure coding obviating the need for RAID and multiple copies of data.
HGST says its AAS has:
A 4.7PB single rack capacity
Plug-and-play scale-out rack design integrating object storage SW, networking, servers and storage
Amazon S3-compliant object storage interface
16TB object size maximum and 1.8 billion objects supported
3.5GB/s bandwidth per rack
Supports Avere NAS-to-object gateway (built on Avere's NAS-to-cloud tech)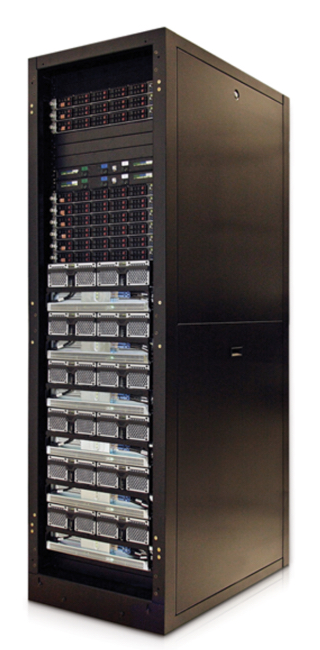 HGST Active Archive System
Selling SW-driven archive arrays full of disk drives brings in more profit than just selling the disk drives on their own. HGST is wrapping this up in a Big Data-equals-actionable-insights-from-analytics schtick.
"Data has become the currency of the new economy," said SVP Dave Tang, GM of HGST's Elastic Storage Platforms Group. "The ability to store, retain and interact with data enables businesses to gain new insights to help boost productivity, make better decisions, and even predict the future. We recognised this tectonic shift and have delivered the only solution that ... etc, etc."
The disk drives are 8TB helium-filled ones, the He8 model. We expect 10TB shingled drives later this year, the ones with overlapping tracks that slow down writes over existing data.
That slower speed doesn't matter much in an archive system where rewriting data is not a common occurrence.
HGST claims the drives consume one watt/TB. With "an acquisition cost that beats white box economics [it] enables the system to deliver breakthrough TCO that is 50-70 per cent lower than alternative open source and commercial object storage systems [and as such] HGST has delivered a 3-5X increase in density and power efficiency compared with other scale-out solutions".
The AAS is available now through HGST's channel. Get a data sheet here (PDF).
Then take a deep breath and look at the starting price; a cool $849,000. Yes, that sure beats selling the disk drives on their own.
You're paying that to get faster access than tape. If you have a need for speed then you gotta pay cash for dash. ®