The Google Effect
It's the improvements to the software that are the most welcome and would induce me to abandon the no Samsung rule. The clutter and duplication has been tamed; there's one of everything, with Samsung goodies (some of which are quite useful) moved over to be optional downloads.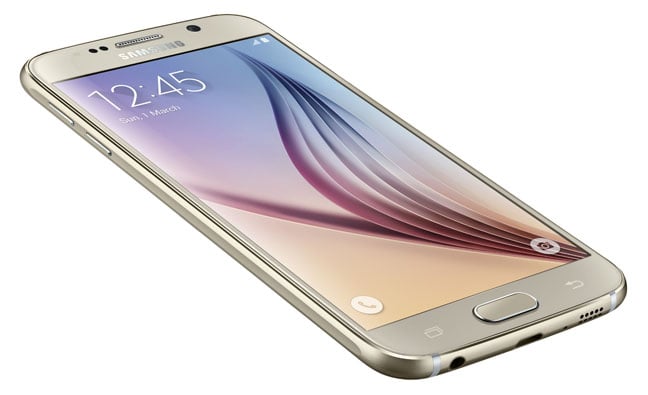 Just one speaker but it's loud enough
Although it looks more childish than its competitors (the themes so far are entirely aimed at teenage girls) TouchWiz is generally practical and thoughtful. The whimsical and ubiquitous sound effect (the "Bloop") has been killed off.
Touchwiz has also taken some of the edge off Google's stark Lollipop design. As well as being as buggy as Windows ME, Lollipop was created with cheap phones in emerging countries in mind, and doesn't do any favours to phones with rich displays, or any subtle UI work.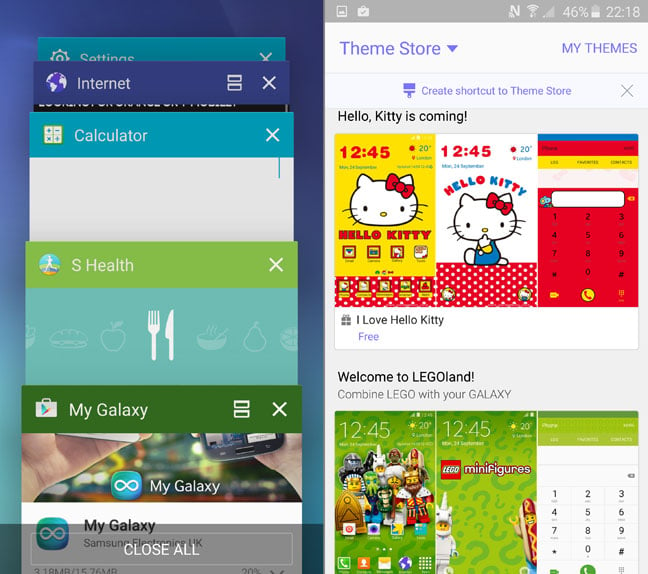 App switcher, Lollipop style and the Theme Store – betcha can't wait
In fact, being dependent on Google's Android is both Samsung's biggest advantage and its biggest hindrance, as Google leaves Samsung very little scope to innovate (as we saw when Google kneecapped the Magazine UX Samsung showed at CES last year. A pared back Magazine appeared on Sammy's tablets, but a more ambitious plan to move beyond panes and widgets was scuppered).
Samsung and the rest of the industry should have established UDI by now. Samsung turns off Google's Play binary blob by default, but you can turn it back on. Against the odds, Samsung's Knox work and its important partnership with BlackBerry give Samsung another advantage – it's a solid enterprise fleet purchase.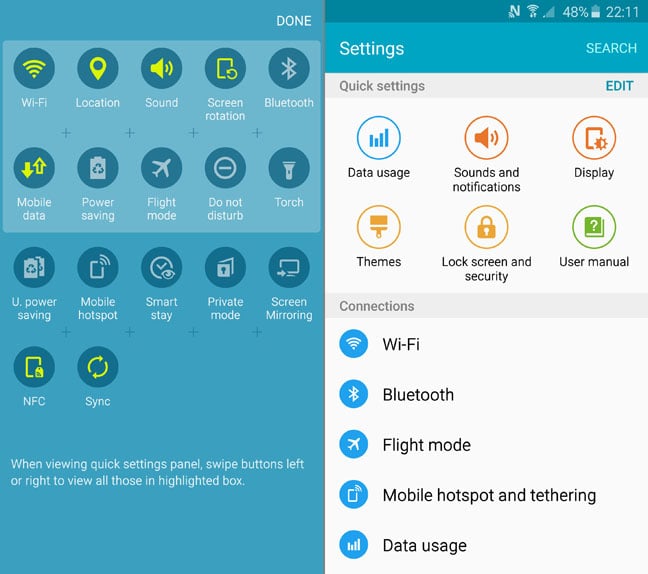 Configure Quick Settings (10 available) and the end result
Where the Galaxy S6 really stands out is ease of use for taking photos and videos demonstrating a versatile level of performance. The handset also integrates both wireless charging formats and rapid tethered charging, which gives it a serious boost in a few minutes.
The display is outstanding, not merely for resolution – matching the 2,560 x 1,440 Quad HD resolution found on last year's larger 5.5-inch LG G3 – but also for colour reproduction and contrast. In fact, in terms of pixel count, we're being ridiculously overserved here – the display doesn't need to be quite so ppi dense, as so few (even the Gallery) take advantage of it. And it's negated by the cartoonish UI. Still, I appreciated the colour quality, and the ability to dim in darkness and boost its brightness outdoors.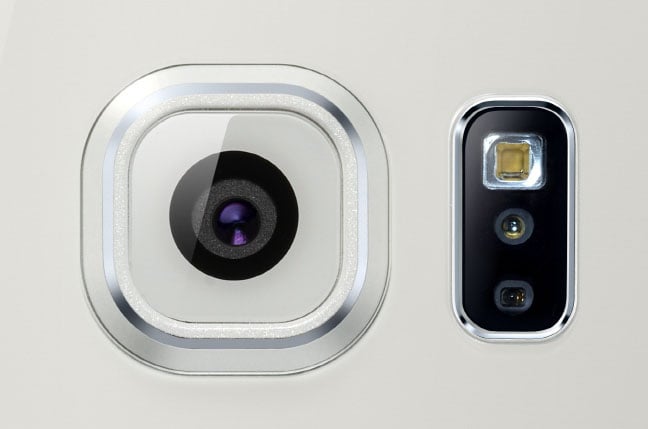 The 16MP camera features optical image stabilisation
Going head to head with the iPhone – which isn't actually the Galaxy's main competitor, as I'll explain in a bit – the camera performed well although not quite as sharp on the details when examined more closely – check out the sample shot of the lawn at Kenwood House at full-res and you'll get an idea of the image compression artefacts.
Like on Apple's iPhone 6 Plus, Samsung has added OIS (optical image stabilisation) and while this lags behind Nokia (now owned by Microsoft Mobile devices) this brought noticeable improvements to low light shots and when taking video while walking as it helps to minimise camera shake. There's a caveat – while OIS is always active, you can't use the additional EIS (electronic image stabilsation) when shooting 4K video (2160p) or with tracking autofocus.