This article is more than 1 year old
Extensive 3D NAND drives very expensive to make
Disk drives much cheaper to build – who knew?
The flash industry is going to have to dig deep – really, really deep – to fund the fabs needed to build 3D NAND.
Stifel MD Aaron Rakers bas been crunching numbers and comparing foundry capital costs for NAND over the next few years with those for disk drive fabs.
The forthcoming flash fab costs are driven by the conversion to 3D NAND which, although denser (meaning higher-capacity dies) than traditional 2D or planar NAND, is more difficult to make.
For example, planar NAND fabrication can require 3 deposition layers for charge trap NAND and 4 for floating gate flash. Rakers writes: "This would then equate to 144 deposition layers for SanDisk/Toshiba's 48-layer 128Gb/die MLC 3D NAND, 128 layers for Intel/Micron's 256Gb/die MLC 3D NAND and 96 layers for Samsung's 128Gb/die MLC 3D NAND."
The chart below shows multiple steps in Samsung's 3D V-NAND process;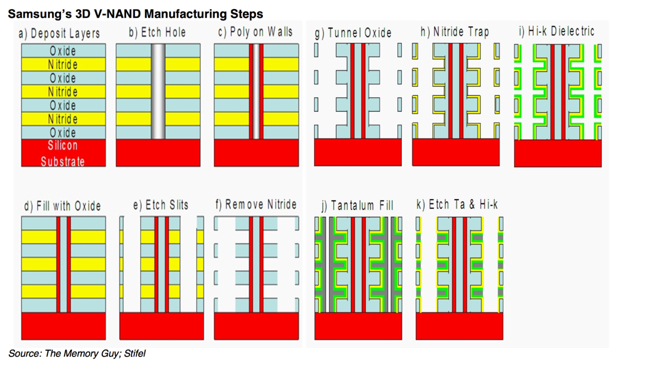 Complex Samsung 3D NAND process. Click image to enlarge it.
Rakers identifies product yield as being a major concern with this vastly more complicated fab process, but suggests the foundry operators won't publicly discuss yield percentages – the proportion of good 3D dies from a wafer.
In 2014, 3 per cent of the ~61 exabytes of flash produced was 3D NAND, according to his modelling of the numbers. That percentage will grow, Rakers said: "Gartner currently estimates 3D NAND to account for ~4 per cent of total NAND Flash capacity produced in 2015 (~6 per cent exiting 2015)."
SanDisk expects that 3D NAND will account for +50 per cent of industry wafer production by 2018.
He believes "that 3D NAND capacity shipped will achieve crossover with planar capacity shipped in 2017, driven by the increased capacity (Gb) per wafer for 3D NAND... 3D wafer production (i.e. wspm (wafer starts per month) installed base) will [not] achieve crossover with planar wspm installed base until 2018".
Samsung, SanDisk/Toshiba, and Micron/Intel have already announced +$18bn investment for 3D NAND.
Samsung's new Xi'an, China, 3D NAND fab involves a +$7bn total capex outlay
Micron has outlined a $4bn spend to expand its Singapore Fab 10
This compares with Seagate and Western Digital's capex totalling ~$4.3 bn over the past three years.
Rakers' spreadsheet modelling produced the following chart of NAND vs Seagate/Western Digital HDD CAPEX spending out to 2018: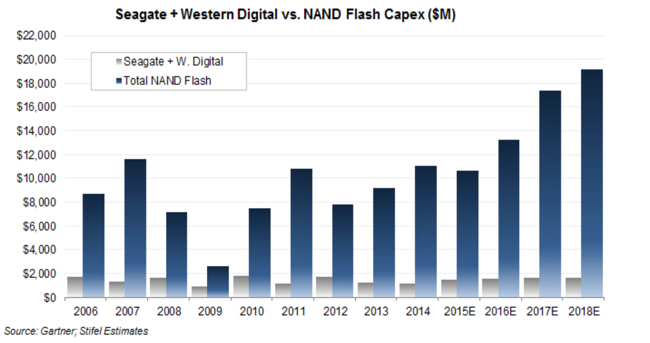 The difference is huge, especially if expressed as the capex per TB for flash vs disk;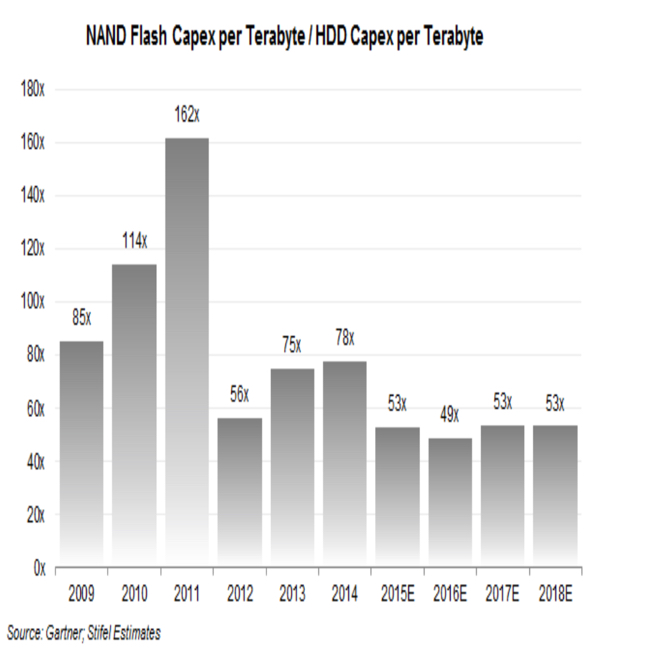 Each year flash costs between 162X and 53X more to make per TB than disk. The vastness of the expenditures and the product yield risks mean that, for Rakers and his fellow investment analysts, assessing the future profitability of flash fab operators is going to be difficult.
Production difficulties and missteps could blow great holes in these companies' business results and also result in supply problems. The road to 3D nirvana is clouded with fog and mists for now and it is far from being a done deal. ®.