Intel woos the Internet of Things with firmware factory for Atom, Quark
Auto-generated UEFI images to get gadgets up and running fast
---
Intel has released a new GUI tool that allows developers to generate custom firmware images for Intel-powered gizmos without touching any source code.
The Intel Firmware Engine, which debuted on Tuesday at the Intel Developer Forum conference in Shenzhen, China, automatically builds firmware binaries for Intel chips based on the Unified Extensible Firmware Interface (UEFI) standard.
The idea is that by making it as easy as possible for developers to get their hardware projects up and running, with a little luck Intel may not be left behind in the Internet of Things race, the way it was with smartphones.
Firmware Engine lets developers start with an Intel-validated reference firmware image and add or subtract components depending on the actual features available on the hardware. Everything is done via a Windows-based GUI and the final firmware image is assembled from a catalog of validated binary components. No programming expertise is necessary.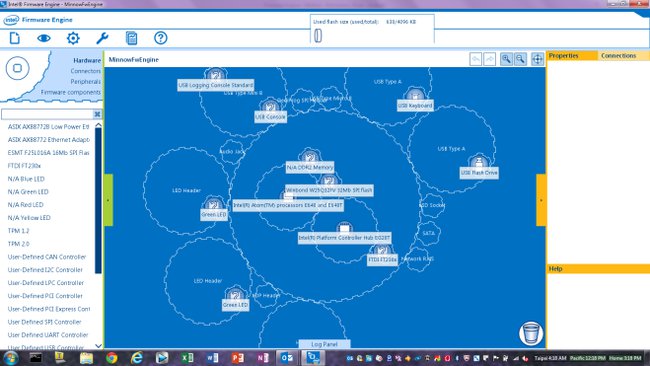 Intel Firmware Engine lets hardware devs slap images together by choosing from a catalog of binary parts (click to enlarge)
To be fair, Intel said the tool targets device makers with "minimal firmware requirements." But according to Intel software and services veep Michael Greene, that describes most hardware developers.
"In reality, most device manufacturers just need firmware to do one basic job … boot their system," Greene said in a blog post. "The value they see in the platform is the ability to run a variety of operating systems, middle-ware and user applications. Firmware is essential to the boot process, but it's not what device manufacturers want to spend most of their time working on."
The images produced by Firmware Engine are also robust enough to support booting multiple operating systems – including Windows, Linux, and Android – something that homebrewed firmware often can't handle.
Developers who do need something more than the tool can provide will be able to extend its functionality using the Firmware Engine SDK, which is currently in a closed beta-test phase.
Firmware Engine supports reference boards based on both Atom and Intel's IoT-friendly Quark chips. The first boards to be supported are the Intel Galileo Gen 2 and the MinnowBoard, with more to be added later. Repositories for these and other platforms will be made available at Intel's Firmware Resource Center.
The tool itself and its 150-page documentation are available for download from Intel's site, here. ®