This article is more than 1 year old
Microsoft uses Windows Update to force Windows 10 ads onto older PCs
'Recommended update' turns Windows 7, 8 into new OS plug
Microsoft is installing an update on Windows 7 and 8 machines which will push users to upgrade to Windows 10.
The update – KB 3035583 – is vague about its purpose. The official description states:
This update enables additional capabilities for Windows Update notifications when new updates are available to the user. It applies to a computer that is running Windows 8.1 or Windows 7 Service Pack 1 (SP1).
But what are those "additional capabilities"? Installing the update – which is marked as "Recommended" – on a machine running Windows 8.1 leads to the creation of four new folders in the Windows\WinSxS folder, prefixed "amd64_microsoft_windows_gwx". The description of one of the files installed – GWXUXWorker.exe – is "Get Windows 10".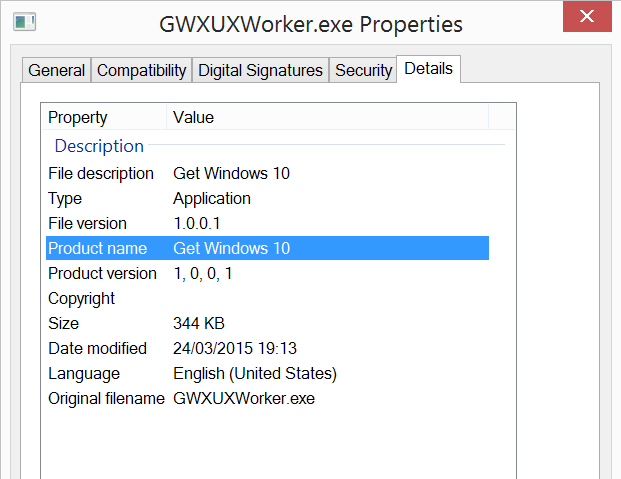 Windows update to Get Windows 10
Another file of interest is config.xml. This has sections for various phases, starting at <Phase name="None"> and continuing through AnticipationUX, Reservation, Reserved, RTM, GA, various Upgrade phases, and, finally, UpgradeSetupFailed.
There is also a reference to an OnlineAdUrl, presumably a page hyping the benefits of Windows 10, though this is currently a dead link. The update appears to be intended to advertise Windows 10 and push the user towards consenting to download and install it.
However, this raises questions over user consent to receive the update in the first place. The update is classified as "Recommended", which means that users may receive it automatically, depending on their Windows Update settings. This is the middle classification, between Important (which includes material such as security patches) and Optional (never installed automatically).
Comment
While it is understandable that Microsoft wants to encourage users to upgrade to Windows 10, something as radical as an upgrade from Windows 7 is normally treated more transparently. Sneaking the process into an update described so vaguely – and which may get installed without the user ever seeing the description – seems at first sight to fall short. It is common for users to click OK without understanding the consequences, particularly if dealing with a trusted source such as Microsoft.
The scheme could backfire. However good Windows 10 turns out to be, some will still prefer the familiarity of Windows 7, or want to stay with it for compatibility reasons. Further, a proportion of upgrades will inevitably fail. This means that the way the upgrade is presented and installed is of critical importance – even though it will be free – for Microsoft to avoid a storm of protest. ®