Quantum makes the leap into money-saving archiving
Less primary storage needed
---
Quantum has added another layer to the onion that is its StorNext file management and archiving product set. It now has Arkivo software selecting primary storage files on a policy basis.
It sends them for archiving either to a DXi deduped backup target, with an archiving partition, or to a new device, an Artico near-line NAS which is a gateway to object, tape or cloud archive stores.
The main idea is for customers to, hopefully, save money from having less primary storage, against that often repeated background context; rampant unstructured data growth.
The Artico product is a filer, a NAS box running StorNext, which has its own disk storage and can tier files to backend targets such as Quantum's Q-Cloud Archive, Lattus object storage arrays or to Scalar tape libraries using LTO tapes and LTFS.
It decides which files to send where using StorNext policies. These can create multiple archive targets and archive copies where extra data protection is needed.
Quantum says it scales from small environments to ones with a petabyte of data:
32TB - 70TB of onboard disk
LTFS support
Scalar i80, i500 and i6000 tape library targets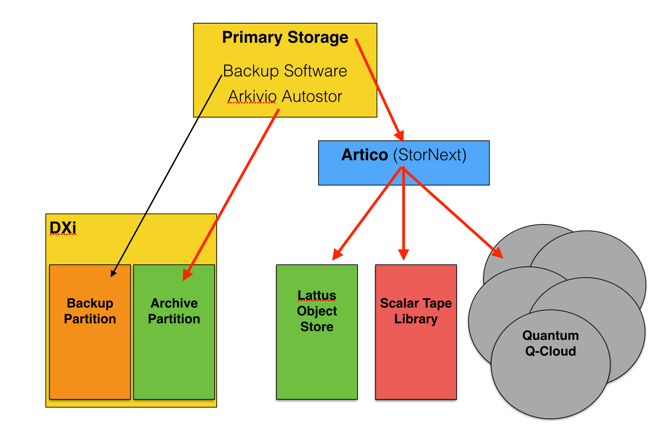 Quantum's DXi, Arkivio and Artico scheme
The company has upgraded Lattus object storage with S30 nodes which support 6TB disk drives and have 72TB raw capacity. The S20 nodes support 4TB drives and Quantum says the S30 has a 15 per cent lower cost per TB
Should you use Artico or a full StorNext system? StorNext provides primary storage, extended online storage (Lattus object), tape archives and Q-Cloud storage, with this repository accessed through metadata controllers.
It's popular in the media and entertainment industry with complex workflows involving large and multi-part video files being stored in the various tiers according to their access needs and age.
StorNext is also used in the life sciences and seismic data areas, which also feature large scale file populations and a need for archiving older files.
Artico can perhaps be seen as StorNext-Lite, an archive for less complex workflows with less complex data management needs.
Arkivio Autostor
The Arkivio to DXi or Artico system uses Arkivio Autostor software from Rocket to transfer files from primary storage arrays to the Artico appliance, or to a DXI deduplicating backup to disk array, in which it provides an archive partition.
The DXi4700 and DXi6900 arrays are supported in this way. Obviously you need space on the array for both the archived data and the backup data partitions.
Autostor provides a way of archiving files (in their native format) without using backup software and also gives users a choice of disk-based archive targets; a DXI 4700 or 6900 on the one hand, and Lattus object storage on the other.
We would suggest viewing a DXI-based archive as a mini-archive, one without the huge capacity growth that the Lattus system offers.
Quantum claims that using Arkivio SW and DXi arrays in this way "saves in excess of 60 per cent on total storage costs for each TB of unstructured data that is moved from primary storage to archive".
There's the basic ROI calculation; you either have enough data to make savings which pay or more than pay for the Arkivio/DXI archive partition costs, or you don't.
It suggests using backup software for structured data and Arkivio for unstructured data, with Arkivio SW identifying suitable unstructured data in the primary arrays.
Get an Artico datasheet here (PDF). Artico's list price is $45,000. A 6-node Lattus S30 with 6TB drives starts at $220,000 with a 20-node set-up costing $620,000. ®