This article is more than 1 year old
Who is the fastest-selling phone maker of ALL TIME? Samsung? Apple? No, it's Xiaomi
If you just count online sales, cough
The bods behind the Guinness World Records has awarded Xiaomi a certificate for the "most mobile phones sold on a single online platform in 24 hours."
The Chinese electronics giant holds an annual Mi Fan Festival on the anniversary of its founding, and flings discounts at its fans to chivvy them along. This year, on April 8, the biz sold 2,112,010 handsets from its website during the festival, netting it the world record.
In a Facebook post Xiaomi described the sales as "insane." In addition to handsets, Xiaomi sold 770,000 smart appliances and 38,600 internet-connected television sets during the event. In all, the Chinese manufacturer banked 2.08bn yuan ($335m).
The adjudicators from Guinness monitored the event, and Xiaomi's figures were verified by auditors from PricewaterhouseCoopers.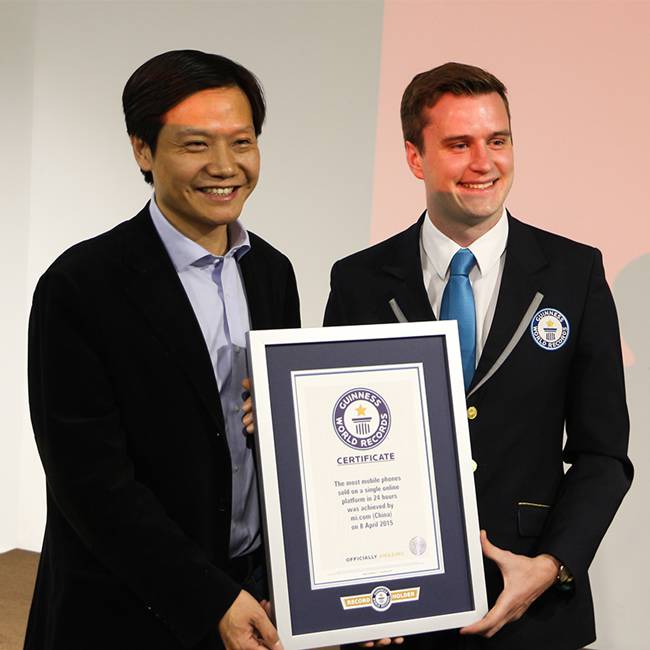 Lei Jun is a very happy man
China has 1.35 billion people on its soil, so that's a lot of potential fans for Xiaomi. But the aforementioned sales figure is not bad going for a phone manufacturer that opened its doors in 2010. It's uncomfortable news for Samsung and Apple, but executives in Seoul and Cupertino can at least take a crumb of comfort from the fact that while Xiaomi is growing fast in Asia, it's still a minnow in the rest of the world.
While Xiaomi is hugely popular in China, and has started expanding into India, it has yet to start handset sales in the US or Europe. In February the firm came to San Francisco to show off its wares, and has started selling headphones, battery packs and fitness trackers, but its higher-ticket items are off-limits.
That is going to change however. CEO Lei Jun has big expansion plans and would no doubt love to go head to head with Apple, given his appreciation for its late cofounder Steve Jobs.
How fast that happens will depend on how many partnerships the firm can build with domestic telecom providers, and overcoming some US government resistance to letting Chinese firms into the American market. But with record-breaking sales figures, Xiaomi could be coming sooner than expected. ®