AWS Summit Amazon Web Services cut its teeth providing data center infrastructure in the cloud, but lately it's made some coin serving up virtual desktops, too. Now it has expanded that offering with new services that allow IT admins to purchase and manage desktop applications via AWS.
Amazon first jumped into the virtual desktop infrastructure (VDI) biz in 2013, when it debuted Amazon WorkSpaces at its AWS re:Invent conference that year. The idea is that AWS uses its Elastic Compute Cloud (EC2) to spin up virtual machine instances running Windows desktops, which customers access remotely via client software.
When El Reg tried out WorkSpaces last year, however, we found it pretty clunky compared to some rival VDI offerings. Maybe that's why Amazon has decided to sweeten the pot.
At the AWS Summit in San Francisco this week, Amazon unveiled AWS Marketplace for Desktop Apps, an extension of the AWS Marketplace that allows customers to browse, search, and purchase prepackaged applications to run on their WorkSpaces instances.
AWS senior veep Andy Jassy explained during Thursday morning's keynote that the idea is to offer "the popular desktop apps that companies are used to using" while simplifying software licensing issues by allowing customers to pay by the month, rather than all up front.
Amazon's WorkSpaces Application Manager allows users to choose and install software from curated catalogs (click to enlarge)
Jassy said the marketplace offers more than 100 applications in 11 categories at launch, with more to be added as time goes on. "You'll see McAfee, Adobe*, TurboCAD, WinZip … a broad selection of apps that you can consume by the month," he said.
It's not immediately clear what AWS will charge for these applications – and curiously, some of those included in the list are open source or freeware that can easily be downloaded and installed at no charge. Currently, however, Amazon WorkSpaces come with a minimal set of free utilities at the base price, with add-on commercial software bundles billed at an additional $15 per month.
The real appeal of getting desktop apps from the AWS Marketplace may be the ease with which they can be deployed. Instead of providing installers, Amazon enables IT managers to distribute software as virtualized application containers that can be up and running in a on WorkSpaces desktops in a couple of clicks, thanks to  Amazon WorkSpaces Application Manager (WAM), another new tool introduced on Thursday.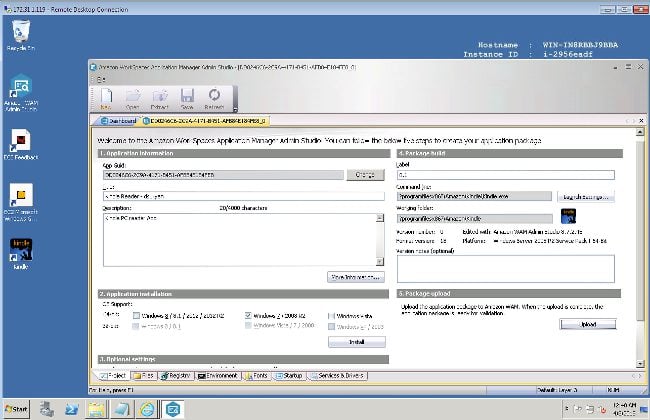 Amazon WAM lets admins package any Windows software to be delivered as containers to WorkSpaces (click to enlarge)
WAM lets IT departments assemble a catalog of approved applications that end users can then browse, select, and provision onto their WorkSpaces desktops themselves. What's more, it isn't limited to the software Amazon offers in its Marketplace; admins can also use WAM to make containers of any existing software for which they already own licenses, including both off-the-shelf applications and homebrewed ones.
"By introducing the AWS Marketplace for Desktop Apps and Amazon WAM, AWS is adding even more value to the Amazon WorkSpaces experience by helping organizations reduce the complexity of selecting, provisioning, and deploying applications," Amazon's Gene Farrell said in a canned statement.
The standard edition of WAM is priced at $5 per user, per month, not including the cost of any software you buy from the AWS Marketplace. A free "lite" version is available that lacks the standard editions fine-grained administrative controls and doesn't let you package and upload your own apps. Budget-conscious customers might still want to give the standard edition a try, though – it's also free through July 1, 2015. ®
Updated to add
* A spokesman for Amazon has been in touch to say "Adobe is not part of the AWS Marketplace for Desktop Apps. Mentioning them in the keynote was our error."