This article is more than 1 year old
Eyes on the prize: Ten 23-24-inch monitors for under £150
Ideal for a second display or something for the Steam box
Product roundup Computer displays have never been better value for money, from the all-singing, all-dancing models with every bell and whistle you can think of, to the less extravagant monitors.
Indeed, paying less for a display no longer means major compromises on quality or features, as it once did. These days, panels for under £150 are not to be sniffed at and can be just the job to enhance screen real estate or to complete a budget system. We're not thinking mission-critical here, more a second display or something to get you up and running on an NUC, Steam box or for dev projects on a Raspberry Pi and suchlike.
All the models featured are 1920x1080-pixel, full-HD monitors sized between 23 and 24 inches, with a range of input connectors including HDMI, DisplayPort and MHL, and most have speakers too. Not so long ago, these features would only be found on pricey, top-end models. So let's see what's on offer now for this kind of cash.
Many thanks to Overclockers UK for its help in supplying a number of these displays to complete the round-up.
AOC I2369VM

Cheap build quality is apparent with some entry-level displays from the very moment you remove them from the packaging, but this couldn't be said of AOC's 23-inch I2369VM, which has an obvious rock-solid feel about it. Some display stands are so flimsy, that they start to wobble at the slightest knock, but the AOC I2369VM remains stable, even when pushed quite hard.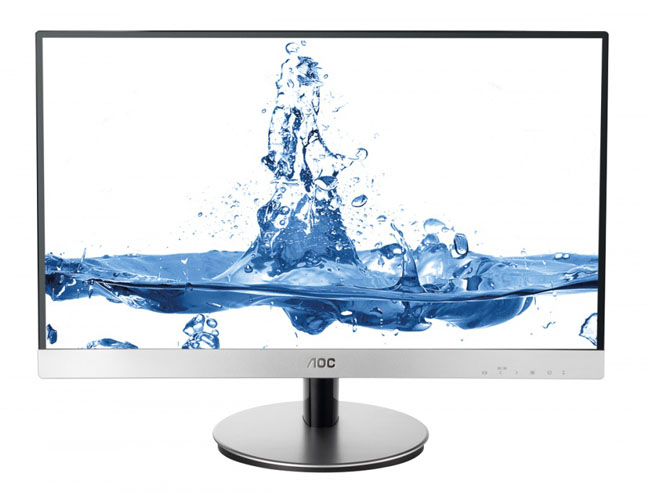 It looks good, but it may be a little too minimalistic, since there's no indication as to the function of each of the buttons located underneath the screen. However, the website pics all show icon decals on the front, so perhaps this was an early sample. Among the buttons, there's one that brings up a large on-screen menu, chock full of settings to adjust the image quality.
These days, built-in monitor speakers are generally far better than they used to be, but the I2369VM does sound a bit tinny at times, to the point of being almost unbearable at high volume.
Still, there are plenty of positives to make up for these small issues. AOC has included four display inputs, including a full-size DisplayPort – something of a rarity on entry-level displays – two HDMI ports, one of which supports MHL (Mobile High-Definition Link), and a legacy analogue D-Sub VGA port.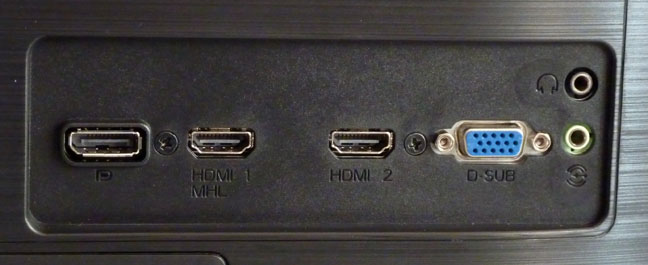 Another plus point is there's no external PSU, you just plug it in with a standard IEC lead. Best of all, though, the picture quality is excellent, partly thanks to being an IPS panel, but also due to its noticeably good contrast levels, rich colours and sharp brightness. There are plenty of options to adjust the image. All in all, the AOC I2369VM was certainly one of the best of the bunch.
Asus VE247H

The VE247H immediately impresses out of the box, due to its superb head-on picture quality. Hooked up to a PC, the screen appears vibrant, and the 5W speakers are clear enough for everyday audio tasks. DVI is included and if you want better external sound, Asus has included 3.5mm audio outputs, although all the connectors are located in the hard-to-reach underside of the display, rather than horizontally.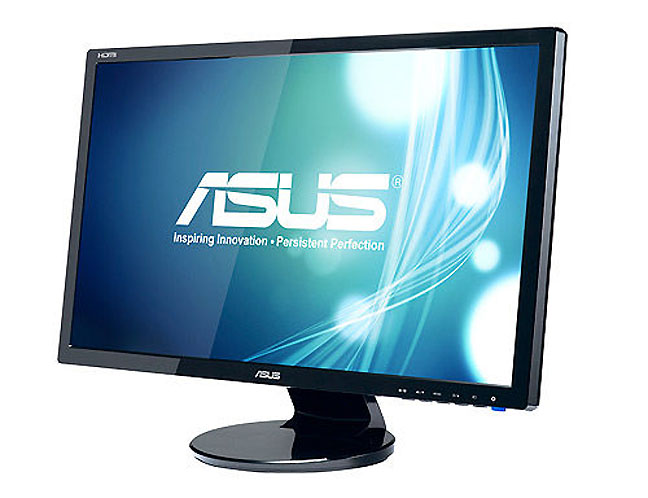 The bezel and rear of the display are coated in a particularly glossy black plastic, that attracts fingerprints, and the stand isn't up to much. However, you can ditch the stand if it really causes problems as 75mm VESA mount holes are located at the back.
The OSD is well laid out, operated with buttons underneath the screen. Switch through the various preset colour modes and you'll find the Game, RGB and Night modes present a picture that varies from slightly dull to overly vibrant – although the Theatre mode over-exaggerates colours to the point of being useless.
Leave things as they are though, and the VE247H delivers good all-round performance. Gaming on it was a joy, with bright colours and no lag noticeable in racing games or action scenes.

Unfortunately, and typically of a TN panel, viewing angles aren't great. The default yellow Windows 8.1 desktop appears orange when viewed off axis from the left, red from the top and green from the right. I can almost live with that, since in other respects the Asus VE247H is a solid, well-built display, but when IPS monitors are available for around the same price, you might want to ponder, although that trio of interfacing options is certainly handy.
Price
£130
More info
Asus