Eyes on the prize: Ten 23-24-inch monitors for under £150
Ideal for a second display or something for the Steam box
---
Iiyama ProLite E2481HS-B1

High-quality, affordable displays are Iiyama's bread and butter, as the firm focuses far more on this end of the market than many other brands. I therefore had high hopes for the 24-in ProLite E2481HS-B1 IPS monitor, and I'm pleased to say it mostly lived up to the expectations.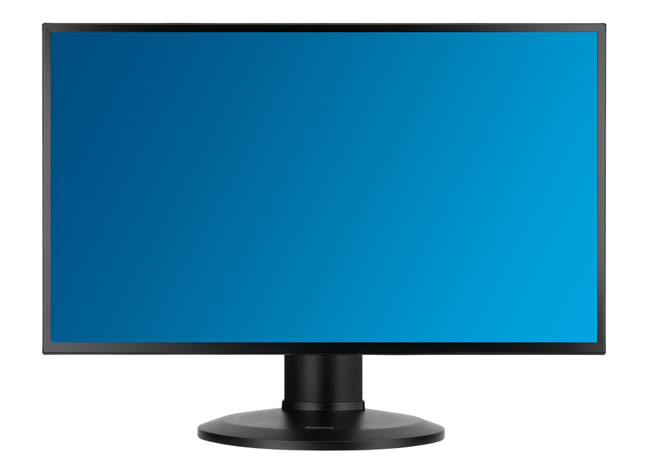 The slim bezel and carefully chosen materials, colours and texture add a true premium feel to this display, giving Dell's Studio S2340L a run for its money as the most attractive sub-£150 monitor of the bunch.
Even so, there are a few gotchas with the design. Putting the stand together wasn't a fun out-of-the-box experience and the buttons are in the worst place possible, behind the screen, with legends embossed in the charcoal plastic, making them tough to identify. In use, I was frequently turning the E2481HS-B1 round to check, and often accidentally turning it off.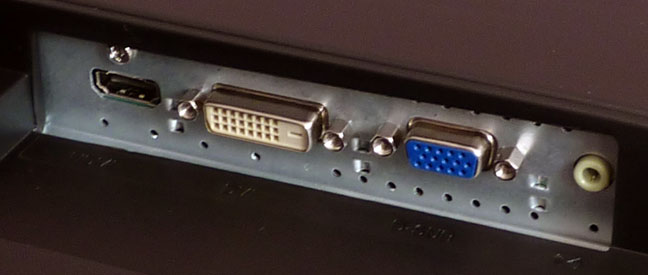 In the menus and OSD there's a great range of functions, though, with Iiyama's i-Style Color providing full picture control. Warm, Normal, Cool and sRGB presets are there, each of which looks great, enhancing on-screen content with vibrancy. The audio from the 2 x 2W speakers works suitably well, too. Overall, the E2481HS-B1 has no major weak spots, and is one to recommend.
Philips 244E 5QHAD

The 23.8-inch Philips 244E is an IPS monitor with a thankfully unobtrusive all-black design, without any brightly coloured bezels or pieces of plastic in odd locations. It delivers sharp image quality and I was left feeling more positive about the 244E the more I used it.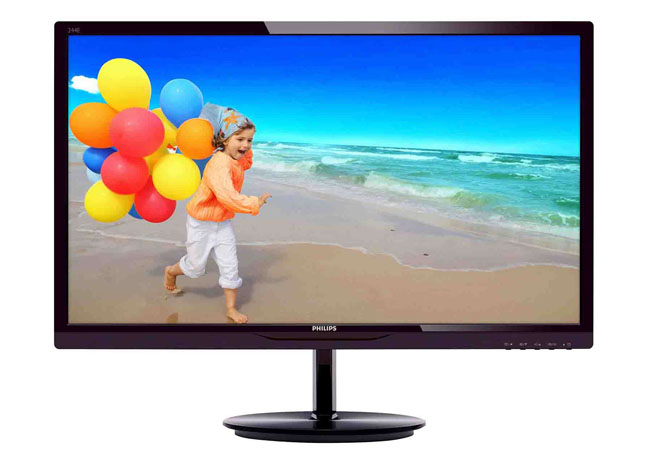 The ports at the rear are positioned horizontally, making them easily accessible, a major plus point when fumbling with cables. Philips provides a pair of HDMI inputs – one of which supports MHL – along with analogue video and two 3.5mm audio jacks. Notably missing is a DVI connector, although you can easily use a converter with one of the HDMI ports.
As we keep seeing on entry-level displays, the 244E requires an external power supply, another to add to the collection at the back of your desk, although the pair of built-in 5W speakers deliver more-than-reasonable sound quality, so you can give your desktop speakers the chop if you're not too fussed about Glastonbury-level volume.
In the OSD you get SmartImage presets called Standard, Internet and Game, the latter of which really does look good in games. In addition, there are picture controls buried deeper in the menus, including a SmartContrast feature and sRGB mode, with a colour temperature setting. The display can be switched between 16:9 and 4:3 mode, possibly useful if you're viewing an older SD content or have a vintage computer to plumb into it.

In general, the picture quality leaves nothing to complain about. Even at extremely sharp angles, the colours look great, as you'd expect from an IPS panel. Overall then, it seems everything you might want from an affordable display is here. If Philips could have somehow stuffed the power adaptor inside the 244E and given us a standard IEC lead it would have been almost perfect, but it seems you can't have everything at this price.