Eyes on the prize: Ten 23-24-inch monitors for under £150
Ideal for a second display or something for the Steam box
---
Samsung S24D590PL

It's surprising it's taken so long for monitors to adopt mini navpads for OSD navigation, given how traditional function and cursor key arrangements – seen on many of the displays in this roundup – can frustrate so easily. It remains rarer still to see one on an entry-level model.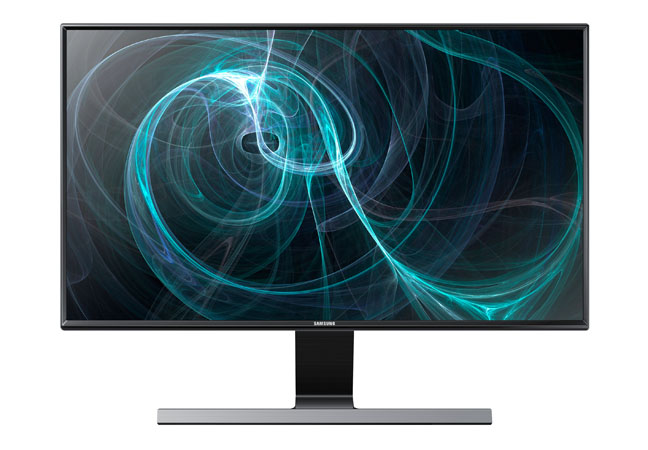 Described by Samsung as a Jog button (think iPod clickwheel) and featured on the back of the display, flicking through all the menus and settings is very straightforward. Like the Dell and HP models, there are no built-in speakers, but you do get an audio output that can feed speakers or headphones with sound from HDMI sources.
Samsung equips the S24D590PL with two HDMI inputs and a VGA input. Although it's definitely handy to have two HDMI ports – so you can have devices such as a PC and games console permanently connected – it does seem like a lost opportunity that one of the HDMI connectors doesn't double up to offer MHL connectivity too, like on the AOC, Philips and Viewsonic monitors.
Certainly, the design is among the best, with a particularly thin bezel and a stand that's thin at the back and wide at the front, which is something of a trademark for Samsung now. However, it does require an external PSU.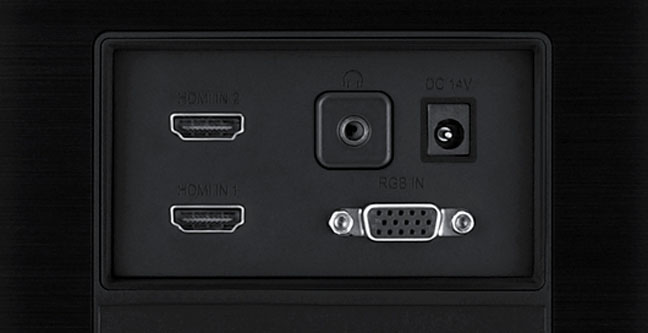 The 23.6-inch panel is a PLS (Phase-Line Switching) type – Samsung's own IPS alternative technology – which it claims is brighter and provides better viewing angles. These aren't exactly weak spots for IPS screens either, but Samsung's S24D590 certainly delivers a great image, and is one of the top displays featured here, but also the most expensive.
Viewsonic VX2363Smhl-W

The white plastic bezel and stand on the VX2363Smhl-W isn't exactly the most conventional look for a monitor, given we're so used to displays that come in fifty shades of grey. Still, those with memories of early flat panel iMacs or folk looking for something that appears more lifestyle than business may well take to this design.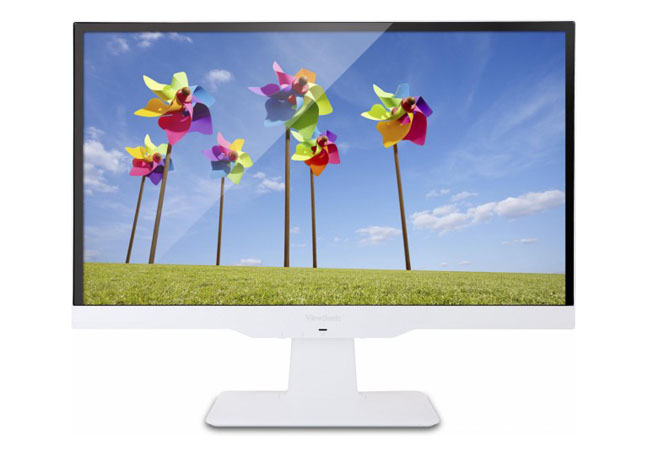 Aesthetics aside, this 23-inch IPS display delivers a good image, with respectable contrast levels and colour reproduction. With a quoted 2ms response time, a quick game of Grid 2 produced no visible ghosting, and the Windows desktop looked great, too. Images appeared razor sharp, text easily readable and, in general, the display quality won't disappoint. Out of the box, to my eyes, the gamma seemed a bit low, so just one minor tweak was needed. Sorted. Indeed, Viewsonic offers plenty of settings to adjust the display to your liking, including an sRGB mode, contrast and brightness controls.
Positioned at the centre of the monitor are the OSD controls. The middle button is for power, which is easy to spot with the LED indicator above it. Either side is a pair of buttons – the cryptic OSD choices labelled 1 and 2 and up/down navigation buttons to move through the menus. You'll need to prod and learn to find what you want, but if you're going to be living with this monitor for a while, you'll get used to it.

The Viewsonic VX2363Smhl-W has a VGA connector and what appears to be a pair of HDMI inputs. However, like the AOC I2369VM and the Philips 244E 5QHAD, one of the HDMI inputs supports MHL, which means that a phone or tablet connected to the display using MHL can draw power from the monitor and charge up as it plays to the screen. The MHL connector also enables various dongle TV or computing devices to work without additional power supplies too, which is all very neat and tidy.
Perhaps being a bit too neat and tidy is Viewsonic's positioning of all the connectivity out of the way round the back in the centre, which might be a bit of a squeeze to get to if you take advantage of the 100mm VESA mount option. Like many in this round-up, an external power supply is used – which probably isn't a deal-breaker for most – and the 2 x 1.5W speakers are better than most here, but are functional rather than remarkable.
If you want a monitor that not only looks a bit different but delivers a great image and plays nice with mobile devices, then the Viewsonic VX2363Smhl is certainly worth considering.
The Reg Verdict
After testing ten sub-£150 displays, the overall impression was very positive about all of them. Nowadays, you can expect to find a picture quality that closely rivals that of a £500 IPS display from five years ago.
Evidently, no single monitor was perfect at this price point. Some may have a limited range of display inputs, others will have an external power supply and, it would seem, almost all display manufacturers treat audio as an afterthought. Still, you can be fairly confident that spending less on a display really isn't the compromise on picture quality it once was. ®