17 Carnations, The Art of Creative Thinking and Last Night on Earth
Royalty and Nazis, invigorating ideas and more
---
Page File El Reg bookworm Mark Diston looks at literature's latest with biographer Andrew Morton's take on our estranged royals' relationship with Adolf and his pals. University lecturer Rod Judkins compiles a book brimming with ideas to boost creativity and Kevin Maher's second novel has an Anglo-Irish, pre-millennium theme combined with some very colourful relationships.
17 Carnations: The Windsors, the Nazis and the Cover-Up
I chose to review this one from the title, so my heart dropped a few parsecs when I realised it was by Andrew Morton, he of Diana: Her True Story notoriety. His bibliography nosedives even from there, being mainly the worst kind of celeb trash biographies: Cruise, Angelina, Posh and Becks, Will and Kate... Oh dear, what have I got myself into?
Incredibly, this is not a bad book. It's not brilliant nor original either, but it treads the borderline of gossip and popular history with aplomb.
17 Carnations is essentially a biography of the most interesting part of the lives of King Edward VIII – later the Duke of Windsor – and Wallis Simpson, covering the period between their meeting and the end of World War II. It is the story of their dealings with Fascists, Falangists and other dodgy reactionaries in the wrong place and at the wrong time.
The title is a bit of a red herring and refers to an alleged gift from Nazi Foreign Minister Joachim von Ribbentrop to Wallis Simpson. The trouble is, no-one can remember if they were actually carnations or roses or if it was a one-off or a daily floral tribute. Fortunately, the greater part of this book is based upon more reliable sources.
Andrew Morton gives us a potted childhood of the future Edward VIII, describing how his pacifism was based on his personal experience of the Western Front during WWI and how he felt constrained by his profession of "princing". The origins of Wallis Simpson are also investigated – the author seems to regard her as an ambitious individual more interested in status than money and not the common gold digger she is portrayed as.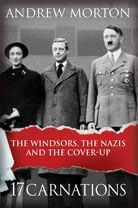 What is never in doubt is the degree of passion between the two main protagonists. Their deepening relationship is well written, while the consternation of the British establishment is hilarious as the abdication crisis dramatically unfolds.
There are a few unanswered questions: if Edward was such a Nazi, why did he hole up in the Rothschild's Austrian schloss after the abdication? Edward and Wallis are reunited and are married in Paris, thereafter their fate would have been to become, "the arch beachcombers of the world" were it not for World War II.
During the crisis days of 1940, Hitler regarded Edward as a possible puppet he could place on the British throne. As France falls, the couple escape through Spain and Portugal pursued by secret agents from both sides. As the future of Britain hangs in the balance, all Wallis cares about is her Nile green swimsuit, while Edward contacts the Nazi occupiers asking if they'd mind awfully looking after his properties in Paris and Antibes.
Edward seems more retarded than fascist, as a drunken doctor who accosted him said: "Why don't you try to grow up and behave?"
The lad seems to have the monarchy down to a tee though: "What a smug, stinking lot my relations are... you've never seen such a seedy, worn out bunch of old hags."
This is not a work for serious students of history, who are better off starting with Phillip Ziegler's biography King Edward VIII, which is much quoted in 17 Carnations.
Andrew Morton does tail off a little during the last quarter of the work, which involves a hunt for Nazi documents that prove little that was not previously known. But overall, 17 Carnations is nowhere near as bad as I had imagined and makes suitable light holiday reading.

Author
Andrew Morton
Title
17 Carnations: The Windsors, the Nazis and the Cover-Up
Publisher
Michael O'Mara Books
Price
£20 (Hardback), £6.99 (eBook)
More info
Publication web site