This article is more than 1 year old
Silence is golden: Charlie Chaplin's The Tramp is 100 today
The enduring comic brilliance of the iconic underdog
Feature It's 100 years to the day since Charlie Chaplin's film The Tramp was released – the movie that, more than any other, projected silent comedy to new artistic and commercial heights.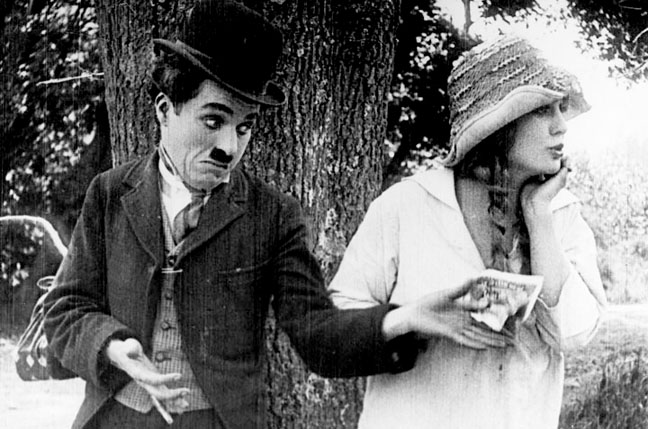 The Tramp: Chaplin's character is momentarily tempted to steal money from the farm girl (Edna Purviance
It was also the start of a lasting comic legend that has undoubtedly influenced some of the biggest stars and directors of recent times; everyone from Mel Brooks to Monty Python to Benny Hill to Matt Lucas.
The latter's recent Pompidou series ended last week and is unlikely to receive further commissions – physical pranks and muttering gibberish alone are no substitute for comedic talent. Such performances need to be crafted to be consistently funny.
Rowan Atkinson's Mr Bean continues the silent comedy tradition
Arguably the finest example in the present day is Rowan Atkinson's 'silent' Mr Bean character and all his various films, programmes, books and cartoons. Like Chaplin's tramp 100 years before, the mute antics of Mr Bean cross both age and language barriers and succeed in being a global entertainment phenomenon.
Although only just over 32 minutes in duration, Chaplin's The Tramp was a fairly long film for the time. More importantly, it saw the first real appearance of his famous tramp persona; a hobo who – while often causing mayhem as he generated slapstick and laughs – was ultimately a caring chap, someone who would ultimately be rejected by a cruel(ish) world. A homeless man who could, and did, inject a note of pathos into 20th Century comedy.
It was a poignant move that Chaplin had been considering for years – a semi-serious touch that would reflect his own, partly tragic background. He was born in a poverty-stricken part of London in 1889 and his childhood involved the trauma of dealing with a mentally ill mother.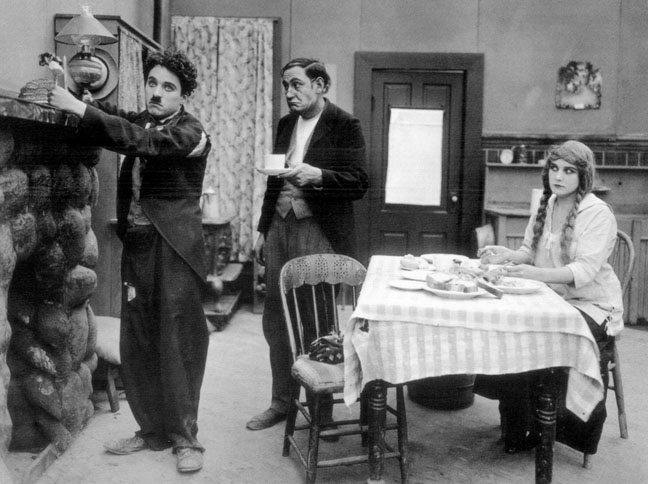 Having burnt his backside on a camp fire while protecting the farmer's daughter, the tramp is unable to sit down and has to eat standing up
The film's story centres around Chaplin's tramp character as he attempts, at first successfully, to rescue a farmer's daughter – played by the Chaplin's regular leading lady Edna Purviance – from various dilemmas. She later nurses him when he's badly injured himself and he soon starts to daydream of a future romance between them. But she already has a boyfriend, of course, and when he realises this, the tramp hits the road again, traipsing off alone into the metaphorical sunset.
This striking-out-alone ending was pretty appropriate for Chaplin, since the British-born actor and director had been struggling for independence for years. With The Tramp, he thought he'd finally got it. It was also his sixth movie and first major production for the Essanay Film Company of Niles, Fremont, California.
Joining this studio promised him what he'd always been denied in his previous picture work for Mack Sennett's Keystone Studios. In short, artistic freedom, and a staggering wage for the time of $1,250 per week, plus a $10,000 signing bonus.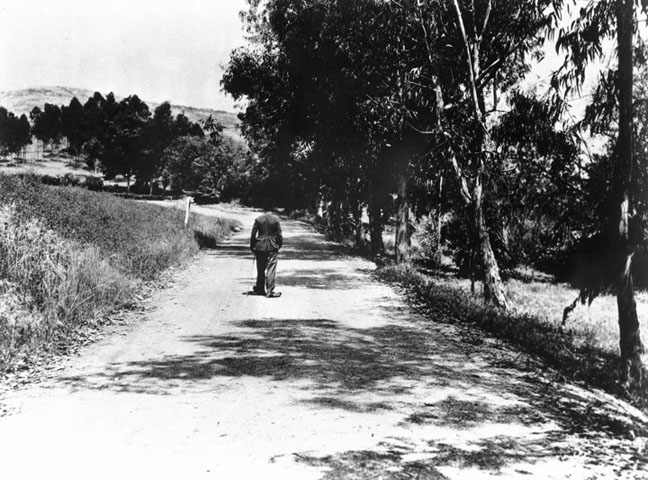 Crestfallen in the closing shot, the tramp eventually livens up, lifting the spirits of the audience in the process
Chaplin's one and two-reel comedies had been selling out picture houses around the world for over three years, with hits like Making a Living and The Kid Auto Races at Venice, the latter being the debut of the tramp costume (battered bowler hat, bent cane, bow-legged walk and baggy torn trousers) though not yet the whole persona.