A chess grandmaster has been thrown out of an international tournament after he allegedly used an Apple iPod hidden in a toilet cubicle to cheat.
Gaioz Nigalidze, Georgia's national chess champion, was playing Armenian granmaster Tigran Petrosian at the prestigious Dubai Open tournament over the weekend when his repeated trips to the loo started raising eyebrows.
"I informed the chief arbiter about my growing suspicions and asked him to keep an eye on Gaioz," Petrosian told the Daily Telegraph.
"After my opponent left the very toilet partition yet another time, the arbiters entered it. What they found was the mobile phone with headphones; the device was hidden behind the pan and covered with toilet paper."
That mobile phone appears to be an iPod Touch, and was shown to be running a chess app that had been set up to mirror the game Nigalidze was playing, it's claimed. The device was reportedly also logged into one of the Georgian's social networking accounts.
Nigalidze denied the gadget belonged to him, but the chief arbiter made him forfeit his match against Petrosian.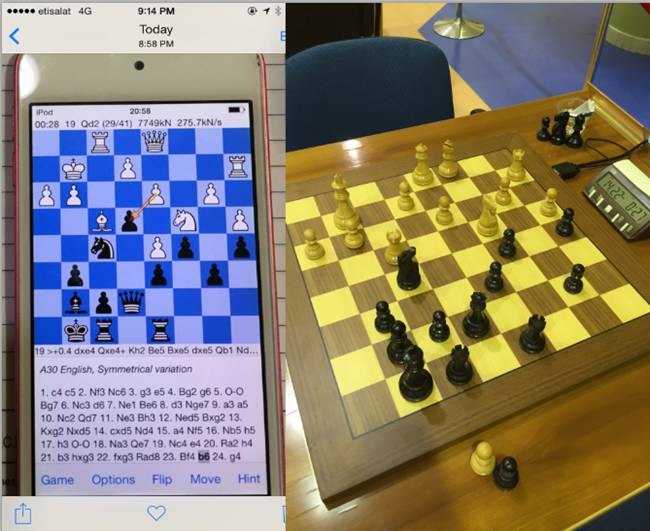 Bishop to toilet cubicle two ... the iPod Touch allegedly found during the chess match
After weighing up the accusations, the competition's organizers announced on Saturday they were expelling Nigalidze from the tournament, claiming: "A cheating incident was found during round 6 by Georgian GM Gaioz Nigalidze. Bravo to Chief Arbiter Mahdi Abdul Rahim for taking the complaint seriously and raising it to the Tournament Director."
Nigalidze is now facing an investigation by the World Chess Federation, may be barred from competitions for up to 15 years, and could also be stripped of the grandmaster ranking he was awarded last year.
Nigel Short, Britain's former top-ranking player (today an olive farmer in Greece among other things) was unequivocal in his condemnation:
Here is someone who should be stripped of his GM title and banned immediately http://t.co/5vv2JlpHxQ http://t.co/IFpoea2rGk

— Nigel Short (@nigelshortchess) April 12, 2015
High-tech trickery is an increasing problem in the normally staid chess world; there have been persistent rumors on the circuit that players are using computers to cheat.
Chess software has come on in leaps and bounds, although the top players can usually hold their own in untimed games. The plethora of chess analytics programs that sort through all possible move permutations have made cheating increasingly easy.
Some tournaments, like last year's Chicago Open, are now going as far as to check players for electronic devices before they enter the toilets. With increasing amounts of prize money available it seems the chess authorities will have to be a lot more tech-savvy in the future. ®