HGST says its NVMe flash card will manage 750,000 IOPS
Three quarters of a million, random read. Speedy? You bet
---
How does damn near three quarters of a million random read IOPS grab you? HGST is at last shipping its NVMe Ultrastar SN100 PCI flash card, first announced seven months ago.
The speeds and feeds look impressive, with HGST saying it's the "industry's highest-performing NVMe compliant SSD series." The specs are:
1.6TB and 3.2TB capacity using MLC flash (Toshiba, we think) in HH-HL PCIe gen 3 4-lane product
800GB, 1.6TB and 3.2TB capacity in 2.5-inch hot-swap SSD form factor with PCIe interface
Up to 743,000 random read 4K IOPS
Up to 160,000 random write 4K IOPS
Up to 3GB/sec sequential read bandwidth
Up to 1.6GB/sec sequential write bandwidth
Latency of 20 µs
5-year warranty
Endurance of 3 full drive writes/day
It delivers 310,000 mixed (70:30) read:write IOPS. HFST also has its Flash Software Suite and Device Manager software that work with the SN100 to provide clustering, scalability, high availability and manageability for server-side flash configurations.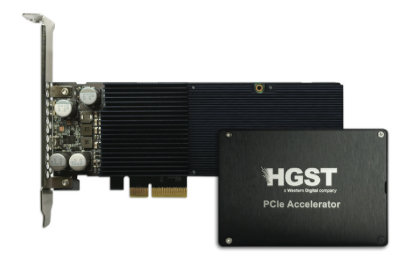 HGST SN100 Series product
The random read speed is the headline figure. EMC's VFCache delivers 715,000 so it beats that. SanDisk's ioDrive 2 Duo recorded 700,000; pipped also. A Micron P420m boasts 750,000 and Samsung's 3D V-NAND SM1715 does 750,000 random read 4K IOPS, and has better endurance at 10 full drive writes a day for 5 years. Both just beat the Ultrastar SN100.
The NVMe aspect means standard driver code can be used instead of a PCIe driver specific to the SN100.
HGST's NVMe PCIE card product (SN150) is shipping now with the 2.5-inch SSD (SN100) following in May. Get a datasheet here (pdf). ®