This article is more than 1 year old
Tintri gets all touchy-feely with latest OS update
Drag-and-drop QoS simplicity makes latency management a doddle
A Tintri OS update has added drag-and-drop storage IOPS maxima and minima per virtual machine (VM) and latency source identification, for visually confirmed granular quality of service. Extra snapshotting and management features have also been added to the mix.
With Tintri OS v3.2 VM-level, admin staff can use a GUI to drag and drop maximum and minimum IOPS at an individual VM level and see the immediate effect on the VM's latency.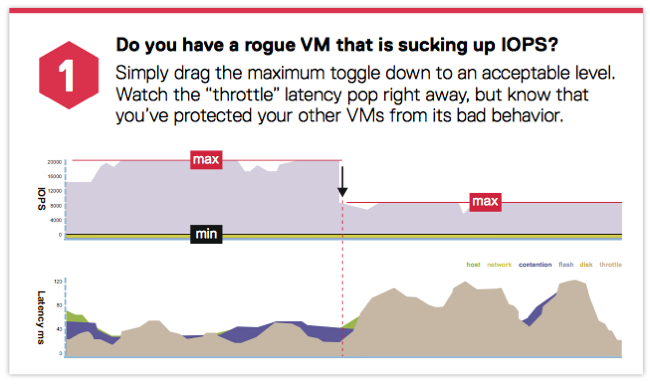 You can use this facility to uprate the minimum IOPS level for an important virtual machine that is suffering increased latency by resource contention from other VMs, or you could dial down the max IOPS level for one that doesn't need extremely low latency.
The maxima and minima levels can be set for groups of VMs too, setting tiers of service. The array software can also identify where VM latency comes from, allocating portions of it to the host, the network, flash, disk, contention from other VMS or from throttling.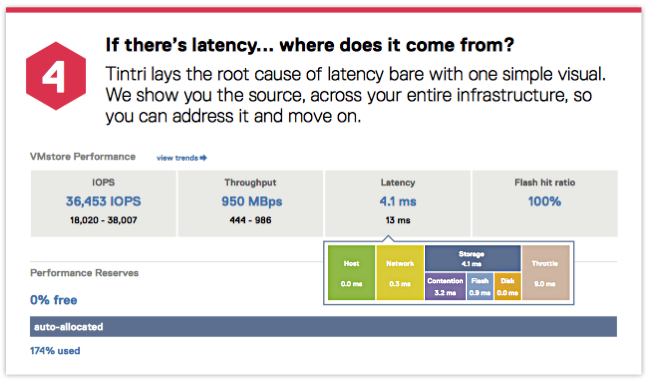 This software update adds SyncVM, a tech that's being patented and "allows the user to move back and forth between snapshots of an individual VM without losing other snapshots or performance history. Administrators can also use this capability to update hundreds of 'child' VMs from a refreshed 'master' VM without physically moving data or reconfiguring the VM and/or storage. They can even automate the process with Tintri PowerShell or REST APIs".
Sounds powerful. Ross Alaspa, a product engineer at AMD, provided a quote for Tintri's release: "With SyncVM, updates that previously took days or weeks can now happen in minutes. The teams can travel backward and forward through a VM's complete snapshot history for nearly instant point-in-time recovery, all without losing snapshots or VM history."
With refreshed Global Center 2.0 management software, admins can "monitor and manage more than 100,000 VMs from a single pane of glass", managing "dynamic collections of VMs based on group definitions and policies. Groups can span VMstores, hypervisor types and geographies". That sounds a good fit to cloud service provider (CSP) needs.
Tintri clearly has all-flash array vendor SolidFire – which has a marketing emphasis on its QoS features for enterprises and CSPs – in its sights. Chairman and CEO Ken Klein even talks about the noisy neighbour problem, a problem SolidFire often says it solves. Tintri would now say it solves it better.
Check out the new QoS features in Tintri's OS here (pdf). Tintri OS 3.2 will be available in May to all Tintri VMstore owners with a valid Tintri support contract. SyncVM will be available for purchase then, but as separately licensed software. Global Center 2.0 will go GA in May as well, and be a separately licensed product for Tintri VMstore array owners. ®