This article is more than 1 year old
Hey, you wanna help run the internet? This power restructure is for YOU
How to do you solve a problem like ICANN – in one easy diagram
Infogasm The organization that oversees the top level of the internet, ICANN, will be restructured into a true membership-controlled organization under plans drafted this week. That's important because ICANN, right now, has the keys to the web, and the more that can be done to hold it to account, the better.
A blueprint for that process was produced in a slideshow [PDF] delivered to a group of experts looking at how to improve the non-profit California organization.
The slides from the group's independent legal advisors also came with a recommendation: "On balance, 'member' organization provides the clearest path for the ICANN community to exercise the mechanisms and powers under consideration."
The legal team was given a set of objectives by the team, which focused on giving the internet community greater say over how ICANN is run. Those objectives included: removing board members; approving bylaw changes; blocking board actions; holding periodic reviews; and approving the budget.
The legal team looked at three possible structural changes to ICANN to make those objectives possible: introduce "designators" who choose board members; introduce corporate "members" who fit within the legal framework for non-profit corporations; and create a much larger board, with an "executive board" carrying out most the corporation's work.
Its analysis led it to conclude that a member organization was better equipped to provide those goals than a "designator" approach since under the latter construction, they would not hold a veto over the board; blocking a budget or strategic plan would require some complex legal maneuvering; and reviews would be tougher to introduce.
Of the eight objectives, all eight are possible through a "member" restructure but just three with designators (five with some legal finessing).
Ch... ch... ch... changes
ICANN is actually structured as a member-driven organization, but it doesn't have any members: a situation that has given the organization's staff and board enormous discretion over its direction and actions.
Moving to a member-controlled model, the legal advice notes, would only require a few bylaw changes; that ICANN's existing "advisory committees" and "supporting organizations" take "the minimal steps necessary to qualify as unincorporated associations under California law"; and that there be a contractual agreement to recall selected board members. In other words, the solution is not too difficult, and is all too possible.
The approach would also fit with calls going back nearly a decade for the organization to have many members in order to stop power being concentrated in the hands of a few.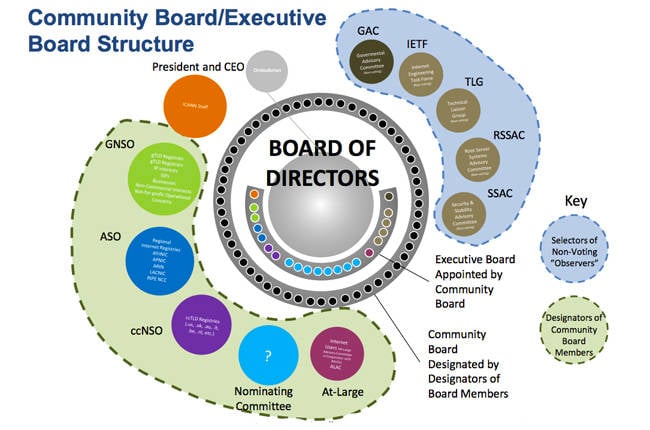 What the legal analysis does not dig into is the benefits or disadvantages of having a much larger board combined with real members.
This is perhaps not surprising since so far there has been little effort to identify the cultural failings within ICANN that have led to eight accountability reviews in ten years.
Although a larger board would come with obvious concerns of additional bureaucracy and organizational requirements, many of the problems associated with ICANN and its tight-knit community have stemmed from a lack of visibility in what the staff recommends, and how the board arrives at its decisions.
A limited-size board covering such a large and diverse community has also created a highly politicized and status-driven culture that is at odds with the organization's stated purpose of running the internet's naming and numbering systems in the broader public interest.
The legal advisors' presentation outlines how such a board-executive board approach would work. The executive board would be selected by the larger board, and held accountable to it. The executive board would meet more frequently but ultimately all its decisions would be put before the larger board, and the larger board would be able to take decisions away from the executive board.
That approach, while seemingly more complex, may in fact finally bring a true measure to accountability to ICANN, which for too long has relied on closed-door meetings and closely held information to make its decisions. ®