DDN has launched two new filers: the MEDIAScaler for media workflows and a refreshed GRIDScaler for HPC-style workloads.
Both were launched at NAB 2015, the National Association of Broadcasting Show in Las Vegas, where user attendees will typically work with large sets of often multi-component video files and need fast access to large amounts of content for processing. It's a magnet for filer performance fetishists.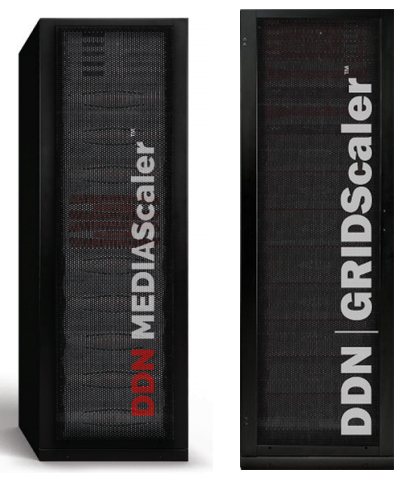 The two new scale-out filers. (The relative box scales might not be accurate.)
The MEDIAScaler is claimed to support more than 10,000 simultaneous users and sustain its performance with more than 90 per cent of the system's resources utilised. It is configured as a cluster of nodes sharing a single file namespace. with load-aware software making sure the highest-performing available node is assigned to incoming work.
There are bandwidth-optimised replication facilities, snapshots and online capacity expansion. DDN says it is a turnkey converged–media storage platform and supports:
File and object storage with parallel workload client
SSD cache
SSD and disk tiers with offload to Active Archive, cloud and tape tiers with automated, policy-driven tiering
Mixed SSDS, SATA and SAS disks in the same enclosure
CIFS (SMB 1.0, 2.0 and 2.1), NFS v3 and DDN Media Client access over 10/40/100 Gbit Ethernet
Fibre Channel and InfiniBand options
InfiniBand speeds for for parallel file system nodes and parallel media client access
Amazon S3 and OpenStack SWIFT
Capacity scales from 80TB/4U to 6PB-plus racks and on to 100s of petabytes
4GB per sec single-stream performance, with a single building block delivering up to 35 concurrent uncompressed 4K streams
DDN claims Quantum (StorNext) and NetApp only support around 8 concurrent uncompressed 4K streams with Isilon supporting up to 1. Quantum and NetApp claim up to 1.6GB per sec bandwidth, compared to the MEDIAScaler's 4GB per sec, with Isilon doing less than 1GB per sec.
DDN says the MEDIAScalar array can support various media workloads such as data ingest, editing, transcoding, distributing, collaborating and archiving, and is marketing it as an end-to-end media workflow platform. High-performance nodes do the ingest, editing and transcoding work. Cloud nodes look after collaboration, distribution and high-availability/disaster recovery. Cold data is sent to object and/or tape-based so-called active archives.
Users can view archived files from high-performance storage as a Cloud (NFS) mount point.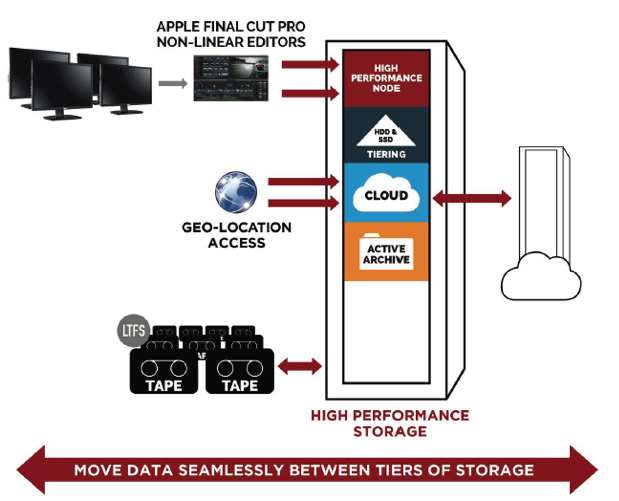 MEDIAScaler graphic
GRIDScaler
The GRIDScaler GPFS-using system has been updated to v3.0, which has:
Native encryption (self-encrypting drives and key manager) and secure erase facilities
Higher-performance mixed I/O
Hadoop connector for analytics
Snapshots, sync and async replication
Integrated back-up with Tivoli Storage Manager
GRIDScaler has, DDN says, an order of magnitude higher performance than scale-out NAS, which tops out at a few GB per sec and with which clients can only see one NAS server at a time, instead of the many seen in parallel systems such as GPFS.
The GS7K storage appliance, which GRIDScaler uses, is now shipping as a turnkey product.
DDN's MEDIAScaler and GRIDScaler 3.0 products are available today. Check out a MEDIAScaler datasheet here. ®