Martinwolf: The state of the tech industry in Q1 2015
Roll up, roll up, get your exclusive market insights
---
Beginning this month, The Channel and martinwolf M&A Advisors are forming an editorial partnership to feature martinwolf's commentary and analysis concerning the challenges and opportunities facing the IT industry. The organisation, exclusively focused on the IT industry, has completed more than 130 transactions and sold seven divisions of Fortune 500 companies across 19 different countries.
Every quarter, martinwolf produces the MW IT Index, an analysis report on the state of the global IT Industry. This report contains a series of market-value-weighted indexes that together form composite representative samplings of enterprise values for the IT Services & BPO, IT Supply Chain Services, Software, and SaaS space, as well as specialised comparisons of the IT Services industry in China and India.
Q1 2015 - the broad view
The first quarter of 2015 conveyed a mixed but optimistic forecast for the coming year, with indications of some headwinds in the quarters to come but clear signs of trends we expect to continue to be dominant.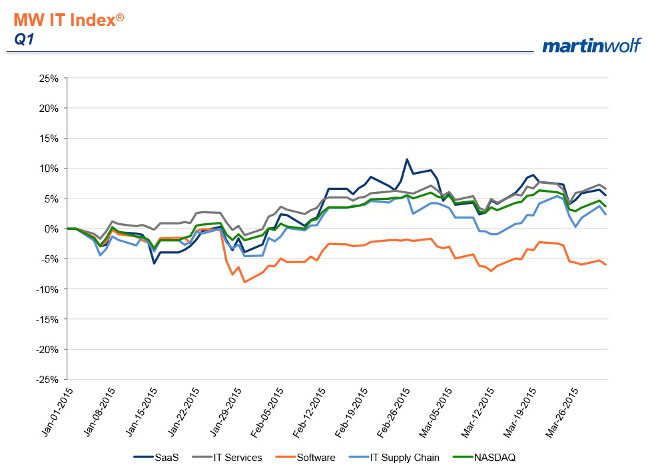 Martinwolf IT Index Q1
While the keyword for the previous quarter was uncertainty — both in terms of the global economic condition and broad variance in individual Index performance — this quarter has been more stable. Consumer prices in the Eurozone saw a fourth consecutive month of declines, but the continent is seeing breaks in the clouds.
Thanks to low oil prices and the European Central Bank's strong stimulus actions, there are clues that the cyclical recovery (while still slow) may be having an impact. Unemployment figures fell slightly to the lowest rate since May 2012, and the overall Eurozone economy is expanding at its fastest since May 2011.
This is good news to global IT companies, as western countries are both major consumers and exporters of computer and technology services. According to Hoovers research, the European Union nations combined constitute the largest exporter of computer and technology services, with a market share of approximately 50 per cent. This also directly relates to US IT companies because the global nature of the sector means companies with US headquarters often have substantial foreign revenues.
On that note, a major recent trend that has affected IT companies has been the ascendancy of the US Dollar, especially against the Euro. This trend effectively lowers the revenue from global sales, and has been referenced in the earnings reports of Oracle and other major companies as a factor dragging down performance numbers.
Q1 was also marked by a significant M&A scene, with Thomson Reuters reporting that while only 31 companies went public, global M&A activity was nearly 23.3 per cent richer than the previous year — driven primarily by healthcare and real estate.
Looking forward, expect this to be a year of steady growth for most sectors of the IT industry, taking advantage of spending increases forecast by some analysts to reach $681bn (up 4.8 per cent from last year and growing at a CAGR of 4.5 per cent through 2018).
Expect the familiar pattern of hardware seeing the lowest growth while services lead — particularly high value services like SMAC (social, mobile, analytics, cloud). For more information, let's evaluate each of the Indexes.