Startups face logjam as the trickle towards the exit turns into flood
It's acquisition or IPO – but do it quickly, as the alternatives aren't pretty
---
Comment The mass of storage start-ups is threatening to overwhelm the exit routes into the great, wide post-start-up world, dooming many to lingering deaths or outright failure.
Remember Attrato, Copan, Coraid, Exafile, Nirvanix, Parascale, Starboard Storage and TrueSAN? Hopeful storage start-ups that failed to make it from the start-up state for one reason or another, so the funders and founders pulled the cash plug.
We're looking at storage start-ups now with billion-dollar valuations from venture capitalists: the storage unicorns, the stand-outs with, hopefully, the most chance of success. These include, by our reckoning, Cloudera, Nutanix, Pure Storage, SimpliVity, Tegile and Tintri.
There are two start-up exit routes which give the funders – venture capitalists (VCs) and angel investors typically, as well as the stock option-holding staff – their cash reward for all the risk and long, long hours of business and product development work: IPO or acquisition.
VCs will look for a 4X, 5X or higher payout. IPOs are risky; they can take place at a less-than-great valuation (like Box), they can fail to complete (think Nexsan), or they can falter post-IPO (think Violin Memory). The stock market surely only has an appetite for a few IPOs a year, single digits at that.
Acquisition delivers a more certain result, especially if there is a biding war: remember Data Domain and 3PAR? But bidding wars can't be guaranteed and businesses acquiring start-ups cast a cold, due-diligence eye over them, meaning outrageous valuations won't be sustained. There's a limited pool of acquirers in the storage world and that means that exit route for start-ups passes through a narrow gate.
Let's take a quick look at the storage landscape: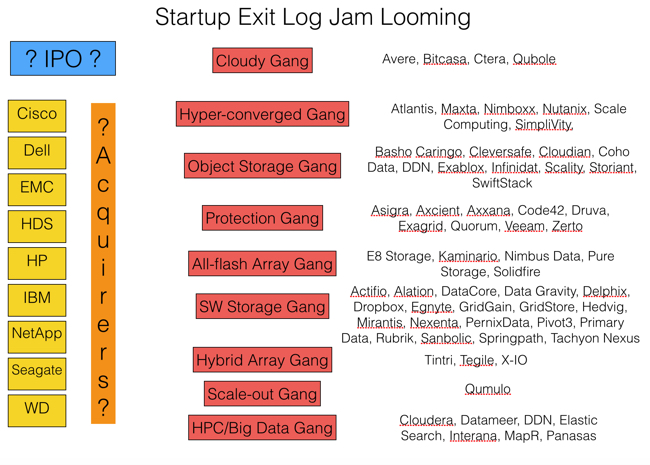 The chart has potential exits on the left, starting with IPO and then a list of 9 potential acquirers. Perhaps SanDisk should be added to the list to make 10.
The middle column shows 9 storage start-up categories and the right-hand column lists start-ups in these categories. Some of the categories are vague – software-defined storage, for example. Some of the assignments are vague too – Tachyon Nexus with in-memory technology is hardly software-defined storage, but I had to put it somewhere.
Some start-ups have been left out, Panzura, for example, which should be in the cloud category. FalconStor has also been missed out in the software storage area, so apologies for that. So excuse these failings and focus on the start-up numbers: 70 of them, more or less.