This article is more than 1 year old
WHAT did GOOGLE do SO WRONG to get a slapping from the EU?
The Chocolate Factory just wanted to make the world a Lovelier Place
OK, briefs. Let's see the beefs
We don't know precisely what's in the Statement of Objections sent today by the European Commission, which is giving Google 10 weeks to respond. We can, however, build up a decent picture of what's in it.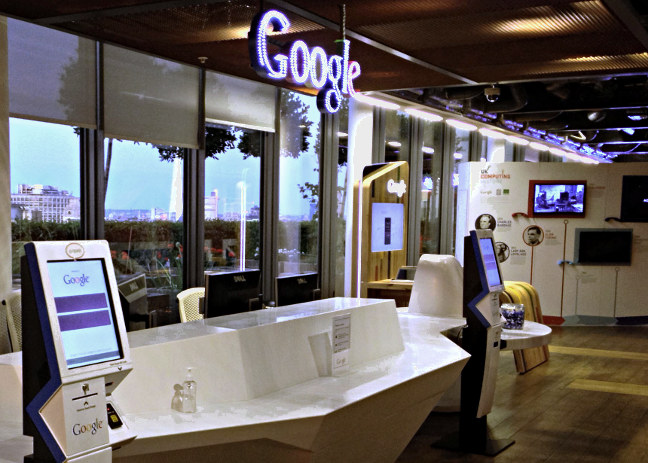 Google's UK reception
The EC and the Federal Trade Commission co-ordinated closely on their investigations and we have a good idea of what the FTC probe found, thanks to an accidental leak of a staff report (for which the US watchdog has apologised) – even though the odd numbered pages of the report are missing (PDF). We also know what the European objections are because the complainers are prepared to disclose them.
It can't be stressed enough that the "Paid Search" market that Google dominates is not the same as the retail "search results" that er, Google also dominates. Google has a monopoly in both, controlling five of the six billion-user web platforms: search, video (YouTube), mobile (Android), maps and browser (Chrome). Yet it also has a monopoly over the digital advertising industry, dominating 13 of the top 14 commercial functions of the internet: data collection, analytics, and adverts across different sectors like mobile.
Almost all of Google's UK staff today are in advertising sales; the rest are almost all in lobbying or public relations. Your choice as a seller of dog food or soap powder wanting to attract a digital audience is to go to Google or Microsoft's Bing. 80 per cent of the cash spent here goes to Google. Maybe you'd like to buy an ad on someone's site, like a newspaper or website? Here Google pockets $1 in $3 spent on advertising, too.
So when Google argues that people love Google and love clicking on its home page, it is quite possibly completely irrelevant to the legal case.
The complaints fall into two categories: some accuse Google of doing evil things in the advertising business, and others say Google was doing evil things in unrelated markets. The complaints against Google therefore fall into these two categories: back-end and (for want of a better word) retail. The back-end complaints are that Google increased the cost of doing business on the internet, and a lack of innovation – there's no rival to Google Analytics.
There are reams of academic literature arguing whether or not Google is a "two-sided market", but that doesn't need to concern us here.
Sorting out the mess
Google has already addressed some of the complaints, such as exclusive contracts with advertising buyers, and data portability issues, which prevented ad buyers taking their data out of Google's advertising network. What emerged from the FTC leak may come into play now if it suggests that Google acquired its monopoly position illegally – but not just yet.
The investigations were largely completed by 2011/2012, making the allegations look a bit dusty and historical. It's worth looking at them again, though.
The most persuasive unresolved complaint is on the "retail" side, and relates to Google doing what Google promised never to do – promote its own services at the expense of rival startups. UK vertical search engine Foundem launched a highly regarded price comparison engine in 2006 (the Gadget Show thought it was the best) until it found itself blacklisted.
Vertical is a specialist task, but Google had no intention of helping allowing others to explore it. That summer Foundem was hit by a Search Penalty, excluding it from any user searches for price comparisons. Google also scuppered its Adwords LPQ (Landing Page Quality) causing Google ads bought by Foundem to rise in price by 10,000 per cent. While other search sites were restored, Foundem wasn't – particularly after the startup called foul, inviting the press and the European Commission to examine Google's behaviour. In private, Google was promising Foundem it would be whitelisted, some day. In public, Google was denying whitelists and blacklists even exist – a stance it maintained until 2011.
The world that Foundem's founder predicted in a 2009 New York Times op-ed – where Google verticals dominate. For Google's critics, its proposed remedy, as accepted by competition commissioner Almunia but rejected by his successor Vestager, was to turn the punishment into a new revenue stream. Rivals would be charged for access. The company which once rejected commercialism now put a price on every inch of its page.
The FTC document reveals some extraordinary steps Google took to punish rivals – but only after it found users didn't like Google's offerings. In 2006, Google's "human raters" found Google shopping to be worse than third party alternatives.
"We had moderate losses [in raters' assessments of quality when Google made proposed changes] because the raters thought this was worse than a bizrate or nextag page" a Google executive concluded. ""The bizrate/nextag/epinions pages are decently good results. They are usually well-format[t]ed, rarely broken, load quickly and usually on-topic. Raters tend to like them. …. [R]aters like the variety of choices the meta-shopping site[s] seem… to give", Google found. Page personally called for "more exposure" for Google's own properties. The result, revealed in 2007, was "Universal Search", where Google's own verticals were "blended" into the main search, making them unavoidable.
Google said it demoted verticals because they were spammy ("low quality," "shallow", "duplicate, overlapping, or redundant" content) – and it's undoubtedly true that such sites attempted to game Google and get in the rankings. Yet so, too, did sites providing a better consumer offering. Google just didn't want you to see them.
In the US, Google's cosy relationship with the Obama administration is now under examination. It got the FTC deal it wanted on its own terms, heading off charges. An even stranger deal was reached with the FBI and the FDA over trafficking. Senator Mike Lee wants the FTC settlement itself examined.
However, Brussels isn't Washington, and despite a huge lobbying effort here, the idea that Google has harmed European startups has proved to be a most persuasive argument. How's HERE maps doing today? After investing for a while, Nokia now wants to sell it. And Streetmap? Still hanging in there. There's little chance of a European YouTube rival getting much backing. Much like Microsoft, Google only seems to be able to spark into life when faced with competition. It appeared to do what it could to minimise that inconvenience.
Ultimately US officials appear to have accepted that Google's vision of the internet is the best one on offer for Americans. Europe hasn't. ®