HDMI Hi-Fi?
DTS will partner with GDC Technology, maker of digital cinema servers, pro-audio system provider QSC, and USL, manufacturer of motion picture audio equipment and sound processors, to engineer its big-screen return. GDC will act as worldwide DTS:X certification agent, making MDA firmware updates available to theatre owners, said to cover an installed server base of more than 40,000 screens.
DTS:X installation and certification for some 350 screens throughout Asia begins in May. Carmike Cinemas, one of the largest exhibitors in the US, has already announced a DTS:X upgrade for theatres this summer. At present there's no word of any commercial DTS:X installations for Europe or the UK.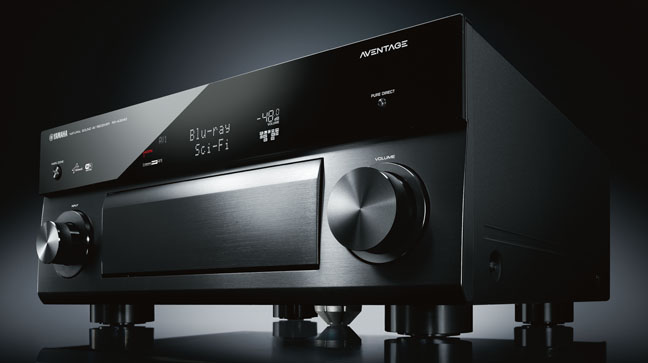 A number of new Yamaha AVR amplifiers coming later this year will be DTS:X savvy. However, unlike more recent Denon kit, it's currently uncertain whether existing Aventage models will receive DTS:X firmware upgrades
Home hardware is going to be more widely accessible. AV receiver makers can hardly believe their luck. Having had Atmos to tout over the past 12 months, they can now expect to rekindle interest in AV receivers with a shiny new badge. Denon, Marantz, Onkyo, Integra, Yamaha and Pioneer are all prepping compatible new kit.
Denon and Marantz will offer firmware upgrades for their AVR-X7200W and AV8802 models this summer, a benefit of actually coming rather late to the Dolby Atmos party. Esoteric AV processor support will come from Steinway Lyngdorf, Theta Digital and Trinnov Audio. Cirrus Logic, Analog Devices and Texas Instruments are busy baking silicon for all.
As with Atmos, DTS:X is backwards compatible with previous codecs. The DTS:X soundtrack comprises the DTS Core element, plus DTS-HD MA and DTS:X residuals, the latter containing all object metadata. Stereo, 5.1 or 7.1 content can be remapped using a proprietary Neural:X spatial reformatting engine. This is basically an update of established Neo:X and Neural Surround modes now commonplace on home cinema kit.
Rather predictably, there's no talk yet of DTS:X software, as seems to be the way with any new home entertainment tech. The company says only that its authoring tools are currently being evaluated by ten studio partners. It's a fair assumption that those Hollywood heavy hitters who have yet to show any real enthusiasm for Dolby Atmos will have compatible Blu-rays on the slate before the year end.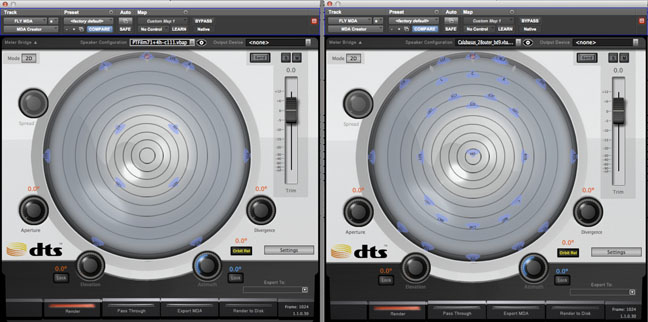 DTS:X MDA plug-in shows different addressable speaker arrays – click for a larger image
But object-based audio isn't necessarily just about holographic home cinema. DTS:X also wants to be part of the high-res audio revolution, supporting lossless encoding in its highest-fidelity mode. When bitrates need to be managed, DTS:X can operate in a high-quality lossy mode. Object-based audio for music is an interesting idea.
A recent industry demo by Dolby of an Atmos-encoded choir was used to illustrate how effective 3D sound is for audio-only recordings. I was told by those present that it was spine-tingling, in a good way. One hi-fi manufacturer who shall remain nameless (not a pun), confided to me that it would probably only be a matter of time before two-channel hi-fi amplifiers began to sprout HDMI inputs to carry high-resolution, object-based audio content. Frankly, that sounds like a brilliant idea. The opportunities offered by the technology are just too good to squander on popcorn movies. ®
Steve May is a veteran AV journalist and senior editor at Inside CI.