Hands On Microsoft recently released its Windows 10 Technical Preview for phones, build 10051, as part of its Windows Insider series.
This is by no means a stable build, especially on a low-end phone like our Lumia 635. The built-in apps crash from time to time and sometimes the entire OS freezes. Another common problem is chopped-off text.
That said, it does provide a look at Microsoft's progress in implementing universal apps, which run both on desktop Windows 10 and on phones and tablets, as well as an update on how Windows 10 for phones is coming together.
There is plenty new in this release. It now runs on most Lumia 8.1 devices, as opposed to the short list previously supported, and includes Project Spartan, Microsoft's new web browser. Other new apps include Phone, Messaging, People, Maps, Mail and Calendar.
One thing you will not find is the Office hub, which provided viewing and editing for Word, Excel and PowerPoint documents. This is because a more capable universal version of these apps is on the way. A preview of Universal Office is already available for Windows 10 on PCs, but Microsoft has more work to do in scaling it for the phone.
The advent of universal apps is changing the character of Windows Phone, and not altogether in a good way. The new Microsoft apps have more functionality than their predecessors but they are currently less well tailored to the requirements of a phone UI. The main reason is compromise introduced by the universal app concept, which includes a single UI for all display sizes that morphs according to the current screen and device.
There is also a dilution of the old simplicity- and clarity-focused Metro concept, with busier screens, more use of icons and smaller, more delicate typography. The new phone app is better looking than the old one but the numbers are less distinct and the captions for the icons are in a small font size.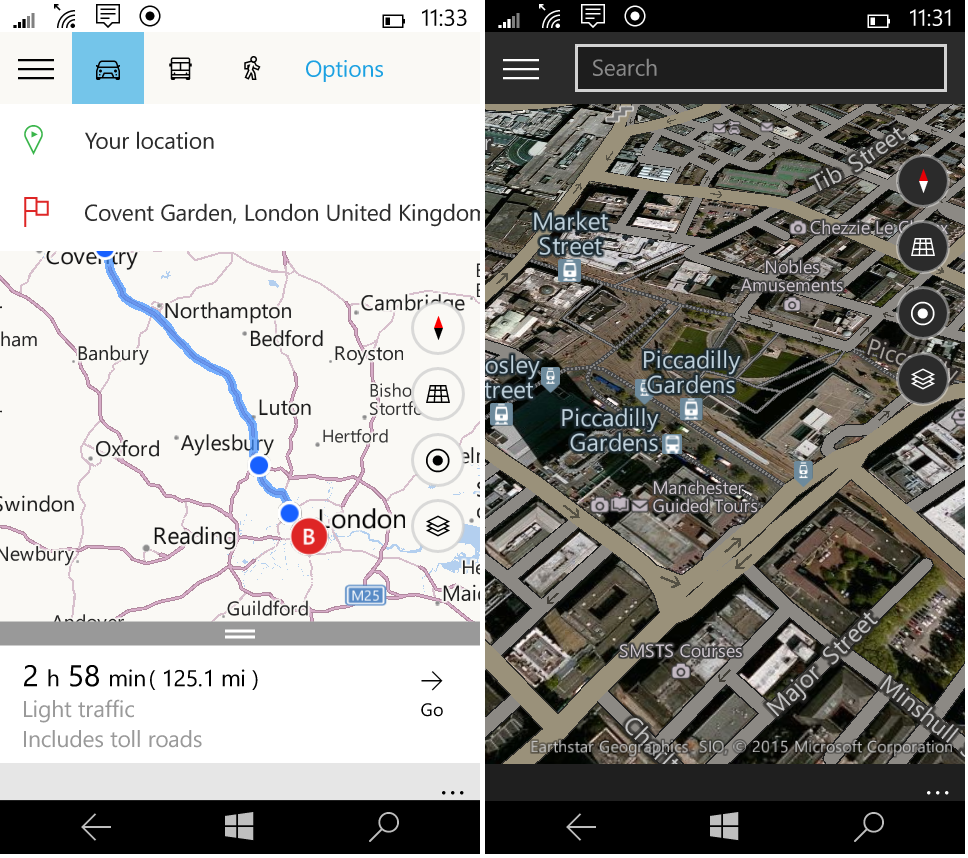 Maps on the new build. Spot the hamburger menu top left
One contentious issue is Microsoft's habit of using a "hamburger" menu in the top left corner of an app; three horizontal lines which drop down a menu when tapped. The old style was for three dots at bottom right. In general, more controls are moving to the top of the screen, including the address bar in Project Spartan, whereas Internet Explorer (IE) 11 on the phone had the address bar and menu at the bottom.
Imagine you are holding the phone in one hand and using your thumb to type and tap. A top left menu is in the worst possible place, unless you are left handed, since you have to stretch all the way across the screen to reach it. A menu along the bottom edge is no problem.
More evidence that Microsoft is struggling to get the UI scaling right in universal apps is that that text is occasionally cut off or overlaps other text. While the company will no doubt fix these problems in the final release, these are typical problems when you try to use the same UI across multiple form factors.
The better news is that the new apps have richer features. The difference is marked in the universal Outlook app, which has rich formatting including paragraph styles, bullets, numbering and fonts as well as bold and italic; it looks as if bits of Word are already present in the build, even though the Word app is missing.
Whether this level of document formatting is actually necessary or even desirable in an email client on a phone is open to question, but you do not have to use it.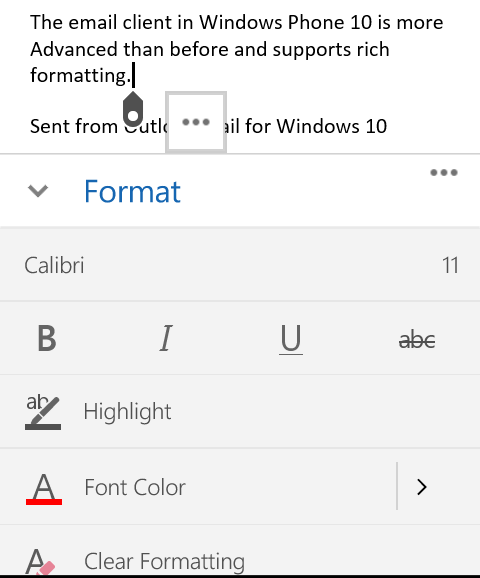 Email formatting has come to Outlook on the phone
Spartan? Not by half
What about Project Spartan? It is here, but only in rough and ready form. IE11 is still present, and sometimes you start a session in Spartan but end up in IE11 because of default link handlers, though both browsers appear to use the Spartan engine.
We headed to an HTML5 test site [http://html5test.com/], where Spartan scored 374, versus 346 for IE11 on Windows Phone 8.1. That is hardly a big difference, but the hope is that by removing compatibility features from the engine Microsoft will accelerate the pace of its browser development. Program Manager Kyle Pflug says it is a "very early look at software that we're actively developing"; there are more features to come and IE11 will not be present in the release build.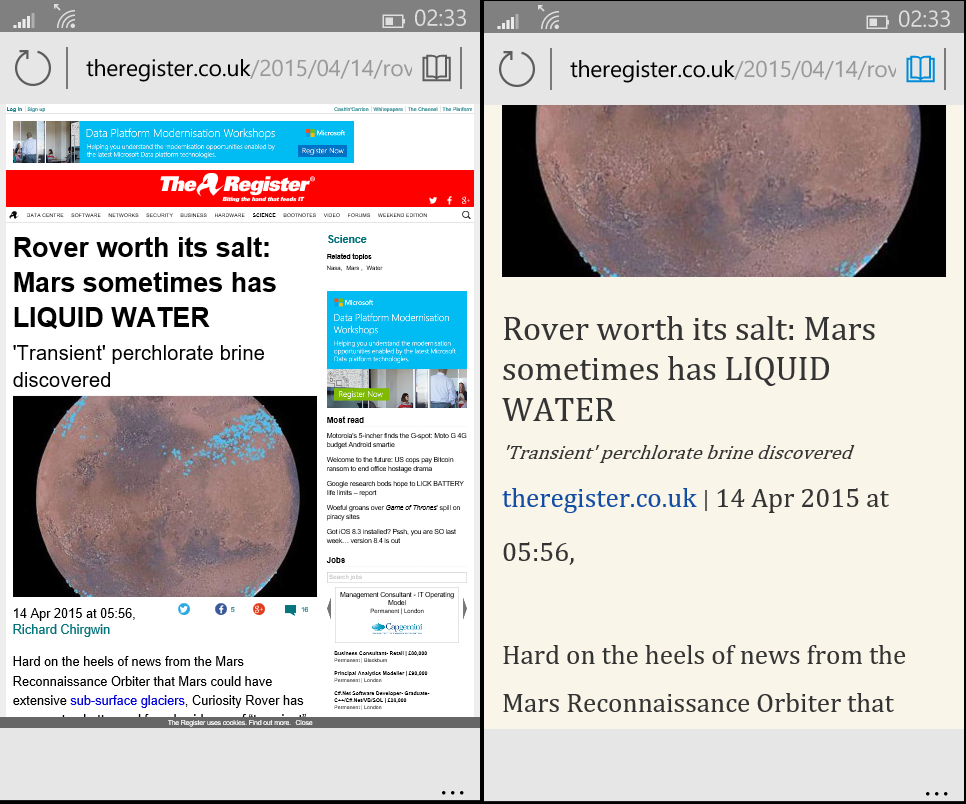 Reading Mode in Project Spartan is great at making web pages readable
One thing Spartan does have is Reading Mode, which hides screen clutter to present just what it thinks is the main content. This works brilliantly, making pages (such as a Mashable blog post) easily readable where without it you have to pinch and zoom. It is not so good from the site's perspective, as they need users to tap the lovely ads to pay for the content.
Windows Phone has a small market share but the platform will be more attractive to developers now that they can target both phones and Windows 10 PCs with the same code. There is also evidence that Microsoft will be aggressive in driving upgrades, increasing the size of the market. More apps is good, but this build shows how hard it is not to compromise when cramming feature-filled apps designed to work on larger displays onto a small phone.
The snap judgment after a week with this build is that Windows Phone users will enjoy its more powerful apps. The platform, however, is losing some of its elegance and usability. Larger screen sizes help, which is perhaps why we have seen the likes of the recently released 5" 640 and forthcoming 5.7" 640 XL; cheapish phones but with large displays. ®