This article is more than 1 year old
Graphic designs: Six speedy 17-inch gaming laptops
Big ol' beasts of burden with bang aplenty
Product Roundup Gaming laptops have a reputation for being big and heavy and providing battery life that is counted in minutes rather than hours. Slowly, though, increased power efficiency in both CPU and GPU designs has given rise to a new generation of gaming laptops that are at least semi-portable.
Designs such as MSI's 22mm Stealth Pro have slimmed the gaming laptop down to almost Ultrabook dimensions, even if the 17-inch models we look at here do still tend to weigh in at around 3-4kg.
Even more impressive is Gigabyte's X7 Pro, which manages to cram an SLI rig into a chassis measuring just 23mm thick.
Currently, Razer still lacks a UK distributor for its headline-grabbing Blade laptop, and the 17-inch version of Acer's new Nitro wasn't available in time for this review, so we weren't able to see if the sleek design of the 15-inch Nitro translates successfully to the larger format.
Of course, some companies still take the old-fashioned approach, with Asus and Dell's Alienware subsidiary turning out laptops that could fell an ox. Still, as shows that for big panel portables, you still get some choice.
Asus RoG G751

Asus doesn't bang the drum for its Republic Of Gamers brand as much as it could, but the RoG G751 provides bang up-to-date gaming performance at a competitive price. That said, the design of the G751 is a little dated. At 53mm thick and 4.2kg it's the fattest laptop I've seen in many a year. Still, it does have some nice touches, including a sturdy keyboard that has a nice, responsive feel to it – and even a dedicated Steam key to get you straight into the action.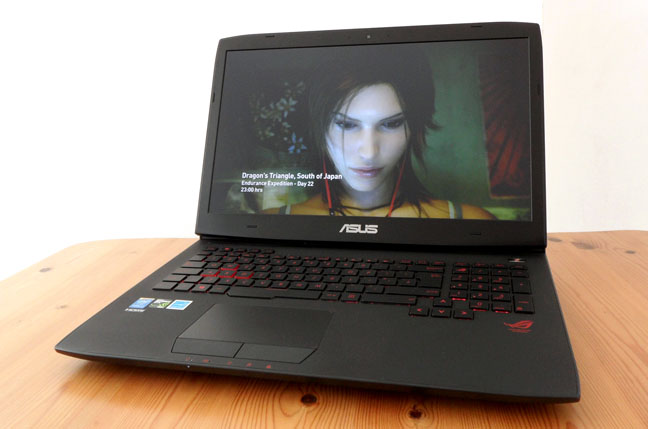 The Intel 2.5GHz quad-core Core i7-4710HQ is a common CPU in gaming laptops, but it's complemented by high-quality storage, graphics and audio components. The combination of 1TB hard drive and 256GB solid-state storage helps it to achieve strong scores of 5116 and 5367 in the general-purpose Home and Work suites of PCMark 8.
It also breezed though our gaming tests, thanks to the use of a speedy GeForce GTX980M graphics card. It cruised at a smooth 55fps when running Batman: Arkham City with maximum eye-candy at 1920x1080 resolution, and romped away at 78fps with Tomb Raider in Ultimate mode.

Futuremark PCMark 8 results for Home and Work benchmarks
It's good for other forms of entertainment too, thanks to a very bright and colourful IPS display with 1920x1080 resolution and glare-reducing matte finish. There's a Blu-ray drive for watching high-def movies, and even a 2.1 speaker system with built-in sub-woofer. And, when using integrated graphics, the G751 can just about manage 3.5 hours of battery life, so you should be able to watch a couple of films between charges.
Price
£1599
More info
Asus
Dell Alienware 17

Dell's Alienware doesn't bother itself with those fancy new 'slimline' gaming laptops so, as ever, the Alienware 17 is built like a tank. It weighs in at 4.2kg and measures a chunky 50mm thick, so it's safe to say that you won't be carrying this one down to your local coffee shop for a spot of alfresco gaming. Battery life is modest too, only just hitting three hours even when using its less powerful integrated HD4600 graphics.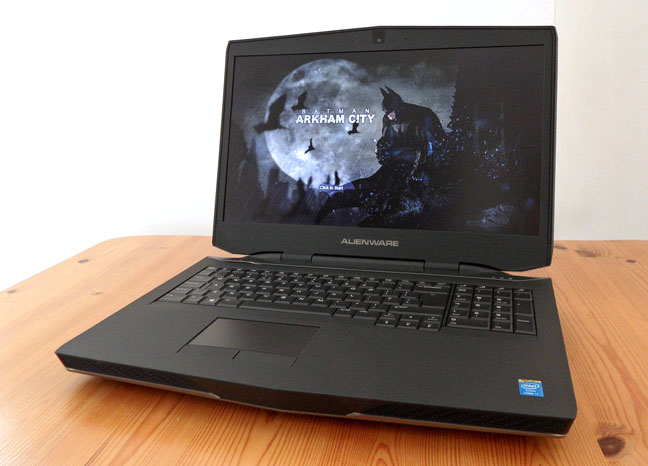 It's a distinctly, old-school approach, in more ways than one. The quad-core i7-4710HQ is fairly standard for laptops in this price range, but the use of a conventional 1TB hard drive running at 5400rpm produces unremarkable scores of 3517 and 4597 in the PCMark 8 Home and Work suites.
The GeForce GTX880M used here isn't the latest, greatest Nvidia GPU either, although it still manages to produce solid scores in our gaming tests.
Running at its native 1920x1080 resolution, the Alienware 17 can manage a smoothly playable 49fps on Tomb Raider's Ultimate graphics mode, and hits 50fps with Batman: Arkham City on its highest graphics settings. The full HD display makes the most of the graphics horsepower too, with a non-glossy finish that reduces glare and provides good viewing angles.

Futuremark PCMark 8 results for Home and Work benchmarks
Alienware was a little slow adopting Nvidia's latest 900 series of GPUs, but there are new models on the way. The company has also come up with one new trick, in the form of a "graphics amplifier" – an external dock, priced at £199, that allows you to plug in a high-end desktop graphics card for future upgrades.