Graphic designs: Six speedy 17-inch gaming laptops
Big ol' beasts of burden with bang aplenty
Gigabyte Aorus X7 Pro

One of the main advantages of Nvidia's latest 900 series GPUs is increased power-efficiency. That has enabled Gigabyte to cram an SLI rig containing two GTX 970M graphics cards into its new Aorus X7 Pro, while still keeping the laptop down to a relatively slim 23mm thick and a weight of 3.1kg.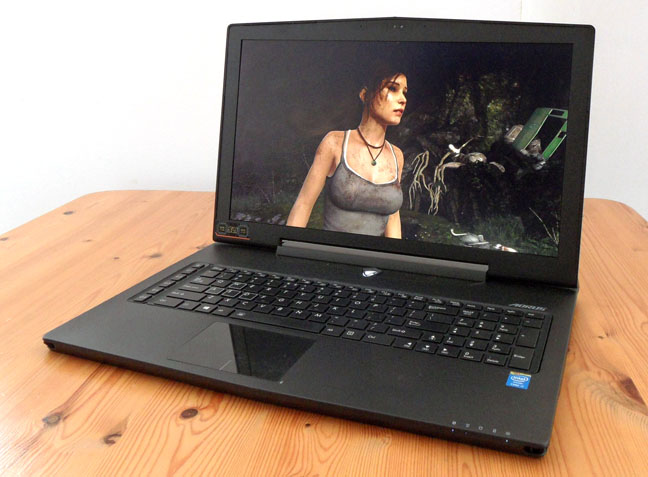 The rest of the laptop is pretty high-spec too, with an Intel 2.5GHz quad-core Core i7-4780HQ with a Turboboost option that steps it up to 3.7GHz. There's even a pair of 256GB solid-state drives configured as a RAID 0 volume for maximum performance. Top it all off with a glare-reducing 1920x1080 display and you've got a pretty attractive piece of gaming gear.
The PCMark 8 benchtest doesn't really benefit from the SLI rig, so the X7 Pro doesn't break any records there, producing scores of 4671 and 5057 in the Home and Work suites. Games performance, however, is in a different league altogether. When running Tomb Raider at 1920x1080 resolution the X7 Pro breezes to 104fps even in that game's Ultimate mode. Performance with Batman: Arkham City isn't quite so strong, but a score of 77fps with that game's maximum graphics settings still puts it 15-20fps ahead of any single-GPU laptop tested here.
Futuremark PCMark 8 results for Home and Work benchmarks - check out that 'Casual Gaming' frame rate
There are some downsides, though – not least of which is the £1999 price tag. Battery life is also poor, managing barely 105 minutes even in power-saving mode. It's pretty noisy too, with the cooling fans clearly audible during some of our heavier benchmarking tests, so a set of headphones will come in handy when you really want to crank up the frame rates to max.
Lenovo Y70 Touch

Lenovo's Y70 is more of an all-round entertainment laptop than a full-on gaming beast, but it manages to provide capable gaming performance while still giving you 5p change from £1000. It's smartly designed, measuring a relatively sleek 26mm thick and weighing 3.4kg.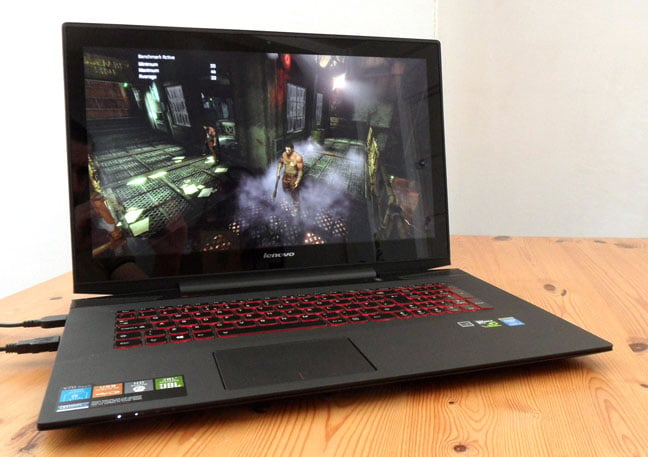 Despite the slimline design, Lenovo has managed to squeeze a subwoofer into the base of the Y70 Touch to add a little extra sonic impact for games, movies and music. The screen is a bit of a mixed bag, though. The 1920x1080 touchscreen display is certainly bright and colourful, but its highly reflective glossy coating can be distracting at times.
The sub-£1000 price tag also involves a few compromises, such as a 1TB hybrid drive equipped with only 8GB of solid-state storage. However, you do get the same Intel quad-core i7-4710HQ chip as featured on many rival models. The PCMark 8 benchmark tends to show up storage performance, and the Y70 could only manage mid-range scores of 3102 and 4166 in its Home and Work suites.

Futuremark PCMark 8 results for Home and Work benchmarks
Its GeForce GTX 860M graphics card isn't going to break any records either. Even so, it still manages a playable 27fps when running Tomb Raider in Ultimate mode at 1920x1080, and stepping down just one notch to Ultra mode bumps that up to a healthy 45fps. It handles Batman: Arkham City quite well too, with 31fps on highest graphics settings, and 40fps on medium.
Battery life isn't too bad either, hitting 3.5 hours on power-saving mode. So while it won't have any of its high-end gaming rivals quaking in their boots, the Y70 provides good mid-range gaming performance at a competitive price.