This article is more than 1 year old
Graphic designs: Six speedy 17-inch gaming laptops
Big ol' beasts of burden with bang aplenty
MSI GS70 Stealth Pro

Measuring just 22mm thick and weighing in at a semi-portable 2.7kg, MSI's Stealth Pro is one of the slimmest and lightest 17-inch gaming laptops around. There's no compromise on either build quality or performance either. The roomy keyboard is sturdy enough to take a pounding during gaming sessions, and the slim screen panel provides enough support to handle the occasional outing in a backpack.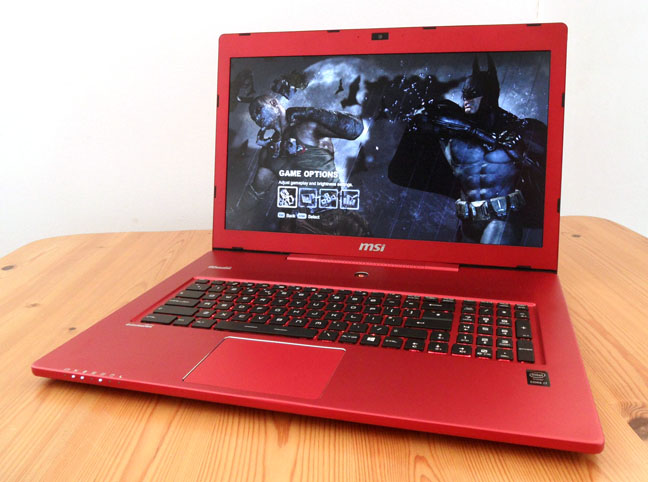 The only minor complaint is that the vertical viewing angle of the 1920x1080 display is a little more limited than expected, and I occasionally needed to nudge the screen forward to improve visibility. Battery life was disappointing too, only managing 135 minutes, even on power-saving mode.
We didn't have any complaints about performance, though. The Intel Core i7-4710HQ processor is common enough in gaming laptops, but here it's backed up by an extravagant storage system consisting of a 1TB hard drive and a pair of 256GB solid-state drives configured as a single RAID 0 volume. Graphics duty is handled by a GeForce GTX 970M, and that combination hit a smooth 59fps when running Tomb Raider in Ultimate mode at 1920x1080 resolution. It managed 50fps for Batman: Arkham City on its highest graphics settings.

Futuremark PCMark 8 results for Home and Work benchmarks
Admittedly, the £1699 price tag is a bit steep, and there are less expensive rivals that can match that performance at a lower price. However, the slimline design of the Stealth Pro is very attractive, and you can probably shave a bit off the price if you opt for a less over-the-top storage system.
Price
£1699
More info
MSI
Toshiba Qosmio X70-B-10T

Toshiba's Qosmio X70 stands out from the gaming crowd by opting for an AMD Radeon graphics card rather than the ubiquitous GeForce range. The aluminium casing of the X70 is nice and sturdy, but keeps the weight of the laptop down to 2.9kg, which isn't at all bad for a 17-inch laptop that also includes a built-in Blu-ray drive for HD movies.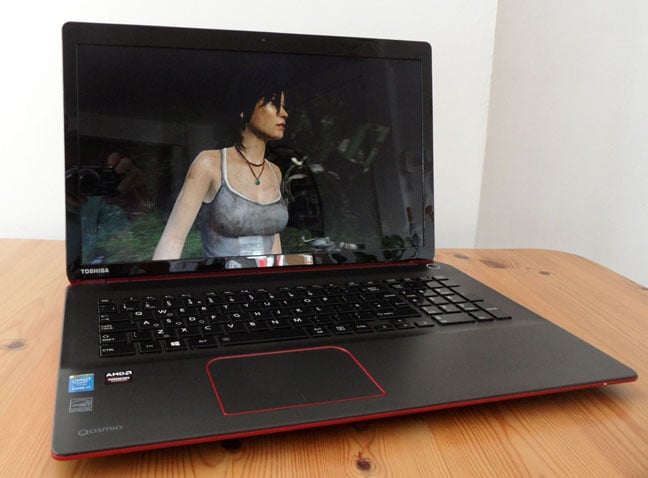 Inside the matt black case you'll find an Intel 2.6GHz quad-core Core i7-4720HQ CPU – 3.6GHz with Turboboost – although that's backed up by a modestly performing 1TB hybrid drive. Scores of 4179 and 4206 in the PCMark 8 Home and Work suites are perfectly adequate for most routine tasks, but not great for a laptop costing almost £1200.
The same is true of the 1920x1080 screen, which has an annoyingly reflective glossy coating, and a noticeably limited vertical viewing angle. A battery life of just 135 minutes didn't impress either.

Futuremark PCMark 8 results for Home and Work benchmarks
The Radeon R9 M265X used here is an entry-level GPU, but it's still a good step up from conventional integrated graphics. It could only manage 15fps when running Tomb Raider at 1920x1080 resolution in Ultimate mode, but stepping down to High mode allowed it to hit a more playable 31fps. It also did slightly better when running Batman: Arkham City, managing 26fps on that game's highest graphics settings and 42fps on medium settings.
To be fair, those scores aren't bad by any means, but the £1199 price tag leaves the Qosmio X70 looking a bit overpriced for what amounts to an entry-level gaming system. ®